adizero Primeknit: How it's made
15th August 2012, Somewhere in Germany
adidas has released a video which shows how its new adizero Primeknit seamless running shoe upper is made. The high speed dynamic video which lasts just two minutes and thirteen seconds, shows the adizero Primeknit upper being made in a factory in Germany from start to finish.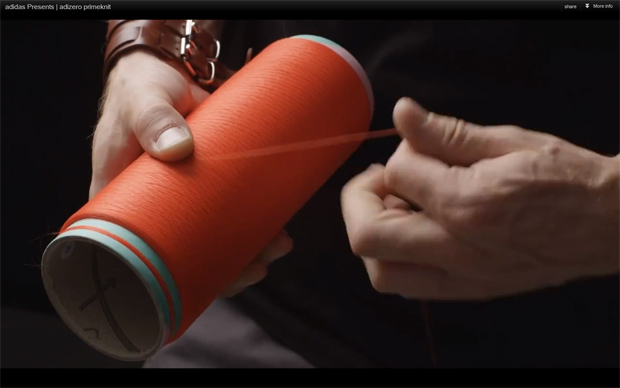 The adidas video which was quietly posted a few days ago on YouTube, kicks off with shots of the adizero red yarn running through tensioning devices on the yarn path of a flat knitting machine and then cuts to the yarn tensioning units on what is clearly a Stoll CMS machine.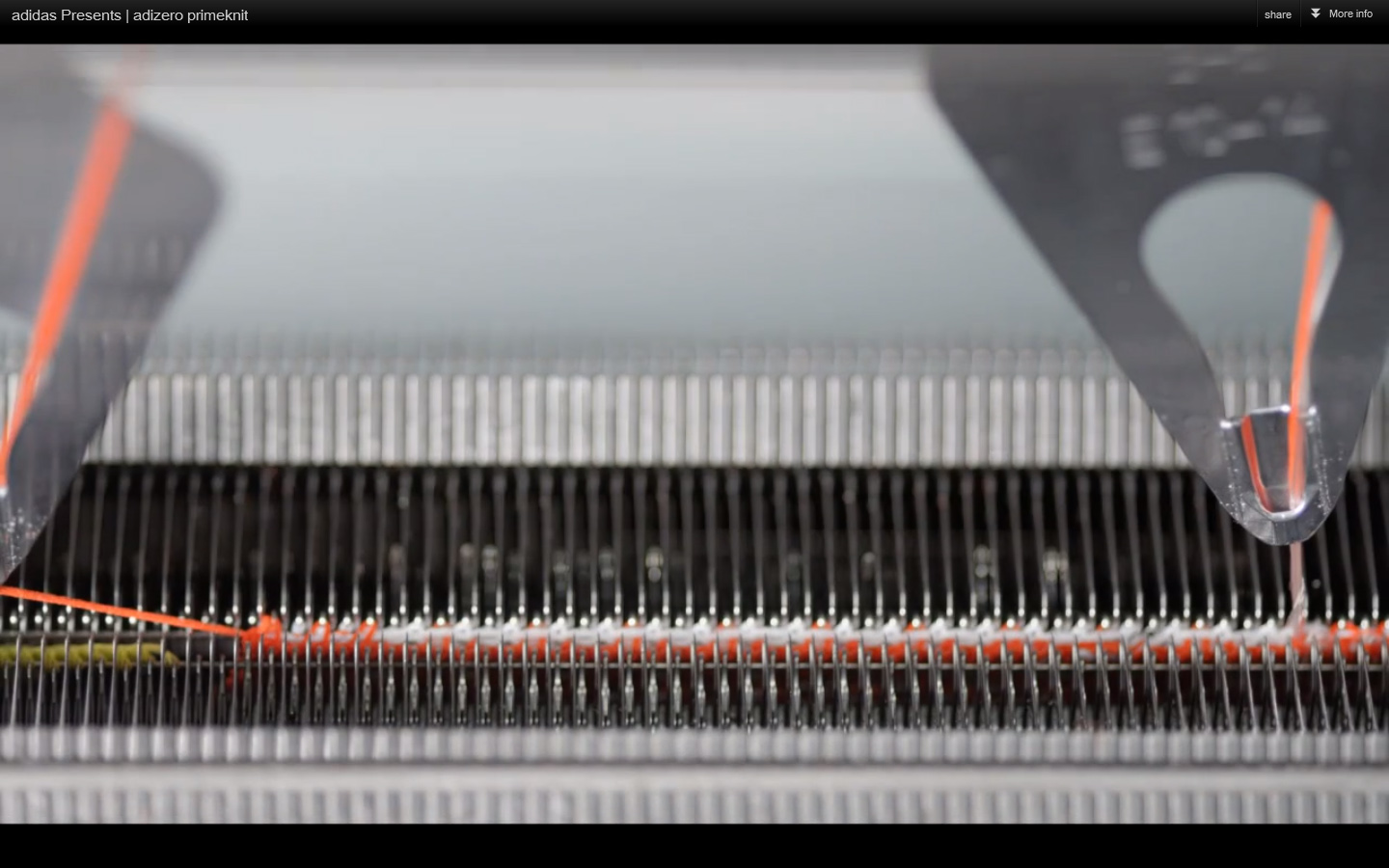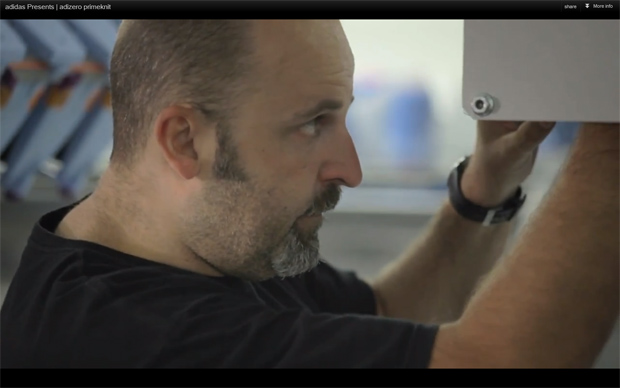 A few seconds later the camera cuts to a full frontal shot of a Stoll CMS 530 HP machine, Stoll's latest generation high productivity computerised flat knitting machine. This is followed by close-ups of the moving carriage, yarn feeders and needle beds.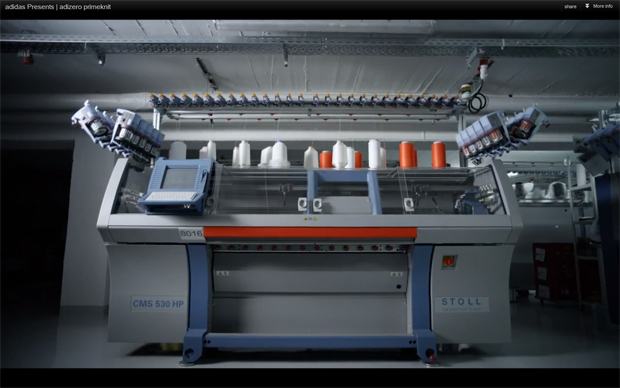 The first minute of the video is concerned with the low labour intensive knitting process for the adizero Primeknit upper and the second part cuts to the rather labour intensive post knitting assembly of the shoe upper.
There is a craft workshop feel to the assembly of the upper where various formers, machines and tools – including a hammer and what appears to be a cigarette lighter – are used to stitch (the sewing machinists in three stripe shoes of course), shape and mould the Primeknit upper into something we all now recognise as the red and white running shoe with the seamlessly knitted upper.
The images below show the upper opened up and turned after knitting. This clearly demonstrates how the upper has actually been knitted in one piece in a quite different way to Nike's Flyknit upper which is a much more complex piece of knitting with its laid Flywire supports. Primeknit uses primarily jacquard and flechage techniques to give shape and the distinctive three white stripes on a red background pattern.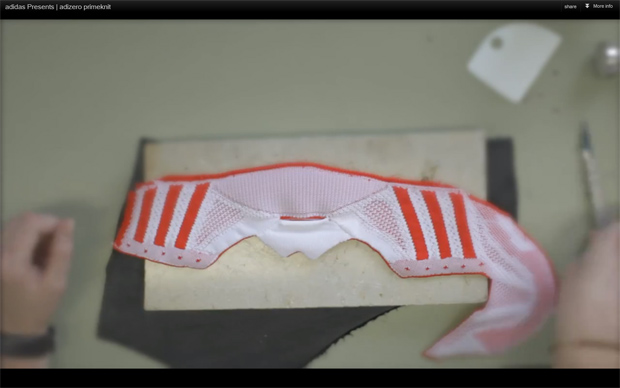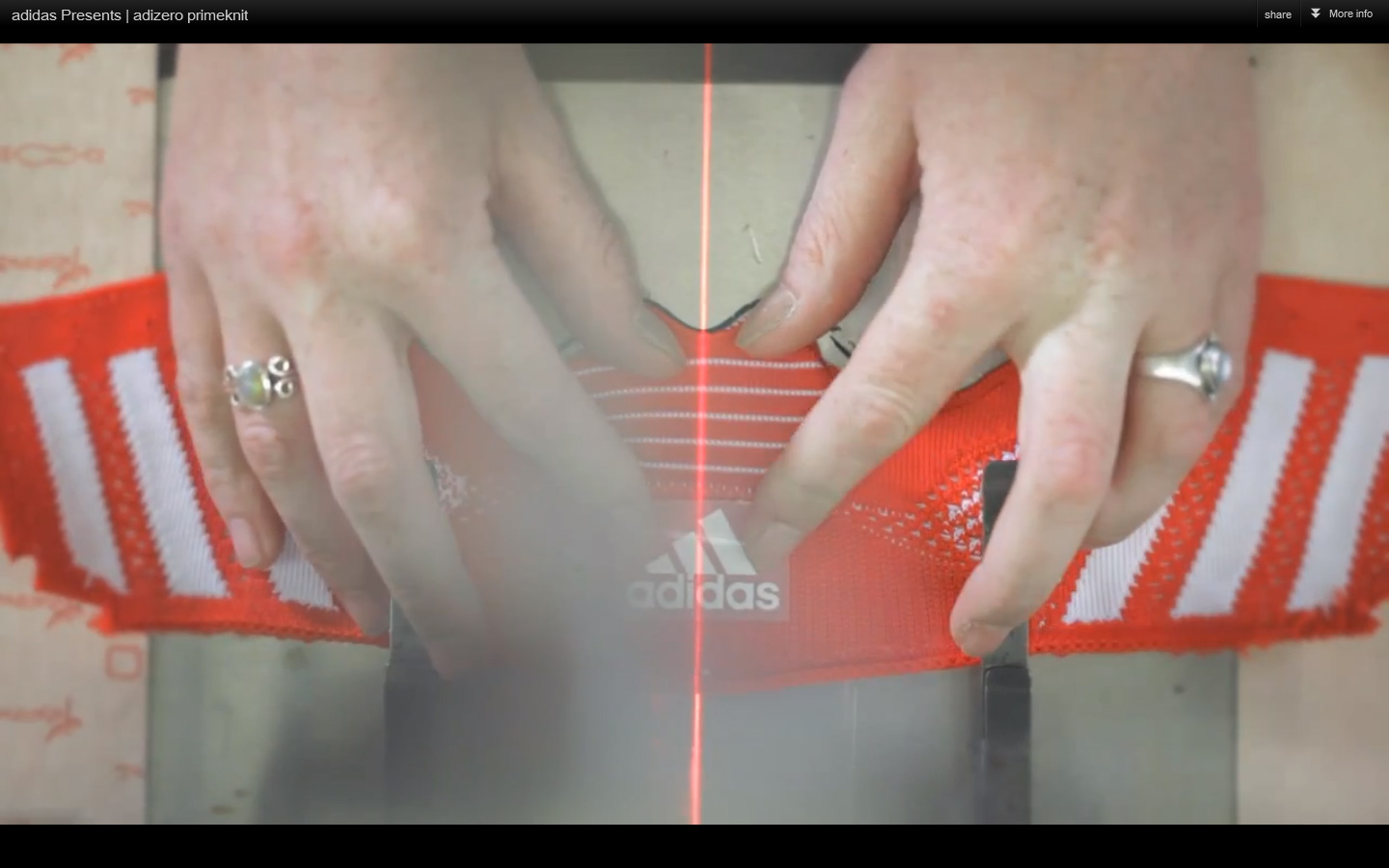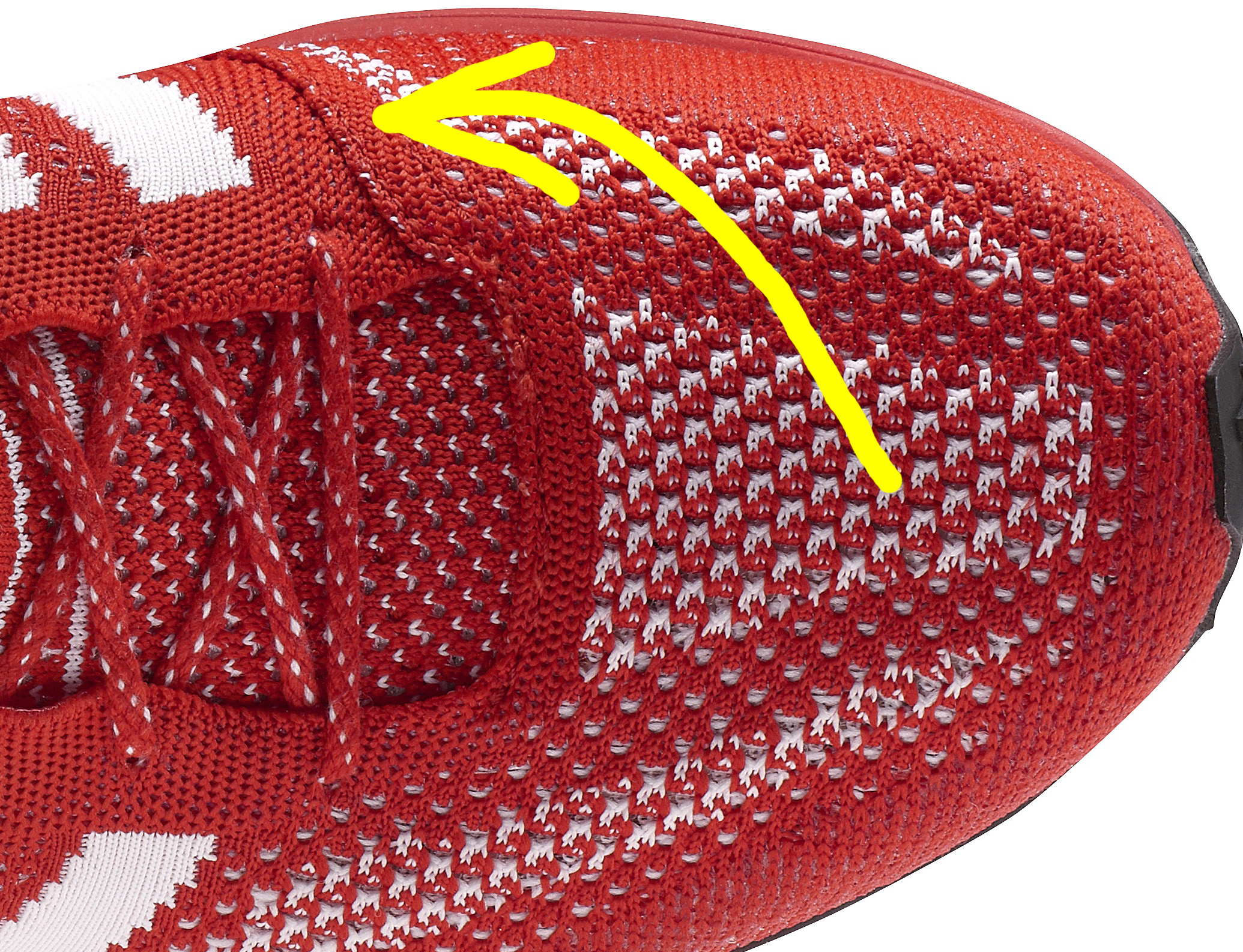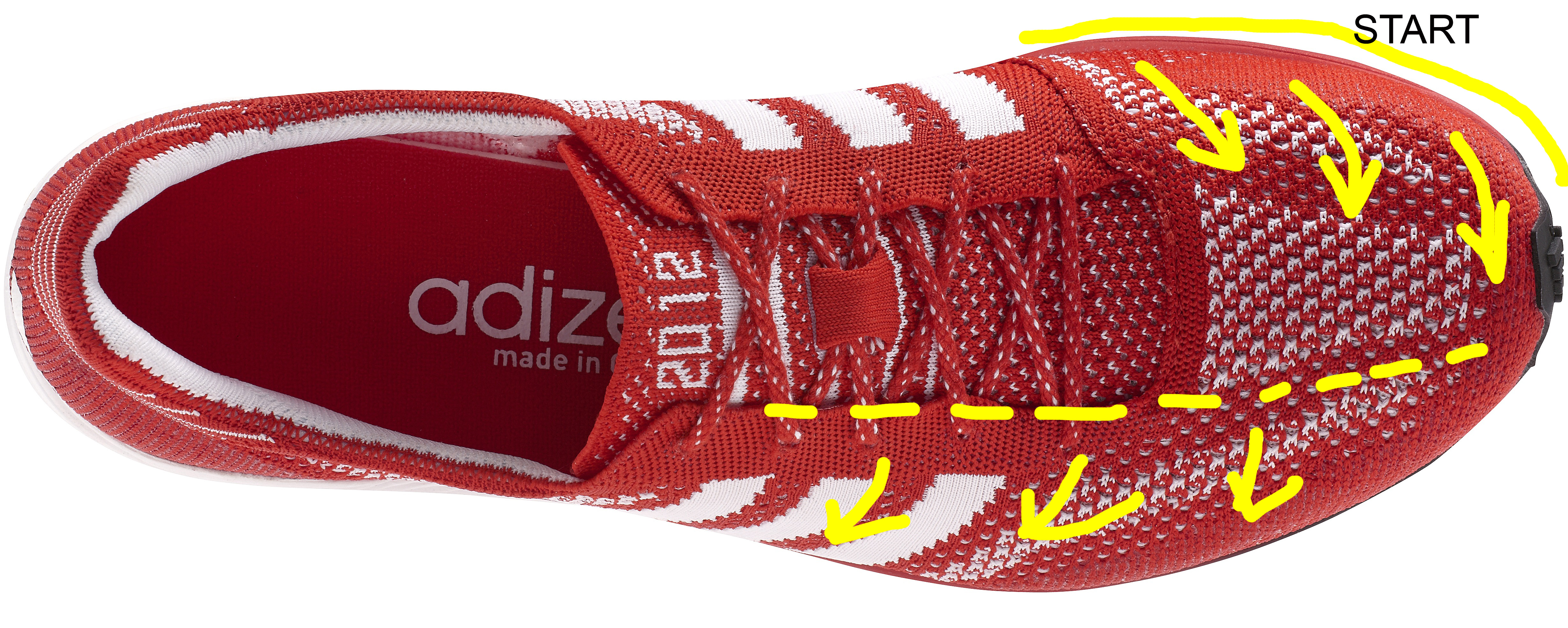 The video closes with the fully assembled adizero Primeknit shoes being rushed off on a trolley for packing and shipping to – well London presumably.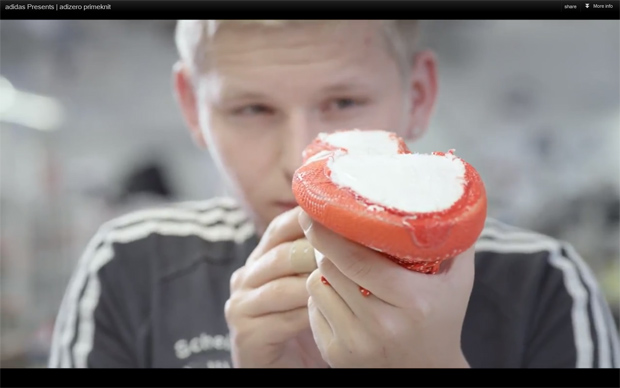 Commenting on the video's release adidas said on its website:
"Using the latest design tools with our new seamless engineering technology, adidas has created this first-of-its-kind running shoe, the adizero primeknit. While sport shoes are usually made from lots of separate pieces, this breakthrough method digitally knits the entire upper in just one."
"Knitting fused yarn allows us to fine-tune the exact amount of flexibility and support needed in every part of the shoe. This means lightweight comfort that wraps seamlessly around your foot, whilst fewer materials produce less waste."
The final frames of the video include various messages about the benefits of adizero Primeknit including the message 'Made in Germany', a reference perhaps to the fact that Nike's Flyknit is made in Asia rather than at home in the USA.
Watch the adizero Primeknit manufacturing video
Further reading
Adidas unveils adizero Primeknit running shoe
Nike Flyknit: Ready, Steady, Go!
Author: Billy Hunter