AWI launches Merino No Finer Feeling campaign
15th December 2010, Sydney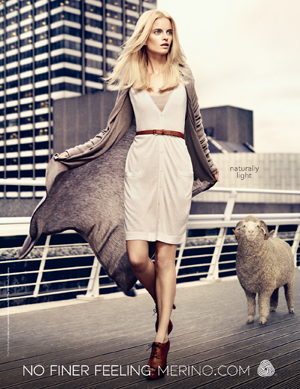 Australian Wool Innovation (AWI) has announced the launch of a new global fibre education campaign to inform consumers about the benefits of merino wool. The 'No Finer Feeling' campaign is said to be the result of extensive consumer research with retail and brand partners and features the iconic Australian merino sheep acting as a reminder of the natural origin and provenance of wool garments.
"As a consumer message 'merino. No Finer Feeling' works on two levels: on an emotional level it refers to the sense of privilege and luxury; whilst at a functional level, it's a reminder of the physical reason why merino is special," Rob Langtry, AWI Head of Global Strategy and Marketing said.
According to AWI, whilst a long term favourite of designers, an era of disposable fashion has meant younger consumers know little about the natural, biodegradable and renewable benefits of merino wool. The campaign aims to position merino as the premium, luxury fibre of choice making a connection between how it feels to touch, and how it makes the wearer feel.
The three-year global consumer campaign begins in influential magazines such as Vogue, GQ and ELLE, targeting fashion conscious consumers. Initially launching in the UK, Japan and Germany, a wider global program is planned for 2011/2012 to include China, France, USA and Australia, with further supporting trade activities in China, Italy and France.
The first campaign, created by Euro RSCG London, was shot by fashion photographer Sean Gleason and styled by the Executive Fashion Editor of Wonderland Magazine, Anthony Unwin. The five shots feature specially selected garments from designers Richard Nicoll, Gieves & Hawkes, Hakaan, Hackett, Brooks Brothers, as well as seasonless custom merino wool pieces, including 'next to skin' wear specially made for the shoot, all illustrating the versatility and surprising qualities of merino wool.
To support the campaign, AWI will use merino.com, a site providing consumers with information on the attributes and benefits of merino as well as catwalk and brand information of where to buy merino garments. This is supported by an i-Phone application providing merino sourcing information for anywhere in the world.
"The merino campaign has been created to communicate to a new generation of consumers, who need educating about this versatile and renewable fibre," Mr Langtry added.
"We really want to bring merino and wool into the 21st century and position it as a contemporary and fashionable fibre and this campaign clearly communicates that. By using media to 'wake up' our consumers and drive them to the internet, show them where to purchase, find out about and how to look after the garments, we will help break down the barriers to purchase at the high end of the market – barriers mostly to do with lack of knowledge of the fibre and its many benefits."
According to AWI, Australian merino sheep are renowned for producing the finest, softest and lightest wool in the world, creating a fabric luxurious enough to rival cashmere. This fineness ensures that merino wool garments have superb drape and natural elasticity, effortlessly following the body's form, which is why the fabric remains popular with designers across the globe.
Presented recently to the AWI Board, AWI AGM and at the IWTO conference in Biella, the campaign is said to have been welcomed by all as a positive move for the wool industry to reposition wool and raise its awareness and fibre benefits to the consumer. AWI says it is in discussions with a range of iconic global brands to have them adopt elements of the campaign to further enhance the merino 'footprint' on the world of luxury, fashion, sports, intimate and baby products.
Author: Billy Hunter