Unrivalled striper offer from Monarch
29th July 2009, Leicester, UK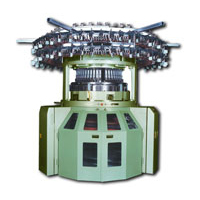 Leading circular knitting machine builder Monarch, offers an extensive range of striper machines in single and double jersey and electronic and mechanical formats. The range gives knitters a huge choice of gauge/feeder combinations and offers almost limitless fabric development potential.
Mike Starbuck reports
Circular knitting machinery builder Monarch has for many years supplied to all parts of the developed world, high quality weft knitting machines. Monarch is known for its innovation, quality, efficiency, low maintenance and highly productive machines and it has an enviable after sales service.
With the motivation that their customer buys machines to produce fabric, so Monarch's reputation is built on the quality of that fabric. Here we take a look at the wide range of striper machines which Monarch offers, which give its customers almost limitless possibilities with which to satisfy markets.
Yarn stripers are becoming increasingly important in both apparel and future technical textiles markets and we are seeing ever changing technical yarns like conductive, high tenacity, ultra fine filaments and combinations with natural fibres which may be used to generate new product areas. These markets can be summarised as:
Aerospace with composites for light weight marine, wearable electronics, wind power, automotive,household textiles and building projects
To become successful in any of these areas requires extensive development, but once successful the products are less susceptible to the fashion peaks and troughs we are all seeing in the apparel market.
The diverse range of Stripers machines available from Monarch which can help knitters approach new markets is divided into electronic and mechanical needle actions then sub divided into double or single jersey models.
Optional attachments
The Single jersey range offers a mesh attachment, elastomeric feed system and mock intarsia all engineered to fit each model. Most single jersey machines incorporate double push sinker action as standard and the latest stripers have ceramic actuators to increase speed of operation and easier cleaning. With the mechanical needle actions, additional cams are needed to change from plain to small jacquard where the mini jack or RDS is not fitted.
The double knit range offers additional cams to change from synchronised to delayed timing and also cams to knit extra tight quality fabrics.
Machine frames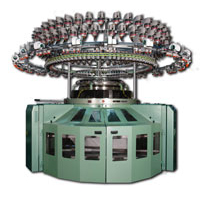 The 'V' frame is available for all models with the following features:
Standard legs give a 580mm roll diameter and long legs can produce rolls up to 850mm
Free standing side creel with additional overhead bobbin rack when needed
ACT-4 for soft roll take- up
Cadratex spreader board
Top stop motions for reduced yarn breakage faults
Auto oiler
Pulsating oiler
Lint fans
A new innovation from Monarch which incorporates fabric slitting and extraction whilst producing fabric is the OD2 frame. This enables open width fabric to be produced on the knitting machine, thus reducing some additional processes and ensuring perfect slitting. The roll size is 300mm diameter and anti-clockwise rotation is also offered.
Design and development
As part of Monarch's ongoing commitment to its customers, it offers a dedicated design facility including interpretations on trend, design, and colour and yarn innovation, as well as fabric technology. This facility works for existing machines as well as for the latest new machine developments, so new trends in apparel and non apparel can be explored to give extra help to customers.
To further aid the development process, Monarch uses its MKS Design System which offers computer simulations of fabrics in terms of yarn colour, matched to existing shades in the warehouse, stitch formation and printouts that represent final fabric appearance without the need to produce actual fabric on an expensive machine. The process is often used in apparel and household textiles to speed up the ever demanding development process.
Monarch is clearly committed to constantly developing new models to meet the fashion, automotive and household textile markets of the future.
Author: Billy Hunter