Pilotelli reveals latest innovations at ITMA ASIA
21st June 2012, Shanghai
Italian circular knitting machine builder Pilotelli showed a number of innovations at last week's ITMA ASIA + CITME in Shanghai, which were said to be very well received by Chinese visitors to the company's stand.
Sinkerless single jersey
First up was the Brescia based company's four track single jersey SL-2T.A3 open width sinkerless machine which was shown in a 40 gauge, 34 inch diameter format. The SL-2T.A3 is said to run at 32 rpm whilst knitting cotton, with one particular Indonesian customer even running the machine at the top speed of 35 rpm in production.
Top speed for 26, 28 and 30 inch models is 35 rpm, whilst 32 and 34 inch models run at speeds of up to 28 rpm. Gauge range available is 14 to 40.
Although Pilotelli has manufacturing facilities in Xiamen, China, the SL-2T.A3 is built at the company's Italian headquarters in Cazzago San Martino near Brescia. The machine on show was knitting 40 gauge single jersey fabric in a 40s/36 filament nylon/ elastane yarn.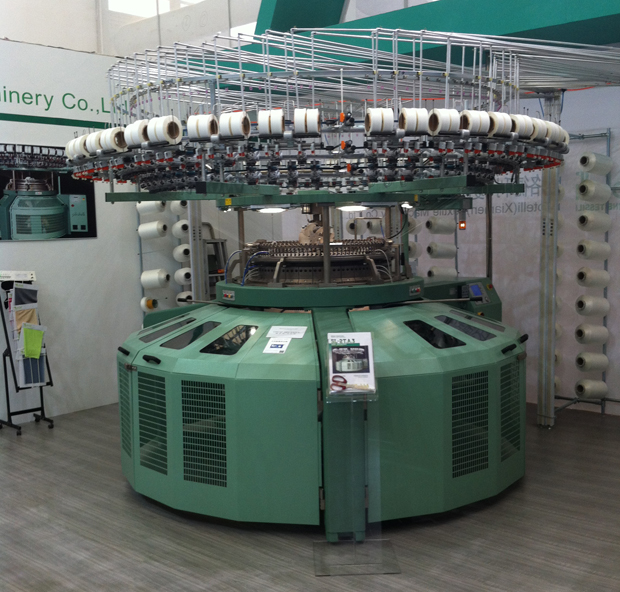 According to Pilotelli's Nikolaos Chatzidimitriou, the SL-2T.A3 has been selling well in Indonesia and sales are also picking up well in Brazil. The 'sinkerless' technology Pilotelli uses on the SL-2T.A3 has been developed over a four year period and uses a moving knockover rather than a fixed sinker to clear stitches.
The advantages claimed for sinkerless knitting include fewer sinker lines in the fabric and less dirt build up in the machine, making for easier maintenance. Stitch geometry is also said to be excellent and 'perfect plaiting' is said to be achievable. The SL-2T.A3 is mainly used to produce underwear fabrics.
Standard single jersey
Pilotelli also offers a J3.0-4 TA6 single jersey machine with sinkers in open width format. The J3.0-4 TA6 is available in gauges 14 to 40 and in the following formats:
26 inch/ 78 feeds/ 40 rpm
28 inch/ 84 feeds/ 37 rpm
30 inch/ 90 feed/ 35 rpm
32 inch/ 96 feeds/ 28 rpm
34 inch/ 102 feeds/ 28 rpm
The machine has two closed cam tracks and is said to be suitable for the production of single jersey, fleece and pique.
Three thread fleece
Also on show from Pilotelli was the new 20 gauge, 34 inch diameter ES11-F three thread fleece machine which is built at the company's Chinese manufacturing facility, Pilotelli (Xiamen) Textile Machinery Co. Ltd. Around 20% of machine parts are said to be made in Italy.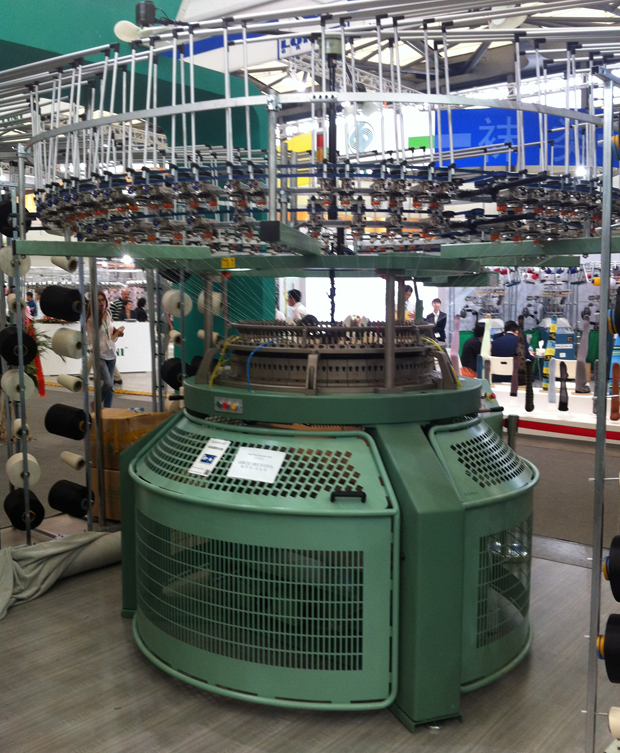 The new ES11 family actually consists of three models – the ES11-F three thread fleece model, the ES11-6 jersey multifeeder and the ES11-3 four track single jersey model. The ES11-F three thread fleece model is available in gauges 18-24 and in 30 inch/ 96 feed and 34 inch/ 108 feed formats.
The ES11-6 multifeeder single jersey machine is available in gauges 14 to 30 and in 30 inch/ 180 feeds and 34 inch / 204 feeds formats. All models are available with Pilotelli's 'all mechanical' user friendly open width take-down system.
Interlock-rib
Pilotelli also showed for the first time in Asia, its DJX-3.2 8 lock interlock-rib machine. The 'Made in China' DJX-3.2 is made from approximately 25% Italian made parts and is available in gauges 18 to 40 and in 30 inch/ 96 feeds and 34 inch/ 108 feeds formats.
Company
Established on 1983 by brothers Renato and Roberto Pilotelli, Pilotelli Macchine Tessili, has achieved considerable commercial success in a short period of time. The company lists Miroglio in Italy, Lacoste in France, Schiesser in Germany, Nan Yang in Thailand, and Pettenati and Menegotti in Brazil as its customers and says that many other customers appreciate the ease of operation and efficiency of its machines.
Pilotelli is also known for building its own quality cylinders at its Pilotelli Cilindri factory in Italy. The company employs in excess of 100 people and produces approximately 500 machines per year.
Pilotelli is best known for its JVCE-3 open width take-down single jersey machine which the company introduced in 2000. The JVCE-3 has been very successful and the company has shipped more than 1000 machines to Turkey alone. Pilotelli says that its customers particularly appreciate the JVCE-3 for its advanced technology and ease of use for the operator.
Author: Billy Hunter