Polyester fabric offers total anti-sweat comfort
19th June 2012, Tokyo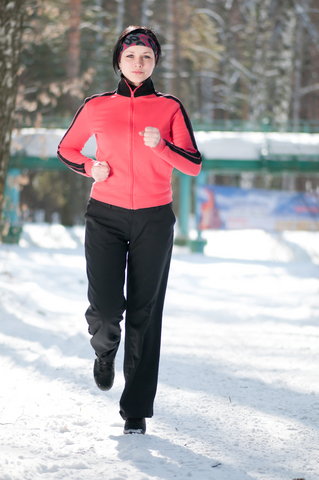 Teijin Fibers has launched a new polyester knitted fabric that is said to offer total comfort during perspiration through enhanced absorption, quick drying and prevention of both chill and stickiness.
The leading Japanese fibres company will launch the new fabric for all-seasons sportswear targeting the fall/winter 2013 and spring/summer 2014 seasons, as well as for casual wear and uniforms.
Teijin's as yet unnamed polyester fabric has a three-layer structure consisting of an inner, fully hydrophobic layer of moisture-repellent polyester fibres, a middle moisture-absorption layer and an outer moisture-diffusion layer.
Once sweat has been absorbed by the middle layer, the inner hydrophobic layer keeps moisture from returning to the skin to prevent the wearer from becoming chilled, and to prevent the fabric from sticking to the skin even when perspiring heavily. The capillary-type pump action of the three-layer structure is said to quickly absorb and diffuse sweat to promote fast drying.
The water-repellent fibres incorporate a repellent agent in the raw yarn, unlike surface-treated fibres, so high performance is said to be maintained even after repeated washing.
Teijin Fibers believes that its new fabric, which we believe is circular knitted, with all-round performance for total comfort when perspiring, greatly expands upon the moisture-absorption and quick-drying functions of fabrics now on the market.
Teijin is a technology-driven global group offering advanced solutions in the areas of sustainable transportation, information and electronics, safety and protection, environment and energy, and healthcare.
Its main fields of operation are high-performance fibres such as aramid, carbon fibres and composites, healthcare, films, resin and plastic processing, polyester fibres, products converting and IT.
The group has around 150 companies and almost 17,000 employees spread out over 20 countries worldwide. It posted consolidated sales of JPY 854.4 billion (USD 10.7 billion) and total assets of JPY 762.1 billion (USD 9.5billion) in the fiscal year ending March 31, 2012.
Author: Billy Hunter