Repreve featured in eco swimwear
20th June 2012, Greensboro
Eco Swim by Aqua Green has introduced a range of eco-friendly swimwear made with Repreve recycled fibres.
According to fibre producer Unifi, which makes the recycled fibre, Repreve is the recycled ingredient that makes this line of fashionable swimwear sustainable and the Eco Swim collection will be seen on beaches from coast to coast in the USA this summer.
The Eco Swim line with Repreve includes numerous styles featuring bikinis in classic silhouettes, tankinis, maillots, sport styles and swim dresses with names like EcoIsland, EcoSport and EcoBabe.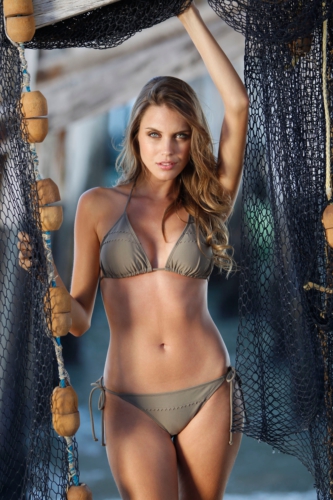 Eco Swim designer, Jenni Saylor, is a veteran of the swimwear industry, most recently consulting with designers such as Tory Burch and Nautica and the collection is available in sizes four to eighteen.
Eco Swim is available for purchase at major retailers including Macy's, Nordstrom, Belk, Dillard's, Lord & Taylor, Everything But Water, Canyon Beachwear, Aqua Beachwear and a host of specialty retailers across the nation. Eco Swim is also available online at Dillards.com, AquaBeachwear.com, Everythingbutwater.com and macys.com.
"At Eco Swim, our passion is swimwear, but as a family company we also have a long time passion for reducing our carbon footprint so future generations can enjoy the beauty of our beaches," says Sandra Davidoff, director of corporate public relations, at Eco Swim.
"We wanted to provide our customers with a sustainable swimwear choice that would flatter their body and speak to their personal style. Repreve allowed us to achieve this with no sacrifice to fit, quality or design."
Repreve can be found in many products made by some of the leading brands and retailers, including Ford, Polartec, Haggar, The North Face, Patagonia, AllSteel, Hon and Blue Avocado.
Watch the video below to find out how Repreve is made.
Author: Billy Hunter