Stylesight launches Knitwear and Materials & Sourcing Sections
20th June 2012, New York
Stylesight, a leading global content and technology solution for professionals in the style, fashion and design sectors, has announced the launch of two new sections dedicated to Knitwear and Materials & Sourcing.
The new sections broaden Stylesight's in-depth analysis and coverage to 10 key markets, and are said to provide Stylesight subscribers with access to everything they need to know about Knitwear and Materials & Sourcing.
"Stylesight knows sweaters and cut-and-sew knits are a driving force for the fashion industry," says Sansan Chen, SVP Creative Services.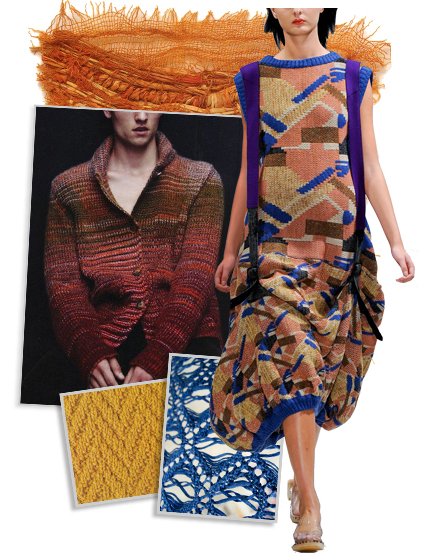 "Knitwear accounts for a majority percentage of the apparel business, with a multi-million dollar global market. We are consistently providing a better experience for our clients and the new Knitwear and Materials & Sourcing sections aggregate and curate our expansive coverage in easy-to-find sections."
Stylesight's Knitwear section will provide expert, actionable analysis for the key market including increased, in-depth coverage of the latest Knitwear innovations from new techniques, key silhouettes and embellishments, to yarns and stitches.
Existing Knitwear-relevant reports like Stylesight's acclaimed Runway Analysis, Speed-to-Markets, Essential Knits, Runway Classifications and Tradeshows will be enhanced courtesy of a new Knitwear Editor.
Stylesight says its clients will continue enjoying access to the earliest seasonal market-specific Knitwear Forecasts in the industry, and recently introduced seasonal Design Capsules complete with original, vector based flats.
The new Materials & Sourcing section will dive deeper into existing categories including Profiles, Developments, Inspirations and Innovations. The section will also provide quick access to all relevant reports — like seasonal Material Forecasts and market-specific Tradeshow Analysis, as well as a quick link to Stylesight Sourcing.
The new Knitwear and Materials & Sourcing sections are just a couple examples of the enhanced content offerings Stylesight plans to roll out, differentiating Stylesight as the most comprehensive online service for analysis and inspiration.
"Combining visionary trend forecasting and indispensable analysis with an online workspace designed to help analyze and anticipate the ever-changing marketplace, Stylesight brings value to designers looking for inspiration and more time to be creative, as well as managers looking for cost savings and ROI," Stylesight says.
Stylesight is headquartered in New York, London and Hong Kong, with additional satellite offices stationed in style capitals spanning the globe.
Author: Billy Hunter