Versatility combined with coarse gauge Wholegarment® capability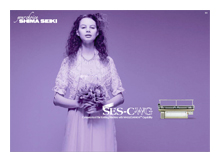 Shima Seiki's NewSES®-C·WG is an extremely flexible machine which realizes quality knitting in a range of production styles. Like other NewSES®-series machines, the NewSES®-C·WG is capable of shaping and integral knitting. What makes this machine unique, however, is its capability to knit coarse gauge WHOLEGARMENT® knitwear.
Using special compound needles like those found on our NewSES®-CS type machines, as well as a flagship FIRST®-inspired fabric takedown system featuring our own Pulldown Device, the NewSES®-C·WG is capable of high-quality coarse gauge WHOLEGARMENT® production which fits the body perfectly in three dimensions.
Other features include Shima Seiki's exclusive Yarn Carrier Kickback Device (optional) for effi cient production of intarsia and integral knits, as well as Second Stitch for high-quality production through the use of loose ⁄ tight stitches. The great versatility of the NewSES®-C·WG makes it the perfect choice for adopting WHOLEGARMENT® production methods in coarse gauge applications, while maintaining flexible support of varying market demand.
Click on image for further details and technical specification
[12.4.09]
Author: Billy Hunter