Turkish chief to speak at IAF World Apparel Convention
29th May 2012, Oporto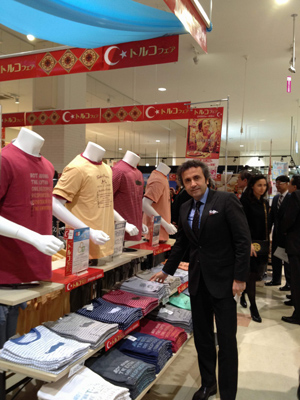 Senol Sankaya, CEO of leading Turkish manufacturer of knitted goods, Yesim Tekstil, has been named as one of three speakers in the Supply Chain session of the 28th IAF World Apparel Convention to be held from 24-28 September 2012 in Oporto, Portugal.
Sankaya will be joined by Harry Lee, CEO, Textile Alliance Limited (TAL) and Jan Hilger, Director Operations at Escada. The International Apparel Federation (IAF) has named the three in addition to Ed Gribbin (Alvanon), Kurt Cavano (Tradecard) and Bob McKee (Infor). Moderator of the session is former ATP President Paulo Nunes de Almeida.
Sankaya's Yesim Tekstil employs around 3000 people in its garment and home textiles production factories with a daily production capacity of 55 tons of knitted products, 70 tons dyed, 100,000 meters of printed fabric, 150,000 garments and 60,000 pieces of home textiles goods.
A production partner of the Nike brand since 2005, Yesim Tekstil also manufactures for internationally renowned brands such as Gap, Banana Republic, Old Navy, Zara, Pull&Bear, Massimo Dutti, Esprit, Hugo Boss, Lands' End, Tchibo and Schlafgut.
According to recent research, carried out every year by Turkey's Ekonomist magazine, Şenol Şankaya was among the 'Most Effective 50 Businessmen in Anatolia (Turkey)'. Mr. Sankaya is also member of the IAF Board.
The 28th IAF World Apparel Convention will be held on September 24 – 28, 2012 in Oporto, Portugal, and will focus on its theme of Fashion Business in a Changing Environment. Registration has officially opened.
The convention will be followed by an optional Study & Cultural Tour to Lisbon on September 28 – 30. Visits to important textile and clothing factories are planned, to get an impression of Portuguese fashion marketing, design, innovation and logistics. The cultural tour in Lisbon includes visits to Jerónimos Monastery, Museu dos Coches and Museu do Oriente.
Plenary sessions regarding interesting topics related to the main theme will take place during the convention. Speakers from renowned companies and organizations worldwide have already confirmed their attendance.
Major topics are:
How do you go about establishing a brand in emerging markets?
How do you reach young consumers that are perfectly combining the real and the virtual world?
How do we make successful use of modern techniques such as social media to really get to know and eventually to reach the consumers?
Author: Billy Hunter