Cariaggi Fine Yarns FW 13/14 Collection
19th June 2012, Cagli
Italian spinner Cariagi Fine Yarns has launched a new collection in the run up to Pitti Filati which is held in Florence in July. The Cagli based spinner says its Fall-Winter 13-14 collection "starts from familiar metaphors evoking the realm of architecture and urban space at night time. A less familiar but just as captivating landscape is also explored, deep space." Cariagi describes the collection as follows:
These full of colour landscapes are the backdrop to most vibrant stories, going from warm and luminous families of lacquer reds and delicate pastels, to cool gradations of blues and enigmatic purples.
For the Winter season, Cariaggi presents a brand new offer of fancy yarns, with unusual combinations of materials and surprising effects: Piuma Gommato, Bouclé Bicolore, Nuage, and Cashmere Twist.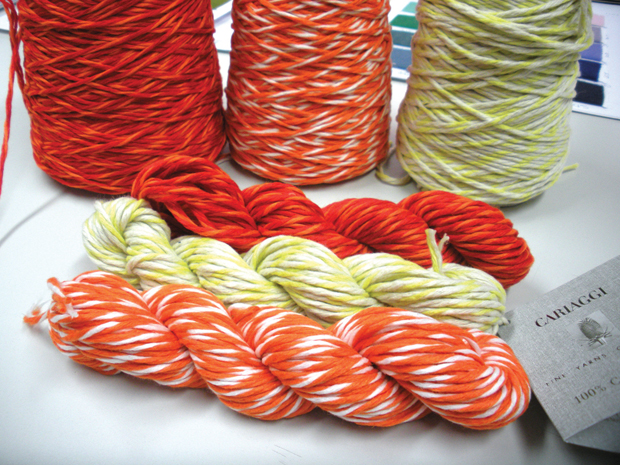 At the end, another major theme of the collection is a return to nature and ecological items, with a boost to the line Systema Natvrae, the pièce de résistance of Cariaggi Fine Yarns Collection and a prime example of the company's genuine commitment to being "green".
"Systema Natvrae" is the result of an extensive research and development project that Cariaggi undertook with eminent Italian universities to dye cashmere using innovative systems and renewable, environmentally friendly materials.
Systema Naturae colours are exclusively obtained from medicinal herbs, flowers, leaves, berries and roots that can be used as dyes. This is genuine, slow dyeing, a procedure from days gone by that has been made contemporary, modern and technological.
The end result is an unconventional, unique colour palette inspired by 16th century tapestries and the many masterpieces of Italian textile art.
On the subject of Systema Natvrae, particular note should be made of "Guado", a renowned traditional vegetable dye from ancient times.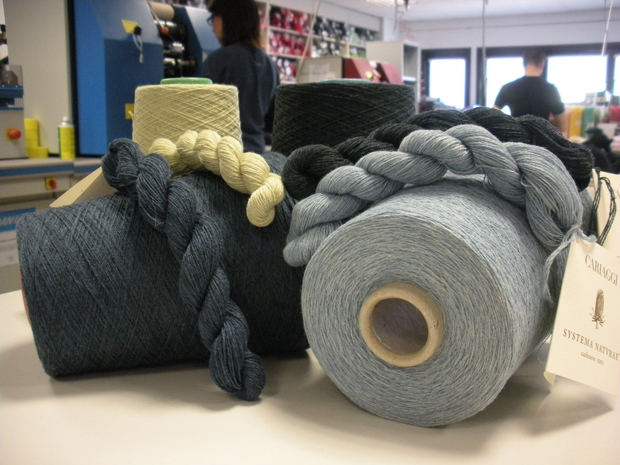 This pigment, extracted from a biennial herbaceous cruciferous plant (known as woad) cultivated in the countryside of the province of Pesaro-Urbino and produced for Cariaggi by a local craftsman, has been, since the 14th century, the only dye able to produce a blue colour that is high quality both in terms of resistance to light and wear.
It was a valuable source of wealth for the area of Montefeltro – so much that it was called "blue gold."
In recent years Cariaggi worked on a project aimed to give a push to Guado's cultivation and use the pigment in a modern way, following industrial rules. The result is a yarn with a unique colour that brings inside history, tradition and the culture of Montefeltro."
Author: Billy Hunter