Creora Ready to Wear Directions for 2011
1st October 2009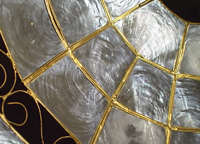 creora presents Ready to Wear & Denim Directions for 2011 and launch a new collection of two-way stretch denim with creora eco by Santana Textiles.
creora by Hyosung presents three key textile directions for the Ready to Wear & Denim markets for 2001: Indulge, Amplify and Evolve. As part of the evolution of denim, Santana Textiles of Brazil, partners with creora to launch a new collection of two way stretch denim that is eco-friendly as well as comfortable and easy to wear.
2011 RTW & Denim directions
Indulge focuses on luxury, as a new subtle opulence infiltrates both the woven and knitted sector. This indulgent trend comes from fabrics with cashmere, silk, extra fine virgin wool and alpaca fibres as well as natural organics and recycled fibres. Fabrics are incredibly lightweight with both wovens and circular knits embracing the body in fit and flare formations. Surfaces are compact, light, layered and semi transparent.
Indulge highlights eco-luxury with creora eco H-550 and Tencel, MicroModal and organic naturals with MIPAN regen for sustainable and recycled fibres alongside all the noble fibres. Fabrics with creora lite offer diaphanous wovens and micro fine jerseys, and with MIPAN soft create super soft fine count qualities with subtle stretch that embrace the torso in new layered silhouettes. creora black H-100D gives intensity to black and dark tones and eliminates grin through.
Visualize: Light – Airy – Soft – Diaphanous – Luxuriate – Elegant –Silky – Fluid - Discreet
GARMENT end uses – trousers, skirts, dresses, blouses, outerwear, knitwear & knit tops
Amplify shows that volume comes to woven surfaces as classic constructions are given a contemporary twist. Exaggerated tweeds, hopsack, crêpe, bouclé, piqué and loose constructions are woven large but then compressed and distorted through padding and laminated finishes. Fabrics are oversized constructions with jumbo twills and cords – stretch wovens are washed, felted and crushed.
Natural fibres dominate Amplify with cotton, wool and linen working alongside creora eco H-550 trans-seasonal blends. Eco sustainability features through recycled synthetics when blended with natural fibres and creora and MIPAN regen in creating amplified surfaces but in lightweight finishes. The return of sharp tailoring reminiscent of the austerity of the 1940s returns, especially for womenswear, ensures that stretch woven's with creora performance H-350 deliver stretch and comfort to the wearer.
Visualize – Contemporary Twist – Classic Structures – Exaggeration – Natural – Eco – Relief
Garment end uses – Smart/casual – City wear – Tailored Separates
Evolve highlights denim and sees longevity as innovative blends maintain this staple fabric's universal appeal. In keeping with the whole eco sustainability mood, niche sectors for the denim market pursues luxurious touch with cashmere, while on a techno note cotton blends deliver lighter bottom weights and quick-dry functions. Thermoregulation and vintage aspects drive the market with fabrics with soft and, in contrast, workwear looks. Fabrics see bi- and one way stretch with brushed, clean, broken twills and slubs.
Evolve presents creora eco H-550 low settable elastane blended with organic cottons, Tencel, bamboo and recycled cotton alongside recycled synthetics. creora black H-100D keeps deep indigo and intense black tones dark and creora performance H-350 delivers high power, lasting colour. MIPAN regen recycled nylon is blended with cotton and creora eco for environmentally friendly innovations. Blends with cashmere and merino wool and creora elastanes lead the demand for new and luxurious stretch fabrics.
Visualize – Compact – Authentic – Distressed – Ecological – Stretch – Soft – Eco
Garment focus – Traditional & Contemporary Jeans – Tailored stretch denim blends
Santana Textiles has introduced a new collection of two way stretch denim with creora eco to meet the market demand for eco friendly fabrics that are also comfortable and easy to wear. The Bi-Elastic Movement collection is made with a unique finishing process that gives the fabric a softer, more luxurious feel, adding to its comfort and versatility. As the fabrics from Santana are softer before any garment finishing, less chemicals are required in the garment wash & finishing processes which have additional environmental benefits.
Denim continues to be one of the best selling fabrics in the world as it continually is being renewed and reinvented. Two way stretch denim is the most desirable as it provides the ultimate in comfort but historically has been costly and limited to the higher end denim manufacturers. Santana's new collection is more affordable and therefore more marketable given current consumer's demand for value.
Iorrana Aguiar, Marketing Director of Santana Textiles, believes "Bi Elastic Movement (BEM) fabrics, combined with the creativity of denim designers, will allow for the innovation of garments that provide a unique experience for every different consumer according to their own needs. Examples can range from simply a greater movement range to better blood circulation." He continues "BEM Fabrics by Santana Textiles are inspired by human values and aimed to gratify each customer's individuality"
Author: Billy Hunter