Interfiliere Trends Summer 2011 A Matter of Seduction
22nd October 2009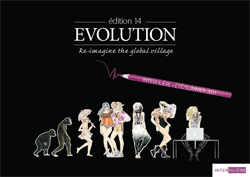 22 October 2009, Paris - In 2010, Interfilière will once again take its place as the only fabrics trade show in the portfolio of fashion trade fairs at Porte de Versailles, between January 23rd and 25th 2010. The show will be held in the same venue as September: Pavilion 3
FEMININITY, SEDUCTION AND INTIMACY…
In synergy with the Salon International de la Lingerie, Interfilière has adopted a new communications package celebrating femininity, seduction, luxury and intimacy… Together, the two shows offer a unique cross-sector concept.
BUSINESS: THE KEY TO SUCCESS!
160 exhibitors and over 11,000 visitors (two-thirds of them international) come together at Interfilière, a benchmark trade show, worldwide platform and unmissable industry event.
The following companies have already confirmed their participation: Albert Boesch, Alge Elastic, André Avio, Be Be Cotton Knitting, Broderies Deschamps, Cadt Software And Drafting, Chih Yi Embroidery, Christian Eschler, Cifra, Boselli, Encajes, Eurostick, Fashion Resources, Fleischmann (Hung Hon), Guangzhou Seal Beauty, Bra Cup, Hong Tsai International, Huber Tricot, I.R.T.E., Iluna Group, Indesmalla, Inplet Pletiva, Isco - Isidor Scheffknecht, Jabouley, Jotta Enterprise, Junior Arte Ricami By Adele Zibetti, Les Tissages Perrin, Liebaert, Lunas France, Manifattura Ferrario, Mastex, Muehlmeier Bodyshaping, Natex Spitzen, Papillon Ribbon & Bow, Piave Maitex, Soulis-Kuehnis, Tessitura Rossi, Willy Hermann, Worldwide Golden Enterprise, Wu Tong Industrial…
The calibre of visitors is confirmed and consolidated with each new session - 74% of visitors are responsible for fabric sourcing decisions; 58% are manufacturers, 34% are mass-market or multiple retailers and 4% are independent designers - paving the way for high-level exchange and positive results.
Boosting networking opportunities, Interfilière accompanies its exhibitors in their search for new clients and markets.
At recent sessions, Interfilière has facilitated contact between exhibitors and the major buyers they are seeking to meet thanks to B-to-B meetings, organized ahead of the show.
This service has been updated with the launch of a web interface designed to finalize meetings between exhibitors and major buyers: Meet Lingerie…
CREATIVITY: THE DRIVING FORCE!
Having established a reputation for its creativity and dynamism, Interfilière's strength lies in its product range: 160 exhibitors, selected from among the world's top companies, come together at Interfilière in a concentrated hotbed of know-how and expertise, at the cutting-edge of innovation.
The show is divided into four sectors: LACE IT (lace), BROD'CUST (embroidery), ACCESS FOLIES (haberdashery and accessories) and NEOSKIN (knits, wovens and prints).
In 2010, Interfilière is keeping pace with market trends and developing a new "loungerie" sector!
Seduction, finesse, modernity… a new sexier and younger take on loungewear, for the comfort of homewear that is beautiful enough to be worn outside the home. The most gorgeous knits, sumptuous satins, amazing embroidery, show-stopping trims and accessories … (Huber Tricot, Emmegi – Ferrario, Piave Maitex, Boselli, Les Tissages Perrin, Acd Maille, Rocle by Isabella, Dogi International, Liebaert, Be Be cotton, Händel + Diller, Fernando Valente, etc.).
Other key areas for development include men's underwear (ESF, MG Creation, Tessitura Rossi Piave Maitex, Maglificio Ripa, Eusebio, Willy Hermann, Huber Tricot, Händel & Diller, etc.) and the shapewear market which continues its constant evolution, offering innovation and refinement… (Liebaert, Tianhai Lace, Dogi International, etc.)
FASHION AND INFORMATION TAKE CENTRE STAGE!
With its striking new linear display creating a focal point in hall 3, the General Forum positively vibrates at the heart of the show: trends, colours, designs, innovations, prototypes, new ideas … the most stunning fabrics take to the limelight in an explosion of striking images, packed full of fashion information.
A veritable celebration of creative freedom and innovation, this space is Interfilière's number one highlight!
Themes for Summer 2011:
TENDRESSE
Memories of beauty, refinement in soft colourations and sophisticated material mixes…
An atmosphere heavily loaded with, memories… but reinvented by using, technical innovations. To maintain the, feeling of softness and a nostalgia of charm, there are sophisticated constructions, digital, prints, placed jacquards, audacious accents, and subtle featherweight effects, silks, fine cottons, blends. Then there are the refined, luxury lines of coordinates made to last: it's the triumphant return of the camisole, bodies, teddies… all expressions of an eternal seduction.
ANTIDOTE
Happiness lies in the surprise of unexpected encounters and in love for what the others do…
Happiness lies in non conformism. Not a question of being good or reasonable but the passion colours evoke, explosions of prints, geometrical accents, Indian flowers, folk music kitsch, cartoon influences and naĂŻve primitives create a wild patchwork. A liberated celebration of all that everyday life is about. Amusing creativity, beachwear influences, mixes of ethnic and otherworld, ardour and femininity, the whole based on strong lines. And the urge to thumb your nose at depressing themes!
OASIS
Exotic and exuberant contrast with a desert landscape of sun and shadow and rustic beauty aged by the years…
Pleasure gorged on sun and freshness. On the one hand, the exotic – exuberant nature inspired by Gauguin, luxuriant foliage and cat-like beachwear motifs. On the other hand, the desert – a landscape of sand, primitive embroideries, Berber stripes, beautiful laces patinated by the years, ikats and metal accents.
For ample shapes such as caftans or djellabahs, dry knits, charming linens and cottons for the Loungerie trend.
SUBLIME
The essence of a new luxury, ostentatious and astonishing with a hint of theatrical and urban roughness…
Haute couture plus high-tech. The scene is ostentatious, emphatically astonishing, unique. In the corridors of this new theatricality … surface effects, contrasts of opaque and transparency, flocking, placed burnt-outs, transfer prints, graphics and bondage accents. Spectacular decorative touches, large coloured stones, vintage embroideries. This is the essence of the new luxury, exceptional beauty ready to conquer the land of modernity.
In addition to the themes for Summer 2011, the General Forum will take an in-depth look at three fast-developing markets: loungerie, men's underwear and shapewear.
Accessories and trims will be placed in the spotlight on a second forum in the Access Folies sector, it will feature an "Al fresco lunch" theme: showing off the lightness and finesse of accessories in an airy display based around nature and freedom.
The show will also include daily trends conferences presented by the design agencies Nelly Rodi, Carlin International, Concepts Paris, Promostyl, etc.
Download Interfiliere Trends Summer 2011
Author: Billy Hunter