Sample No: y1617
Machine: SWG173-X 12
Material: viscose 60% polyester (solo) 40% 1/31x2,
Nylon 92% Lycra 8% 20/70dx2
Description: WholeGarment
Knitting Technique: Lateral transfer
SWG-X
Specially configured for WHOLEGARMENT® knitting with 4 needle beds and an additional loop presser bed, Shima Seiki's SWG®-X features vast improvements over the original SWG®-series machines.
With a completely new design based on FIRST® "next generation" technology, the SWG®-X is capable of producing beautifully shaped, high-quality WHOLEGARMENT® products which conform perfectly to the body for improved comfort and a more elegant silhouette. These are made possible through such innovations as the SlideNeedle™ and Pulldown Device, which adjusts takedown tension independently for front and back bodies, allowing unprecedented three-dimensional shaping control.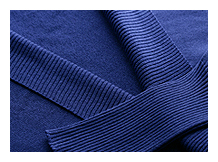 The addition of 5G, 8G and 15G versions further enhances the SWG®173-X's capability, ranging from high-quality coarse-gauge knitting to highly refined ultra-fine gauge applications. The SWG®-X line-up is further enhanced by the addition of the SWG®174-X. With 4 knitting systems for increased productivity especially for such applications as multi-colour jacquard, double jacquard and intarsia, SWG®174-X features an increase in the number of yarn carriers, side- and top-tensions as well as yarn positions for DSCS®, for supporting multi-colour production.
Author: Billy Hunter