Nilit presents BodyFashion and Active-Sports Wear Trends for Spring - Summer 2008
3rd June 2008, Migdal Haemek, Israel
Nilitpresents BodyFashion and Active-Sports Wear Trends for Spring-Summer 2010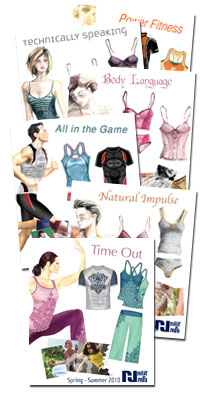 1 June 2008, Migdal Haemek, Israel - Nilit today announced its new trend concepts for bodywear and active-sports wear for Spring-Summer which will be presented in the NILIT BODYFASHION TRENDBOOK. Spring-Summer 2010 anticipates a dynamic season in which the world of bodywear celebrates the summer by offering an abundance of diverse products to provide the modern woman with unlimited choices to express her femininity. Today's consumer is as discerning as she is fashion conscious, continuously seeking inspirational products which make her feel unique, and using her bodywear as a way of expressing her individuality. The mood varies from luxurious to romantic and from ultra-glamorous to street inspired or futuristic. Whether it's a look of subtlety and simplicity or glamour and seductiveness, products must carry an underlying message of creativity and performance. This season, bodywear is a combination of both know-how and innovation skillfully engineered into products which provide comfort while they reshape and flatter the body. To meet this challenge, NILIT ® continues to be at the forefront of technology and its unique and diverse products continue to open new vistas of innovation and creativity. NILIT s advanced expertise in yarn technology and comprehensive product will provide you with an unlimited source of inspiration to create bodywear that is one step ahead in fashion, glamour and increased technical performance. THE NILIT ® TRENDBOOK defines three trends for SUMMER 2010 for Bodywear and highlights the yarns and colors best suited to these trends: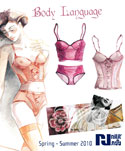 BODY LANGUAGE touch creates an aura of daring nostalgia, strongly inspired by the screen heroines of the 50s and retro pin-ups. Body-hugging shapes that cover and provide support include corsetry cuts, triangle bras, girdles and suspenders. Feminine details adorn shiny satin, gossamer knits, and chantilly laces.

NATURAL IMPULSE Nature inspires us with its colors and perfumes to return to authenticity and to be in tune with all that is around us. Innocence, freshness and simplicity are recaptured in "old-time" lingerie and discreet second-skin products. Light matte fabrics with a cottony touch and jersey with a natural hand provide well-being thanks to moisture management and anti-bacterial properties.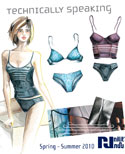 TECHNICALLY SPEAKING Technology infiltrates sensuality to create weightless almost invisible garments which outline the body with bold structural shapes, or envelope it in an almost invisible veil. Inspired by the elements of air and water, these combine eclectically with modern architectural structures and are expressed in body-hugging shapes in a corsetry spirit.
THE NILIT ® TRENDBOOK defines three trends for ACTIVE-SPORTS WEAR for SPRING-SUMMER 2010, with the accent on performance.
ALL IN THE GAME The spirit of competition inspires activewear with a focus on the highest demands of function and an emphasis on comfort. Sophisticated cuts for outdoor sports such as tennis, volley ball and athletics combine knitted panels of varying textures which enable flexibility and breathability. NILIT
®
Aquarius yarn ensures moisture management and supportive shaping.

TIME OUT Seamless bodywear with a focus on wellness features timeless styling for leisure activities such as yoga which blend sport, health and spirituality. The dance spirit infuses new energy into bodywear in which increased importance is given to fabrics with support and shaping qualities. NILIT
®
Aquarius yarn ensures moisture management, flexibility and support.

POWER FITNESS High-performance activewear for cross-training, running and fitness requires sophisticated ergonomic cuts which provide maximum freedom of movement and optimal fit. Added protection is provided by knitted panels with structures that incorporate reinforced zones. NILIT ® special performance yarns provide the perfect synergy between functionality and design.
Source: www.nilit.com
Author: Billy Hunter