Seamless autumn hosiery with touch of elegance
4th October 2012
As the days grow shorter and the temperature drops, the time has come to wear warmer clothes. In this case, the tights shown below bring a touch of floral splendour to the cool days of autumn.
This elegant leg wear is made from a structured ground with circular, relatively wide mesh openings and large roses in the Art Deco style. The densely hatched flowers entwine around each other to form tendrils, which envelope the legs softly in a wavy pattern – an eye-catching detail made even more striking by the use of colours. A lilac-tinged brown has been combined with a cool yellow to create the contrasting colour effect.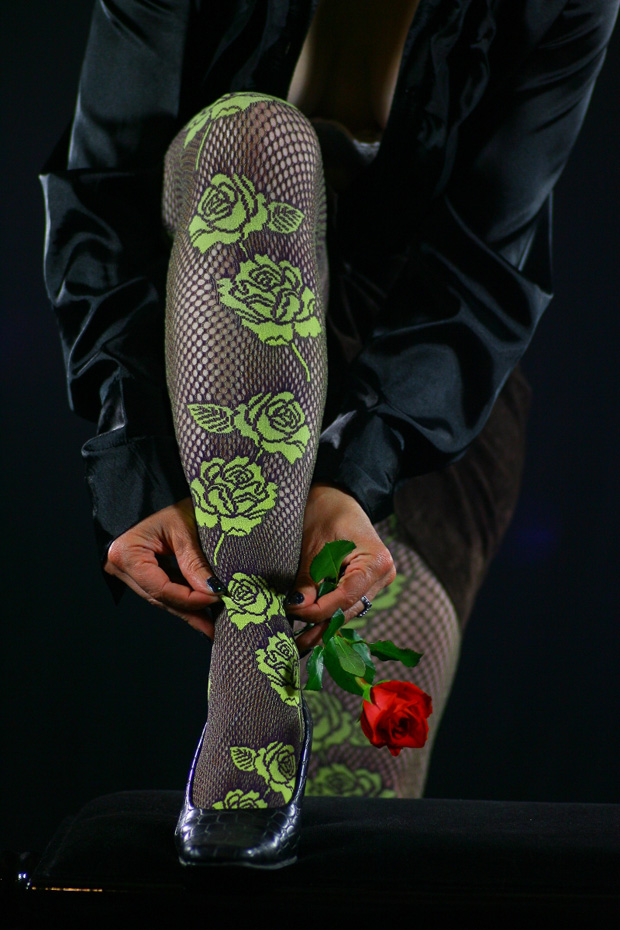 The tights were produced without any seams whatsoever – to complement the flowing pattern of the flowers but especially to improve the comfort and fit. This attractive garment was produced in a single piece – from the closed toe to the waistband – and is a speciality of Karl Mayer's double-bar raschel machines. The machine used to produce this item was set up in a gauge of E 24 in the off-set technique, which produces a gauge of E 12 in the fabric view.
Textured polyamide was used in the ground guide bars and a core-spun yarn was processed in the pattern bars. The two-component yarn comprises an elastane core wrapped with polyester or polyamide.
The clever combination of materials gives the garment a soft, warm handle, provides optimum freedom of movement, and also ensures that the tights fit snugly around the legs. According to Karl Mayer another advantage of the production technology is that it ensures that these warp-knitted fashion garments fit perfectly.
The machines in the DJ and RDPJ series with EL drive for the pattern bars and the Kamcos Motion Control/Multispeed system are said to be perfect for producing seamless products that are designed to match the shape of the body.
In addition to processing a wide range of designs, they also work different stitch densities to produce this elegant look. Together with the patterning technology, this is important for ensuring that the garment matches the shape of the body perfectly, Karl Mayer says.
Author: Billy Hunter