What's new at PITTI FILATI 70?
18th January 2012, Florence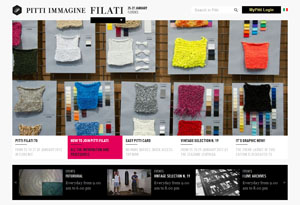 Pitti Filati returns to Florence for its 70th edition from 25-27 January 2012. The organisers Pitti Immagine say "Pitti Filati is the reference fair in the excellence of knitting yarn, in which all the new international trends in the industry converge."
Pitti Filati is still a main international event for professionals, as evidenced by visitor numbers at the last winter edition - more than 4000 buyers, of which 1500 (43%) were buyers from abroad including Germany, UK, France, Switzerland, USA, Spain, Japan, Holland, Turkey, Russia, Sweden and Hong Kong. 85 brands are expected this month at the 20,000 square metres of space set up at the Fortezza da Basso, in addition to the 20 exhibitors in the Fashion At Work area.
Among the main innovations of 70th edition of Pitti Filati are:
·E-PITTI.COM - a virtual version of the fairs of Pitti Immagine, for the first time extended to Pitti Filati, will allow buyers to prolong the experience of the exhibition and exhibitors to multiply their opportunities for contacts
Futurural - the relationship between man and the rural environment, is the new concept of the Spazio Ricerca
And also, the guiding theme of the Pitti Immagine January 2012 events, It's Graphics Now!: A tribute to visual communication and its fundamental role in translating into signs and forms the feelings of our present reality
Vintage selection will take place at the Stazione Leopolda, from 25-28 January 2012: an exhibition-market featuring vintage clothing, accessories and design items; a meeting place for cool-hunters, stylists or simple history of fashion enthusiasts and collectors.
Pitti Filati: scenarios and trends
According to the organisers, despite crisis in its sector, Pitti Filati stands out as the most important and most popular international appointment with operators and style offices, offering excellence in the form of top-of-the-range yarns.
"It is also a privileged observatory thanks to forecasting and creative application of the trends showcased every season in the Research Space," organisers say.
Pitti Filati met fashion designer Angelo Figus (AF) who is responsible for the Research Space and asked him for a preview and forecast from the world of yarns.
PF: "How is the yarn sector evolving and has it introduced anything new?"
AF: "The world of yarns is striding out ever more enthusiastically towards all that is natural, which no longer has that rustic, bio-boring aspect it used to have. Today it appears sophisticated and contaminated by a certain techno inspiration. Main players will be linen, cotton and silk blended with synthetic yarns for improved performance and yield or more simply treated with finishes and processes that give a technical, futuristic appearance to the fibre."
PF: "Will this new dimension of nature be the real star of the Research Space?"
AF: "It is the hybrid nature of the yarns that has led us to conceive Futurural, a study into trends based on the wonderful fusion of rural life, feet firmly on the ground, natural and no-nonsense, reworked with a futuristic input and the need for progress: a nature that is not contemplative, but active, aggressive and high-performance. A hypothesis that looks to a new lifestyle narrated through four themes allowing us to develop four different approaches to life in the country; sometimes romantic, sometimes full of energy".
PF: "What other new entries come with the new Pitti Filati?"
AF: "An extraordinary partnership with New Holland, Fiat's farm machinery division, which has led to creation of an amazing techno-dramatic installation, decidedly different from any in the past and quite probably unrepeatable. This project highlights the transversal nature of a Pitti Filati that is one step ahead of all the others in terms of colour trends and not only for the fashion sector. A creative laboratory followed by anybody who has anything to do with design in its broadest sense".
E-PITTI.COM
All brands taking part in Pitti Uomo 81°, Pitti W_Woman Precollection 9°, Pitti Bimbo 74° and Pitti Filati 70° will benefit from an online space where they will be able to showcase some of the more representative products of their new collections.
The virtual fairs will stay online for a month and will give the chance to enhance a brand's visibility while increasing the possibility to establish new and profitable commercial relationships. e-Pitti.com also offers another service. Alongside the virtual fairs there's the online showroom. "Thanks to this innovative service brands will have the opportunity to display for 12 months their collections negotiating and collecting orders directly online," organisers say.
NEW ENTRIES: UPDATED LIST
Among the new names at this edition, new projects at their international debut, and new important returns are:
Accademia I Grandi Filati Italiani | Acorn | Alpes Manifattura Filati | Biagimar Chiusure Lampo | Binicocchi Aguglieria By Ecafil | Botto Giuseppe | Botto Poala | C.T.F. | Cariaggi Fine Yarns Collection | Chiavazza - Zegna Baruffa Lane Borgosesia | Di.Ve' | E. Miroglio | Ecafil Best Industria Filati | Fashion Mill | Fashion Room | Filarc | Filartex | Filati Be.Mi.Va. | Filati Biagioli Modesto | Filati Color | Filati Power | Filatura A Pettine P3 | Filatura Di Pollone | Filatura E Tessitura Di Tollegno | Filatura Papi Fabio | Filclass | Filcompany | Filmar | Filpucci | Filpucci Tricot Studio | Fiona Colquhoun Design | Folco - Filivivi | Forza Giovane | Gary Rooney | Gi.Ti.Bi Filati | Glory | Gruppo Tessile Industriale | Hasegawa | Iafil - Industria Ambrosiana Filati | Igea | Ilaria Manifattura Lane | Industria Filati Buzau | Industria Italiana Filati | Knit-1 | Lanecardate | Lanerossi - Filivivi | Lanificio Dell'Olivo Filati Dal 1947 | Lineapiu' | Linificio E Canapificio Nazionale | Linsieme Filati | Loro Piana & C. | Magazzini Mercerie | Make Up, Stardust, Essence | Manifattura Sesia | Martex - Filivivi | Millefili - Bluring | Mirella Filati By Giorgini Silvano | Mode...Information | Monticolor | Nastrificio Fiorentino | Natural Fantasy | Naturale | New Mill | Olimpias - Filma | Olimpias - Galli Filati | Olimpias - Goriziana | Olivo Filati | Ormo | Pantone | Pecci Filati | Pimafil | Pinori Group | Reiko | Safil | Selcuk Iplik | Shenzhen Meilian | Sinfonia | Somelos Fios | Sophie Steller | The Collection | Tintoria Di Quaregna | Todd & Duncan | Toscano | Z. Hinchliffe & Sons | Zegna Baruffa Lane Borgosesia |
Author: Billy Hunter