Cashmere World comes to Hong Kong
9th August 2012, Hong Kong
Cashmere World organisers say the show is primed for a big and successful Hong Kong debut with many of the world's most important cashmere producers and luxury brands invested in the exhibition.
The highly specialised fashion trade fair will run alongside Fashion Access, said to be the best source of "head-to-toe" fashion, from 27 to 29 September at the Hong Kong Convention and Exhibition Centre.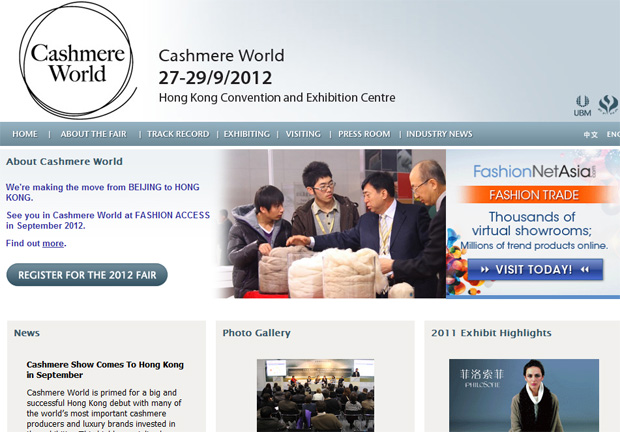 Eagerly awaiting their foray into the global market are representatives from the top five cashmere producing and processing regions in China, namely: Qinghai, Qinghe, Zhejiang, Ningxia, and Inner Mongolia. The groups will be bringing their latest yarns and fabrics for presentation to the major international buying offices and high-level brands with important regional headquarters in Hong Kong.
Leading cashmere brands
Some of China's leading cashmere brands have already confirmed their participation at Cashmere World. Zhejiang's Springair Cashmere, the largest sweater manufacturer and supplier in East China will be there. More stylish cashmere sweaters will also be presented by Viction, which produces its top-quality collections in Linhe, Inner Mongolia, and by Taixing Cashmere which is based in Hebei.
They are joined by the Hebei Yulian Cashmere Group, a major supplier of dehaired cashmere and cashmere yarn, as well as cashmere garments. Pipigou, the luxury cashmere apparel brand from Shanghai, is said to be one to watch out for. St. Edenweiss Cashmere of Ningxia will be presenting their collection of scarves.
Cashmere centres
Other international cashmere centres are represented at the fair including India's Ahujasons, which preserves and promotes the pashmina shawl-making craft in Kashmir and Punjab. Old Village Overseas is a major Indian producer and exporter of silk and cashmere scarves and fashion accessories, servicing over 200 brands worldwide. Also at the show is Pashma, one of India's luxury cashmere labels.
Tricot, the largest knitting unit in Nepal, catering to some of the best global fashion brands, will also be there. From Afghanistan, the Herati Cashmere and Skin Processing Plant is the first cashmere dehairing facility in the country, realising a shift from exporting cashmere in its raw state to the higher-value processed cashmere.
Cashmere from Italy is represented by Galassia, known for its Pashmere brand of sweater made of extra-light cashmere. Chianti Cashmere brings its handcrafted creations using sustainable cashmere. Another Italian company to watch out for is Myak which offers a collection of textiles made from pure baby yak wool, sourced from Tibet.
These eminent names in cashmere are said to be enthusiastic about Hong Kong bringing a fresh and bigger audience for their raw materials and finished fashion products. It is expected that 80% of Cashmere World will consist of garments and accessories exhibitors while 20% will feature yarns and fabrics.
Roundtable discussions
An interesting highlight of Cashmere World will be the roundtable discussion on current cashmere industry developments and issues. The panel will include the eminent Dr. Riaz Ahmad Shah, member of the Bio Technology Department of the Faculty of Veterinary Sciences & Animal Husbandry, Shuhama in the Kashmiri region, who will give an update on his successful cloning of a Pashmina goat kid which he christened Noori.
Also in the panel are Dr. KC Ho, director of R&D of the Hong Kong Research Institute of Textiles and Apparel (HKRITA) who will speak on the "Challenges to Cashmere Suppliers" and Kristiina Salminen of high-end Finnish cashmere label Arelalizza who will explore "How a Cashmere Fashion Brand Evolves", from concept development to design inspirations. Arelalizza's collections will be featured at Hall 5F of Fashion Access.
Colour and style trends
More trends and fashion business related seminars are on tap. Upcoming colour and style trends for Fall-Winter 2013-14 from Peclers Paris will be presented by Mary Yan Yan Chan. Fashion consultant Jayne Esteve-Cure of Jayne FashionAgency Paris will talk on merchandising trends, focusing on "How To Train Fashion Shop Assistants". There will also be a seminar on "Buying Accessories for the European Market" to be conducted by Sandrine Williamson, head accessories buyer of Galeries Lafayette in Paris.
An estimated 6,000 buyers are expected to walk through the halls of Cashmere World and Fashion Access this September. According to the organisers, Fashion Access' buyers will have great interest in seeing the exhibits at Cashmere World as cashmere sweaters, shawls, suits and dresses fit hand in glove with the product profiles of the thousands of boutique and department store buyers, wholesalers, agents and distributors passing through Fashion Access in search of the products that will fill their shelves for the coming season.
Author: Billy Hunter