Fraas installs China-built Monforts stenter
5th October 2012, Zhangjiagang City
German scarf manufacturing specialist V Fraas has installed a Montex 6500 stenter at its Zhangjiagang factory to allow the production of cashmere and woollen scarves.
The China division of German scarf manufacturing specialist V Fraas has installed a Monforts Montex 6500 stenter with integrated heat recovery system at its recently established plant in Zhangjiagang City, Jiangsu Province, to allow the company to add wool and cashmere to its production.
The stenter, a four-chamber unit manufactured by the Monforts Fong's joint venture, represents the third stage in Fraas's development plans for China.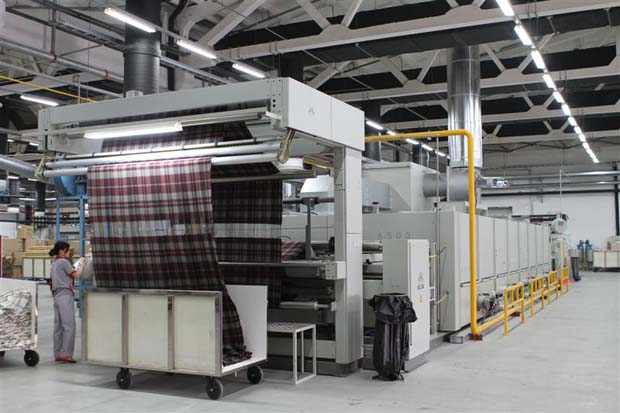 V Fraas was founded in Wüstenselbitz, a small village in Upper Franconia in Germany by Valentin Fraas in 1880, and specialises in producing quality circular, flat and raschel knitted scarves as well as woven scarves that are complemented by a wide assortment of shawls and other textile accessories such as caps, gloves, capes and ponchos.
The family-owned company has its renowned V Fraas brand that sells through its own stores and in retail outlets internationally, and also manufactures for other leading clothing and accessories brands under its Private Labelling division.
A design team is spread across Wüstenselbitz, New York, Paris, Düsseldorf and Shanghai, market proximity and technical proficiency being the underpinnings of the development of 500-700 new items annually.
Vertical manufacturing
With its vertical manufacturing capacity the company produces annually 10 to 12 million scarves and other textile accessories from its manufacturing facilities in Germany, the Czech Republic and China.
Fraas established its Zhangjiagang production plant in 2003, having in the previous three years opened a total of seventy V Fraas stores in China. The Chinese division, V Fraas (Zhangjiagang) Textile Co Ltd, is entirely German-owned.
Juergen Pittroff, executive director of operations, says that initially the Chinese factory was for the production of warp knitted and woven scarves, and there was no stenter frame.
"The plant underwent a second-phase expansion in 2006, and then in 2009 we made the decision to expand to wool and cashmere; needing a new factory extension to be built to house the stenter."
Stenter quality
Mr Pittroff says that V Fraas has a Monforts stenter at its German plant, and has been comparing the build and functions of the Germany-built Monforts and the China-built Monfongs stenters.
"There is no difference at all," he says. "No difference in the quality, the output or the service back-up."
"When we began planning for the stenter, we gave some thought to the possibility of using a Chinese-brand machine. But although we could have worked with such a machine, it would not have given us the quality or the reliability. We made the right decision."
The Monforts joint venture machine was ordered direct from Germany and installed by Monforts engineers.
The factory employs a core workforce of about 200, with a further 100 added during the high season.
Operation
Mr Pittroff says that the factory is using mainly female workers, including for the operation of the Monforts stenter.
"We have been very impressed at how reliable and careful they are," he says. "The women working the stenter had started off in our knitting department and we trained them."
"At first we were concerned that the stenter would be too demanding: all the machines are very complex but the stenter is our vital production centre and it requires very close management."
"But they learned very quickly, and they are very good. We now use one full-time operator per shift with another supplying backup."
Mr Pittroff says that at present the stenter is operating for four days a week, with one 10-hour shift per day.
Rise in production
"Production is gradually rising," he says. "During the first complete 12-month period in which the stenter has been in operation, its output reached around 300,000 pieces. We now see that increasing thanks to the flexibility offered by the stenter, particularly with the development of new articles."
The width of the fabrics handled by the stenter range from 1.3 to 2 metres, with weight per scarf ranging from 80 g to 150 g. This would equate to about 148 to 277 gsm.
The yarns are sourced within China, and the weaving and warp knitting are done on the premises.
"Now we have the stenter we are a vertically integrated operation," says Mr Pittroff.
Heat recovery system is important
Claus-Juergen Mueller-Yang, general manager at Fraas's Zhangjiagang plant, says that in China, costs are rising across the board.
"Gas, electricity, water, and above all, labour are all increasing," he says. "The rise in labour costs is government policy, and it will continue. Efficient technology is going to become even more important."
"We find that the Monforts heat recovery system is important to us and will become more so as we increase our business."
"But more than this, we find that so many of our customers want to know about green energy. When we explain that we use the Monforts heat recovery system that gives us a very distinct competitive edge."
Mr Mueller-Yang says that at present, 85% of the output goes overseas, mainly to the US and Europe, while 15 % is going to the China market.
"The Chinese market is growing for us, and we expect the ratio to change," he says. "But the Chinese buyers are extremely demanding in terms of both quality and price."
"Having advanced technology such as the Monforts stenter is absolutely vital for us to compete in this market."
Author: Billy Hunter