Knit designers shine at Texprint showcase
16th July 2012, London
The work of 24 carefully selected textile design graduates was shown at Texprint London last week where knits featured heavily.
Texprint's chairman, Barbara Kennington presented all 24 designers to sponsors, press, key decision-makers and leading creatives in the fashion and interiors markets at Texprint London — a gallery-style display focusing on key pieces by each new talent — on July 12 and 13 at Chelsea College of Art & Design, Pimlico, London. The designers' full collections were available to view on request.
The judging panel comprised of: Caroline Burstein, creative director at Browns Fashion and founder of Molton Brown; Neisha Crosland, renowned designer with eponymous interiors and accessories brands; Paul Stamper, senior designer, design perspectives, Renault Design at Renault; and Sheree Waterson, executive vice president and chief product officer of activewear company Lululemon Athletica.
The experts reviewed the work of the textile designers, working in print, weave, knit, stitch and mixed media, who are taking part in this year's mentoring and career development programme and they chose four special winners, each of whom will receive a £1,000 prize, courtesy of prize sponsors Pantone X-Rite, Liberty Art Fabrics and The Clothworkers' Foundation.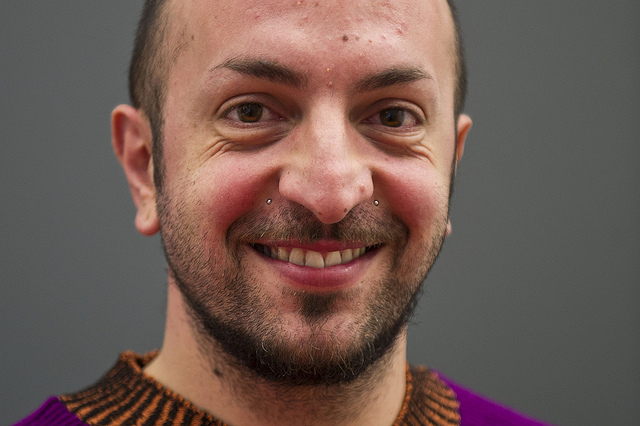 Carlo Volpi from the Royal College of Art wins the Body prize — awarded to the best fashion fabric. Caroline Burstein said it was a unanimous decision and praised the knitwear designer's impeccable colour sense.
Tania Grace Knuckey from the Royal College of Art wins the Space prize, awarded to the best fabric for interiors. Her work incorporates materials from metal to leather and Paul Stamper was impressed with her "good mind" and ability to turn her hand to anything.
Ying Wu from the Royal College of Art wins the Pattern prize. Neisha Crosland said her scarves were exquisite: "She has taken skate and street and taken it upmarket and refined."
Manri Kishimoto from Central St Martins wins the Colour prize. The judges coveted her printed garments and Sheree Waterson described her designs as "outrageous, mind-blowing. Her illustrations are awesome."
Knit specialists
Texprint presented the work of seven knit specialists among the 24 graduates selected to take part in this year's new designer mentoring programme.
Carlo Volpi, from the Royal College of Art, presented menswear knits in chunky yarns using a bold, fun colour scheme. He uses experimental techniques with domestic and Dubied hand flat machines machines to create oversized knits in wool, cashmere and cotton inspired by 1990s American sportswear.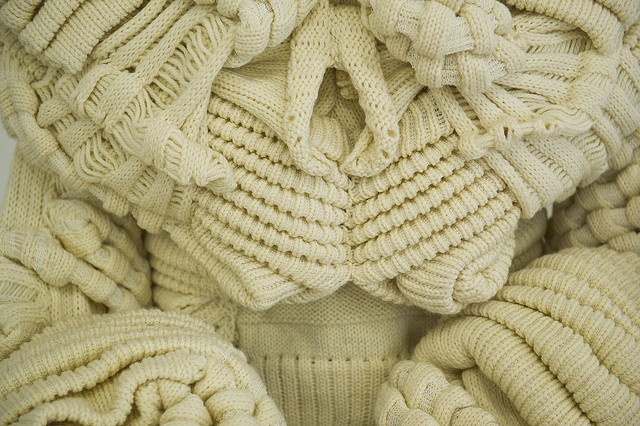 Azusa Dannohara, who studied at Central St Martins, presented a fun fashion collection of chunky oversized pieces. Azusa, who originates from Japan, has used fine yarns and fine gauge machines to complete her pagan ritual-inspired collection of headwear, jewellery and womenswear. Her e-wrapping techniques are enhanced by a bold use of colour and the use of merino wool and linen which she uses to bring to life her detailed illustrations.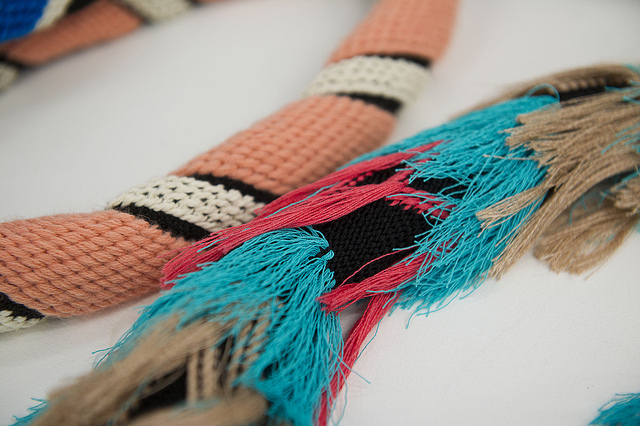 Central St Martin's graduate Guri Pedersen, adds an illustrative quality to her knitted fabrics. Norwegian Guri uses felting techniques, including wool combing, to incorporate surprising materials and yarns. Her finished fabrics exhibit a subtle and sophisticated blending of colour and texture which play with your eyes.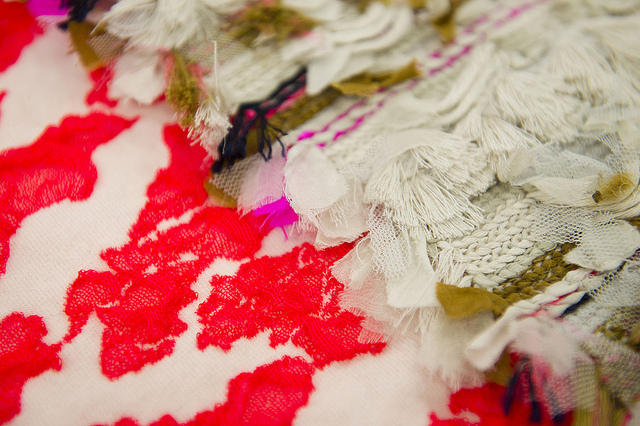 Charlotte Crombie, from Heriot Watt University, presented a range of interior fabrics using lambs' wool and cashmere displayed as cushions, foot stools and more. Inspired by Moroccan architecture, her fine gauge knits are heavily patterned and the earthy colour palette is emphasised through layered lace fabrics as well as heavy tight knits. All pieces are finished with knitted piping.
Sarah Burton's textured knits are monotone with slim stripes defined by inserted metallic rings, hooks and buckles. The Nottingham Trent University MA graduate uses ribbed and structured fabrics in viscose, cotton and silk. The resulting knits are styled as costumes for circus performers which are theatrical and entertaining but can equally be adapted to a fashion garment or an interior fabric.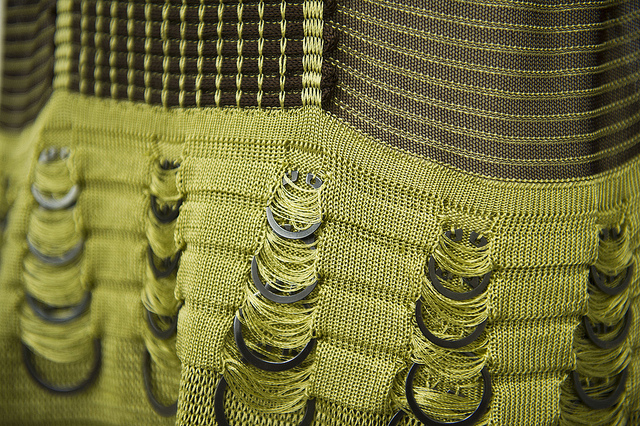 Heriot Watt University graduate Catherine Hodgkinson presents a collection of knitted fabrics relating to yarn synergy and conflict, using Lycra and viscose to create skeletal structures. She presents an experimental collection sometimes incorporating devoré and discharge printing to achieve linear surface patterns. Her fabrics can equally be adapted to interiors and fashion fabrics.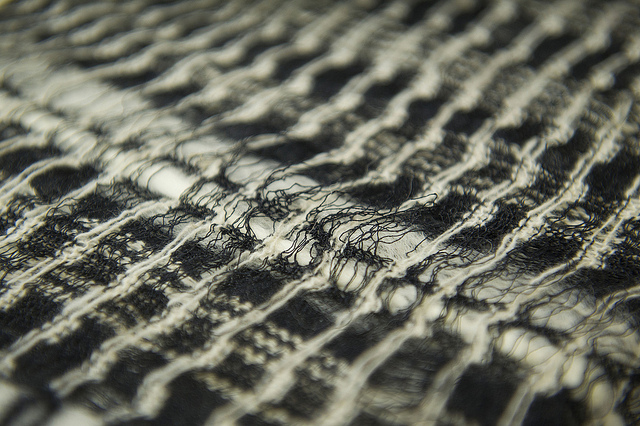 Japanese knitter Manri Kishimoto uses both knit and print. The Central St Martins graduate creates charismatic prints embellished with hand-sewn Swarovski crystals. Among the garments she presented is a knitted playsuit. The knitted fabric features her signature bird print in lime green and cream and is embellished with chunky crystals to match the weight of the chunky cotton yarn.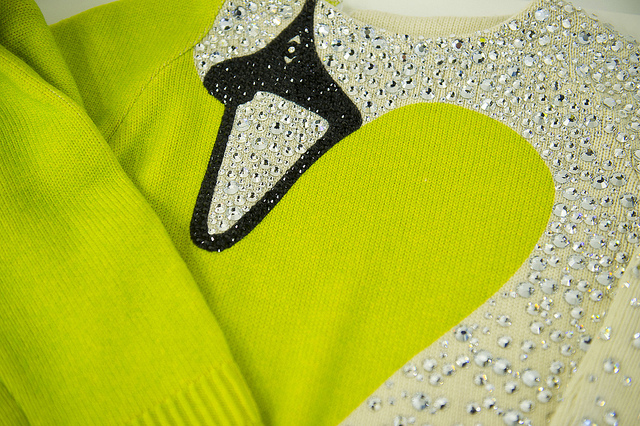 Woolmark Texprint Award
Following Texprint London, all 24 designers will present their work at Indigo, Paris, the leading design exhibition which is part of Première Vision Pluriel, from September 19-21, 2012. While at Indigo, the designers' work will be judged for the Woolmark Texprint Award in support of Campaign for Wool — the prize that recognises design excellence in fabrics created with 60% or more Merino wool.
Author: Billy Hunter