ITMA 2011: New intarsia options increase design potential
20th October 2011, Barcelona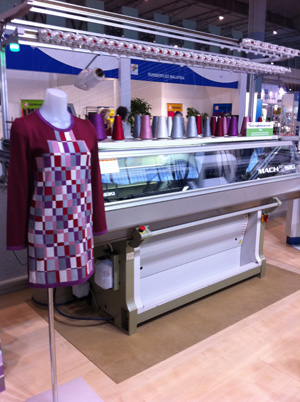 Intarsia options on the world's best computerised flat knitting machines just got better. Leading flat knitting machine builders Stoll, Shima Seiki and Steiger all showed multi feeder and new intarsia machine options at last month's ITMA 2011 in Barcelona, which give knitwear designers and manufacturers greater design scope than ever.
Up to 40 yarn carriers
Japanese flat knitting machine manufacturer Shima Seiki highlighted its brand new 40 feeder (33 standard - 40 as an option) high speed intarsia machine, the MACH2SIG.
The model on show was in fact a three system MACH2SIG 123 SC in 18 gauge, which was knitting a one piece Intarsia dress, the design and knitting data for which, had been created using the Geometric Pattern function of the company's new SDS One APEX3 design system.
The 18 gauge MACH2SIG 123SC, which is equipped with Shima's full sinker system, high speed R2 carriage and optional i-DSCS + DTC, knitted the intarsia dress in 27 minutes 49 seconds using 36 feeders without empty courses.
The MACH2SIG is available in SV, SC and FC variants. Both SV and SC, which are available in gauges 12-16 and 12-18 respectively, have Shima's full sinker system. FC has the classic fixed sinker system. SV gives the additional WideGauge option of knitting on a range of gauges on the same machine.
An additional feature of the MACH2SIG 123SC is the ability to produce a new type of intarsia join which uses a knitting technique instead of the standard tucking technique. The new intarsia join was employed in knitting the one piece intarsia dress at the show and had a neat appearance in the 18 gauge fabric.
Intarsia carriers on the MACH2SIG are more compact than their predecessors and allow more colour changes within a given knitting width. The improved intarsia system is also said to be much quieter, averaging two thirds less noise than Shima's previous system.
Shima's Air Splicer which uses pressurised air to cut and twist yarns together is offered as an option for the MACH2SIG.
Maximum flexibility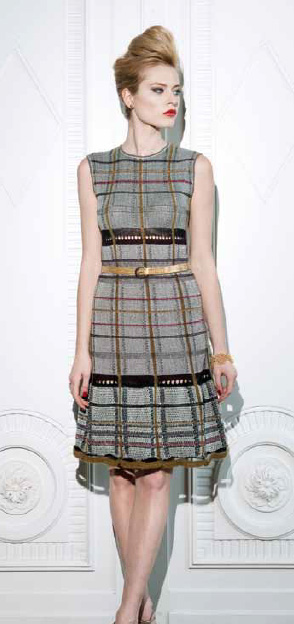 German flat knitting machine builder Stoll meanwhile, lists short set up times, simple handling, large colour variety, maximum flexibility and high productivity as the key features in its intarsia offer.
In contrast to manufacturers who offer specialised intarsia machines Stoll tells customers they need not purchase specialised machines as each of its CMS models, with a few exceptions, is already prepared for intarsia knitting. Users can knit intarsia on machines ranging from 50 to 96 inches working width and with up to 6 systems, to give flexibility and optimal utilisation of their plant.
Stoll says there is no need for special attachments or time consuming conversions and is a case of just sliding on optionally available intarsia feeders. The company's optional optimised yarn feeders can be fitted to most models and the compact design and even closer staggering now allows up to 32 feeders to be fitted to most models. More colours can be knitted for a given knitting width.
Stoll also says further advantages of its optimised feeders are noise reduction and the ability to stop the yarn feeder with great precision.
As an option Stoll offers 2 x 16 clamping/cutting points located on both sides of the machine to enable individual supply of up to 32 single yarn carriers. Other optional intarsia equipment includes extra wide friction feed wheels and constant yarn tension when using up to 32 intarsia feeders.
At ITMA in Barcelona a Stoll CMS 822 HP multi gauge machine was knitting the chequered dress opposite right in gauge E7.2. The dress, which is part of Stoll's Autumn/Winter 2012/2013 Collection, is knitted in just over 32 minutes with the machine running at 0.8 m/s. It is created using intarsia yarn carriers and transfer structure on jersey, knitted in one piece and with three different gauge optics.
Motorised pop-up yarn carrier
Swiss flat knitting machine builder Steiger, now owned by Chinese company Cixing, shared a booth with its parent company at ITMA and revealed some innovations including a new type of yarn carrier suited to intarsia knitting.
Industry insiders say the main reason Cixing bought Steiger was for its intarsia capability and knowhow which the Chinese company does not have. There is probably some truth in this and, Steiger is as always, still following its own path in terms of intarsia knitting.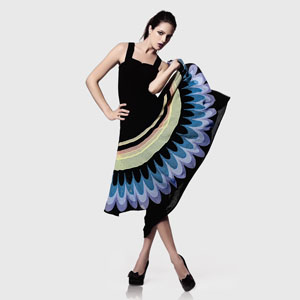 On show was a brand new version of the Vionnaz based company's Aries flagship series, the New Aries A3.130 SC, the SC indicating the machine is equipped with sinkers and comb takedown technology.
This is a departure from Steiger's tried and tested unique belt type takedown which was normally placed very close to the knitting area for optimum takedown control. Although Steiger said the new dynamic sinkers were a customer demand for tighter fabrics, some ITMA observers asked whether this is the first Cixing influence on Steiger machine design.
The three system 12 gauge A3.130 SC on show was fitted with dynamic sinkers on both needle beds, where each individual knitting system has sinker control.
From an intarsia point of view however, the most important innovation is Steiger's new programmable pop-up motorised yarn carrier. The yarn carrier is simply raised out of the needles way when not required, allowing other carriers to move in for knitting in shorter zones.
Other features relevant to intarsia knitting include an open carriage with direct yarn feed, a Steiger mainstay, and 24 motorised yarn carriers as standard or 32 motorised yarn carriers as an option.
Additional equipment includes 16 cutting/clamping devices on the left and 16 on the right side of the needle bed. The Aries A3.130 SC is available in gauges from E5 to E18/20 and a FreeGauge version (variable gauge), which knits both 7 and 14 gauge fabrics is available.
Author: Billy Hunter