ITMA ASIA + CITME opens its doors
12th June 2012, Shanghai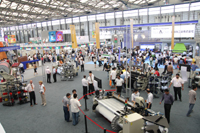 The third ITMA ASIA + CITME combined exhibition kicked off here in Shanghai today at the Shanghai New International Expo Centre (SNIEC). The show has drawn a very strong response as textile machinery makers continue to leverage the established branding of ITMA ASIA and CITME to market their latest textile machinery and related technology.
A total of 1283 exhibitors from 28 countries are participating at the combined show and organisers say this year's exhibition occupies 132,250 square metres making the show 30% larger than the last edition.
The five-day show is owned by CEMATEX, together with its Chinese partners – the Sub-Council of Textile Industry, CCPIT (CCPIT-Tex), China Textile Machinery Association (CTMA) and China International Exhibition Centre Group Corporation (CIEC).
"The opportunities presented by China's huge market remain an attraction for machinery manufacturers. We are glad to see many leading textile manufacturers gathered at the show with a wide range of textile machinery and solutions," Mr Stephen Combes, President of CEMATEX, said at the opening.
"Through the enthusiastic participation by our members and other exhibitors, we are heartened that ITMA ASIA + CITME remains an important and effective platform for them to reach out to the vibrant Asian market, especially the enormous Chinese marketplace."
"The combined show has been highly recognised by leading textile makers as it offers them a cost-effective showcase for their products and services in Asia. We are confident that the exhibition will create enhanced and new business opportunities for both Chinese and international textile and textile machinery manufacturers," added Mr Wang Shutian, President of CTMA.
Following the tradition of ITMA and ITMA ASIA exhibitions, only manufacturers of textile machinery and accessories are qualified to take part in the combined show, and exhibitors must display original equipment on their stand, creating added interest for visitors.
Chinese exhibitors take up more than 60% of the net exhibition space. This is followed by Germany (9%), Italy (7%), Japan (5%) and Switzerland (4.5%).
Sector-wise, spinning machinery forms the largest sector, occupying 35% of the net exhibition space. The second largest product sector is dyeing/printing/finishing (19%), followed by knitting (18%) and weaving (17%).
ITMA ASIA + CITME 2012 is organised by Beijing Textile Machinery International Exhibition Co Ltd and co-organised by MP International Pte Ltd. The Japan Textile Machinery Association (JTMA) is a special partner association of the show.
The exhibition runs until 16 June 2012.
Author: Billy Hunter