Santoni showcases latest innovations at ShanghaiTex 2011
8th June 2011, Brescia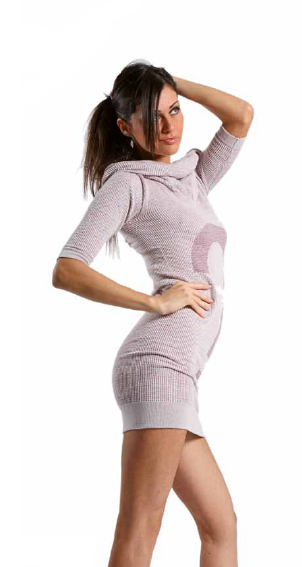 Santoni Group is all set to show an updated and innovative range of knitting and hosiery machinery at next week's ShanghaiTex exhibition, and is anticipating success in its fast growing Chinese market.
Santoni founded in 1919 is a part of Lonati Group, one of the earliest Italian manufacturers of hosiery machinery. With its technology advancements driven by customer needs, Santoni has become a pioneer in the circular knitting machinery industry.
In 2005, in order to better develop the Asian market business, Lonati Group set up Santoni (Shanghai) Knitting Machinery Co., Ltd in Jinshan Shanghai, specializing in the production and sales of Santoni seamless underwear machines and Panda circular machines.
The Seamless machines and large diameter machines are widely used in manufacturing of ultra fine lingerie, underwear, sportswear, outwear, swimwear, medical supplies and other fabrics. When the company was founded, Santoni only had one plant in Jinshan Development Zone. By 2010, the number had increased to six plants and in 2011 the company will move into a new plant in Jinshan, which adequately reflects pace of development of Santoni's business in China.
Innovative range of machines
At ShanghaiTex 2011, Santoni will show highly innovative range of machine series, which the company says visitors will be able to find almost any range of end products that can be produced on circular knitting machines.
"Seamless knitting clothing is in the high-end development, and the market for high quality seamless wear's demand is growing, and customers also hope to be able to produce a better product. We have upgraded our famous seamless machines such as SM8 TOP2, CHN to very fine gauge," says Santoni's Marketing Manager Patrick Silva.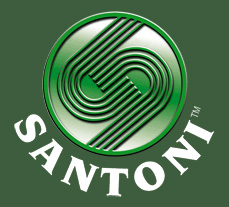 "We have prepared a large number of samples, allowing users to intuitively know that what kind of products our machine can produce; the same time, we hope to get more market information. On Santoni booth you will see not only Santoni circular knitting machines but also Dinema Electronic Solutions and Lonati Group socks machines."
"Santoni seamless circular technology can successfully use all types of yarn - both natural and man-made. During the show you will see different kind of yarns that will be use in Santoni machines," Mr Silva continued.
Santoni has divided the machines which it will present in Shanghaitex 2011 in to 4 groups; Seamless, Outwear, Large Diameter and Warp Knitting.
SEAMLESS
SM8-TOP2-40E
Santoni`s famous SM8-TOP2 has been upgraded to 40 gauge. This fine gauge possibility represents a technological breakthrough for a new dimension of seamless garments.
"We keep the surface of the garment smoother and lighter offering an incomparable feeling of comfort like a second skin," Mr Silva says. According to Santoni the ultra fine gauge seamless machine can produce intimate underwear, outwear, beachwear, sportswear and sanitary wear with a high level cover and performance. The machine offers the possibility to have various stitch structures, personalization with logo and double welt at the beginning and at the end of the garments.
SM8 TR1
The SM8 TR1 is a single jersey machine available in gauges up to 24 gauge. Santoni says this is a machine with a new approach to seamless casual sportswear. The machine is said to be one of the best solutions for knitting fish net and anti-drop stitch structures (Santoni patented) and has the possibility to work with natural yarns like wool, cotton and linen as well as synthetic yarns. Advantages of this machine are production of double fabrics or plating of the finest hand touch, mesh, pointelle or eyelet areas wherever required.
SM6 RIB2
The SM6 RIB2 is a double knit electronic circular knitting machine with 6 feeds. The machine is specifically designed for producing fine quality high production casual or sports knits in the most fashionable styles. There is the possibility to use natural, synthetics and manmade fibre yarns, bare and covered elastomeric. There is also the possibility to produce casual or leisurewear with true rib borders.
SANGIACOMO
Jumbo-Chroma
The Sangiacomo Jumbo-Chroma is an 8 feed single cylinder circular machine with 3 needle to needle selection points for each feed. It can be used to make underwear, outwear, sportswear, swimwear and is also good for medical applications. The company says there is the possibility to realize designs and logos in perfect colour plating.
SM - DJ2TS 18E
Santoni says this is the most complete double jersey circular machine it has presented. At ShanghaiTex Santoni will show an 18 gauge machine for seamless garments and a 15 gauge for sweater production. Santoni says the SM-DJ2TS 18E can knit a wide range of both manmade fibres as well as all types of natural fibres.
"It can knit almost any stitches such as true ribs, links-links, jacquards, striping, pointelle, eyelet, body rib bands. SM - DJ2TS 18 gauge can produce luxurious woman underwear, man and woman underwear and nightwear," explains Patrick Silva.
OUTERWEAR
SM - DJ2TS 15E
While keeping all advantages of the machine SM - DJ2TS, the 15 gauge model is said to have the possibility to produce outwear with different styles, daily wear and street wear from causal to evening wear.
MECMOR 1800 TJB
Highlighting the Group's Mecmor circular knitwear technology Patrick Silva says:
"Mecmor is the only and more profitable alternative to flat machine knitting for outwear and sweater production. Compared to flat knitting machines, production time can vary from 8 to 10 times more. This machine has a needle field with a maximum width of 291 cm in all gauges. It has the possibility to knit with bare Lycra to knit and miss, knit and tuck or miss and tuck.
LARGE DIAMETER
In its Large Diameter series, Santoni will present Zenit, Atlas, Pulsar and Panda F machines.
ZENIT
This large diameter single jersey machine is suitable for the production in 4 cam tracks stitch structures with 3 feeders per inch and is available with tubular or open width. The knitting head is also convertible to produce three thread fleece fabrics and according to Santoni the speed is much higher than other large diameter machines and therefore efficiency and productivity is much higher. Santoni adds that in open width form, it is easily possible to knit in tubular form.
ATLAS
This large diameter machine has unique technology patented by Santoni and there are no sinkers in the machine. There are 2 cam tracks available on the cylinder for the production of ultrafine gauge without sinkers. The ATLAS has the possibility to produce single jersey up to 60 gauge.
Santoni says that because the fabric is produced without sinkers, it means the stitch formation is not distorted by any mechanical movement. The holding-down jacks system (patented) enables clearing the stitch (facilitates the stitch knock-over), allows to work at full feeds (88 knit feeds in 30"), and makes the knitting re-start fast and easy after press-off, the company says.
PULSAR
Pulsar is a double jersey ultra fine gauge large diameter machine. In addition to the traditional 18 to 32 gauge, Pulsar is now available with ultrafine gauges up to gauge 50. It is said to have high output and great flexibility thanks to the balanced number of feeds and have the advantage of quick gauge change.
PANDA F
Panda F is single jersey machine suitable for the production of 3-thread fleece. It has been prepared with 3 cam tracks and equipped for elastomeric knitting on all feeds. According to Santoni the needles used in these machines have cost advantage and there is excellent plating and triple plating, and the sinker cams can be easily adjusted.
WARP KNITTING
SWD 4/J2
In warp knitting, Santoni will show its SWD 4/2J, a compact electronic double needle bar warp knitting machine for seamless items such as pantyhose, underwear and outerwear garments.
"All the garments have inherent fabric characteristics - breathability and non-run fabric structures. They can be produced in the futuristic 'entire garment' way with the least possible post-knitting finishing operations required. Combination of mesh areas, body mapping with compression and support areas give a very promising potential especially in the specific Athletic and Active type of sport clothing," says Patrick Silva.
Anticipating a successful ShanghaiTex Patrick Silva concludes:
"In conclusion we strongly believe innovation and product quality is the key point in our industry. Santoni will continue to be the pioneer in the circular knitting industry by innovating new products and developing our unique technology advancements basis on customer needs.
Author: Billy Hunter