Lycra fibre W debuts at Interfilière
7th July 2012, Paris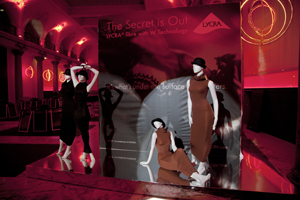 Invista has announced that the first commercial fabrics with Lycra fibre W technology will be presented at this weekend's Interfilière/Mode City show, six months after the technology's introduction to the intimate apparel industry.
Commercial fabrics with Lycra fibre W Technology will make their first public appearance at the Interfilière show being held from 7th to 9th July 2012. Brand customers can extend their intimate apparel styling flexibility by connecting with leading European mills which already integrated Lycra fibre W Technology such as:
Boos Elastic Textiles, Brugnoli Giovanni, Carvico, Dogi International Fabrics, EDA, Elastic Textile Europe, Eurojersey, Jersey Lomellina, Liebaert, Piave Maitex, Penn Textile Solutions, Salamtex, Wegal & Tricotel and Willy Hermann – Superfine.
The new technology is said to provide a robust enhancement for both warp and circular knitted fabrics and enables greater colouration and styling flexibility without changing fabric properties.
"This new feature gives garment designers with the increased confidence that both whites and fashion colours will be bright, long-lasting and true," Invista says.
The company lists the following advantages for the product:
Lycra fibre with W technology has enduring whiteness: from fabric knitting to the final selling floor, fabrics are exposed to external forces that can dull brilliant whites. Lycra fibre T279W is designed to protect across the broad spectrum of these conditions, inlcuding after the moulding process.
Lycra fibre with W technology improves fabric aesthetics: its new level of dye pickup enables it to blend beautifully with polyamide companion yarns. Moulded cups and high-content fabrics can now attain a new level of evenness and clarity, with optimized grin-through reduction.
Lycra fibre with W technology can bring confidence: compatible across a wide range of colours, it helps achieving richer, more saturated fashion shades.
"W Technology elevates Lycra fibre to a new standard, by offering enduring whiteness, improved uniformity and richer coloration for fabric and garments in intimate apparel," Invista concludes.
Author: Billy Hunter