Peak performance with ThermoCool
31st October 2012, Mansalu, Nepal
Well-known extreme climber and skier Benedikt Böhm (34), team member of the Advansa Thermo°Cool / Dynafit sponsored Hi-Speed mountaineers, has succeeded in conquering the world's eighth highest mountain Manaslu, in Nepal.
Benedict wore knitted base layer garments made from Advansa's ThermoCool fibre, which is claimed to be the ultimate high performance material for duoregulation, and thanks to its 'smart fibre mix', it provides adaptive dual function - evaporative cooling and thermo buffering.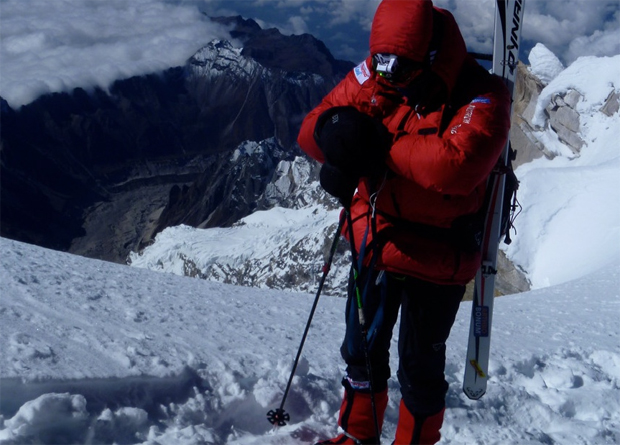 Entirely developed by Advansa, the product is also available in an ECO version with a polymer from renewable sources, FRESH version with silver ions imbedded in the polymer and FR, made with fire retardant materials without compromising its duoregulation performance. ADVANSA ThermoºCool® garments are the best year around performance clothing option.
Speed climb
In only 15 hours Benedikt speed-climbed to the summit without the aid of oxygen, under incredibly cold and windy weather conditions, with storm winds gusting over 100 km/h. He then descended from the summit by ski, in a record time of 23.5 hours for the combined ascent and descent.
Advansa has provided the following description of Benedikt's epic journey:
"Benedikt Böhm and his team partner Sebastian Haag had actually started all psychological, mental and financial preparations to speed climb the peak of Manaslu as long ago as 2007, but could not fulfil their aim to get to the top of the mountain at that time, due to dangerous weather conditions.
However they never abandoned their goal to speed climb Manaslu within a record time of maximum 24 hours.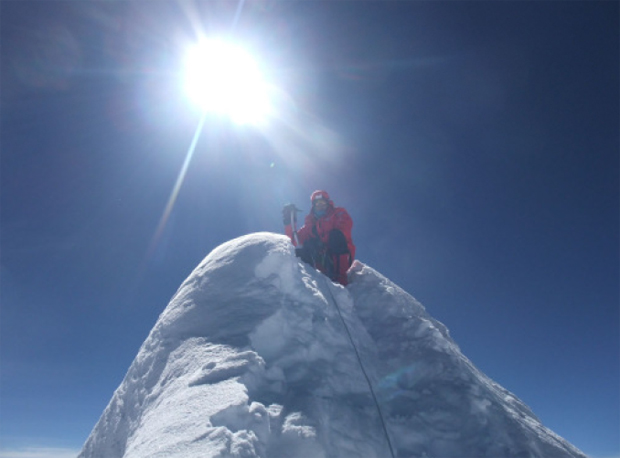 Finally, in late September 2012, Benedikt and Sebastian decide to continue their expedition despite the tragic circumstances that happened the week before, when an avalanche on Manaslu killed 11 climbers, the team being among the first to arrive to the disaster area to help.
In the end, it is Benedikt Böhm, whose dream comes true after 15 hours and 3300 meters of climbing, arriving at the height of 8163 metres without his team members who were not able to make it to the peak.
Sebastian Haag and Benedikt Böhm start their expedition in the night of Saturday, 29th September when weather conditions are almost ideal to climb. Böhm and Haag neither use artificial oxygen nor any outside assistance, although the speed ascent means a huge difference in temperature of up to 60°C from the bottom to the top of the mountain. Very quickly at the height of almost 6400 metres, the wind starts to become more and more stormy, and both mountaineers experience difficult moments.
At times the mountaineers think of turning back, but their desire to reach the top of the mountain is deeper. Benedikt maintains his speed ascending towards the summit, but Sebastian has to reduce his speed. And so, Böhm continues climbing on his own although at the height of 7400 metres the storm reaches wind speeds of 100 km/h.
Benedikt continues ascending, maintaining his speed by going without rest and rarely stopping.
Finally, in the morning of Sunday, 30th September he reaches the peak, an achievement for which climbers would normally need four days climbing with the aid of artificial oxygen. Benedikt Böhm gave his utmost to fulfil a dream by reaching the top in record time, a feat which he dedicated to all those climbers who could not make it, honouring his achievement to those who died in the avalanche.
The descent on ski is one of the hardest and challenging ever that tests Böhm to his limits. The next goal that he sets is to finish the expedition safely and to return back to his family. After eight hours of exhausting skiing, he arrives back at the base camp. The total climb, including speed ascent and ski descent, took 23.5 hours. According to official records, it is the first ever speed ascent of Manaslu coupled with a subsequent ski descent."
ThermoCool
According to Advansa, ThermoCool, a well-known functional brand representing outstanding 'duoregulation' properties, is distinguished by its quality and functionality, no matter for which climate zones and is ideal for such an expedition which encompasses temperature differences from +30°C to -30°C.
"Breathability, thermobuffering, outstanding moisture management, absolute insulation and quick drying are essential features in the choice of the right mountaineering apparel. All these are incorporated in Advansa ThermoCool thanks to the unique combination of different engineered fibre cross-sections. It is designed to keep mountaineers in their comfort zone, while saving body energy and improving their endurance," Advansa says.
"Advansa congratulates to the successful expedition and looks forward to the next: Dachstein Triple!"
Advansa in Europe
Headquartered in the Netherlands and operating principally in Europe, Advansa is a leading supplier of polyester fibre, filament and specialities in the region, and has annual revenues in excess of 150 million Euros. The company operates a plant in Germany and has marketing and logistics operations in Europe, Asia and USA.
"Advansa is characterised by its wide range of branded and high-tech polyester fibres, and its capacity for innovation as well as the environmental sustainability of its products and industrial processes. The company's efforts and achievements, and a wide range of fibres produced by Advansa have been recognised by international ecological certification and awards," the company says.
Author: Billy Hunter