How adizero Primeknit was born
3rd September 2012, Herzogenaurach
"There are no books we could have referred to for this project"
In a recent blog post called 'How Primeknit was born – There are no books we could have referred to for this project', adidas product developers Astrid Lang and Stefan Tamm describe how the company's revolutionary flat knitted seamless sports shoe upper was born.
Commenting after the recent release of the adizero Primeknit shoe, the product developers explain:
"This shoe uses a technology for which we rethought how footwear is engineered. To celebrate the Olympic Games and this innovation, adidas created 2,012 pairs of the adizero Primeknit knitted in the same red and white colors adidas athletes are competing in at these Olympics. This limited number of individually numbered pairs of the adizero Primeknit is since then available in a London store. We helped to drive the idea from concept to shelf in 12 months."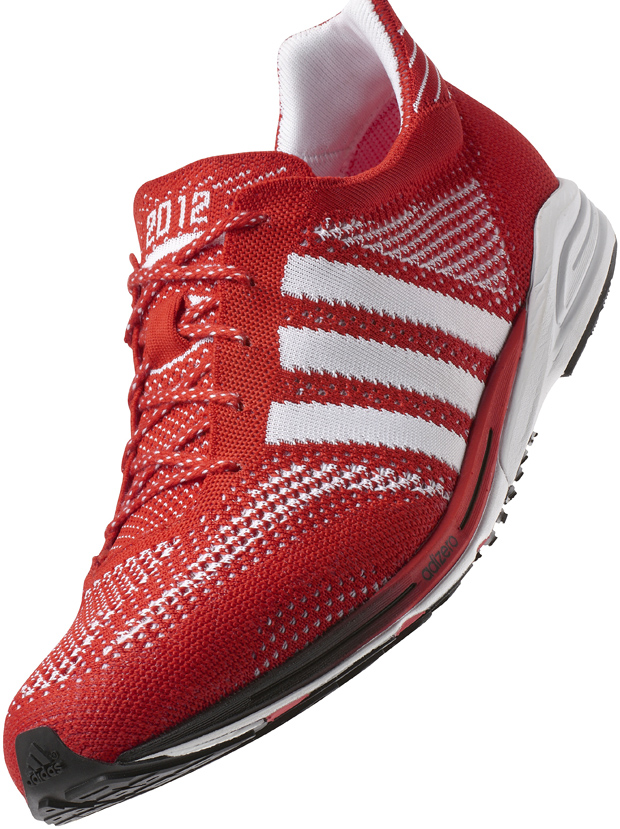 According to the team, some people at adidas refer to the adizero Primeknit as 'one of the most exciting and sustainable products adidas has ever created.'
What is Primeknit
The team then goes on to explain what Primeknit is and how it all started:
"While sport shoes are usually made from many separate pieces, the Primeknit method digitally knits the entire upper in just one piece. Knitting fused yarn allows us to fine-tune the exact amount of flexibility and support needed in every part of the shoe. This means lightweight comfort that wraps seamlessly around your foot, whilst fewer materials produce less waste."
"It all started in 2010 with a trip to the 'techtextil' fair in Frankfurt, Germany. There, the two of us spotted a knitted glove on display. It was made of thermoplastic fuse yarns which had been finished in a way that the glove was both flexible and stable. It sparked this idea in us that we could use the same technology on a shoe."
"Around the same time, adidas Design had just embarked on a collaboration with a number of furniture designers who had been tasked to provide innovative and unconventional shoe design concepts. One thing led to the other, and Astrid and I were soon in talks with one of these furniture designers – Alexander Taylor – on how a shoe with a knitted upper could potentially look."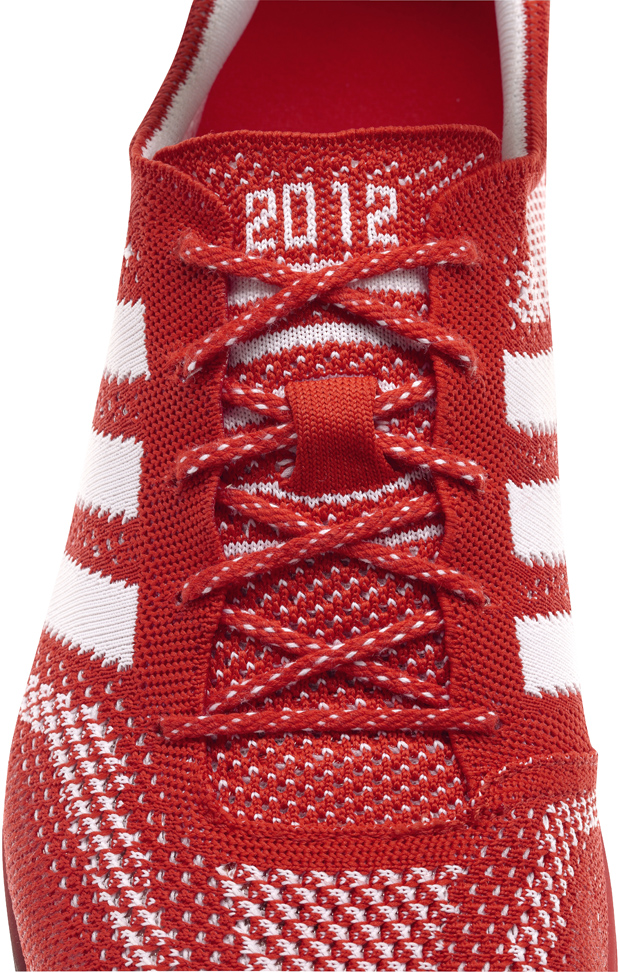 The team says it then started a thorough investigation into knitting technology as well as knitting machines and started to pull in external flat knit experts for advice and built strong relationships with machine suppliers in Germany (Reutlingen based Stoll presumably? – as the product is knitted on Stoll machines – see adizero Primeknit: How it's made for details) who helped to produce the first prototypes.
The team continues with the story:
"Then the first milestone meeting approached: we went into our first official presentation to our adidas brand Chief Marketing Officer Hermann Deininger."
"Fortunately, Hermann liked the concept and its overall potential. He immediately committed to sponsoring our idea, turning it into a special project that would sit outside all existing categories. Now we had the official mandate and 12 months to develop the final product."
The first limited edition
According to Astrid and Stefan, only a year after project inception, they 'wowed the Marketing and Sales community with the first official series of Primeknit shoes.' Following the meeting, Running was then selected as the adidas pilot category and 'the decision was taken to produce a limited edition of 2012 pairs of Primeknit Running shoes in Germany to launch at the Olympics.'
The team say they are now looking into applying alternative knitting technologies to the shoe which would allow them to achieve 'massive savings in production time and cost'. They also plan to produce a more commercial version of the shoe that will be 'ranged for other categories'.
Summing up, the team said:
"Solutions like Primeknit cannot be bought off-the-shelf. They just don't get delivered to you ready to execute. There are no books we could have referred to for this project – which at the same time was a good thing. We went through numerous iterations and learned through trial and error."
"We are both very proud of being involved so deeply into this project and of achieving the current status. However, the journey continues…"
Source: adidas
Further reading
adizero Primeknit: How it's made
Adidas unveils adizero Primeknit running shoe
Author: Billy Hunter