ITMA ASIA: Shima commits to new era of knitting
14th June 2012, Shanghai
Japanese computerized flat knitting machine manufacturer Shima Seiki is exhibiting under the slogan of 'A New Era of Knitting 'at this week's ITMA ASIA + CITME in Shangahi and it is clear that the company means business with its very interesting new line up of flat knitting machines.
The company is celebrating its 50th Anniversary this year and for a technology-driven company like Shima, this is not only an occasion to celebrate a milestone but as the company says, it is also "an opportunity for reflection and self-improvement as well." Shima's 50th anniversary comes at a time when the knitting industry is similarly experiencing a turning point.
"Having taken on the role of the world's garment manufacturing centre, China, now with its higher wages, shortage of labour and slow lead times, has not quite lived up to the initial expectations placed upon it as a sustainable centralized global mega factory. Add to that the rapidly rising demand in domestic consumption, and a production shortage is inevitable," says Shima's Masaki Karasuno of Shima's Corporate Planning Division.
"Caught off-guard, many in the industry realize change is critical, but most are slow to react. One thing is clear - the knitting industry cannot sustain itself in its current state for very long. How individual companies perform in this upcoming 'New Era of Knitting' depend entirely on their ability to re-think the status quo, complemented by their technological capability.
To make matters worse Shima says, the cost of manufacturing knitwear has plunged since the introduction of inexpensive machinery to the Chinese market.
"The situation is especially severe for knit manufacturers of exported goods, as they are finding it more and more difficult to remain profitable. The result is diminished investment, which extinguishes any hope for further progress by the industry. This is the beginning of an unfortunate spiral of events, which the knitting industry must avoid at all cost. Shima Seiki intends to help," Mr Karasuno says.
At this week's ITMA ASIA + CITME in Shanghai Shima has introduced new machine technology and developments in design software, and is demonstrating how customers can exploit them immediately in preparation for the 'New Era of Knitting'.
In these trying times, Shima says it is easy to lose sight of long-term goals in the pursuit for immediate profit. Through its exhibit in Shanghai, Shima is aiming to remind its customers about the value of investing in a progressive company with the true potential to revitalize and sustain knitting industries in China and Asia, and beyond.
Distinctly different
There is definitely something distinctly different about Shima Seiki's exhibit at ITMA ASIA + CITME 2012. The familiar workhorse models that currently make up the backbone of many of the world's knit manufacturing bases including China—the company's NSSG, NSIG and SIR models—are not present.
Shima instead has returned to the original ITMA tradition of launching brand-new technology in Shanghai. Six of the eight knitting machine models are first-time introductions in China. Six are also capable of Wholegarment knitting.
Even more significantly, seven models feature Shima's SlideNeedle. Also shown for the first time is a compact version of the popular SIP-160F2 textile printing machine as well as the latest version of the company's all-in-one 3D design system SDS-ONE APEX3 with brand new functions.
"True to Shima Seiki tradition, these products represent technology that is unavailable elsewhere," Shima says.
MACH2SIG123-SC 18 gauge
According to Shima its MACH2SIG has revolutionized intarsia knitting with its capacity for 40 intarsia carriers—currently the highest number of carriers on a computerized flat knitting machine.
"No matter how many carriers a machine can boast however, it means nothing if those carriers cannot be used to their full," the company says.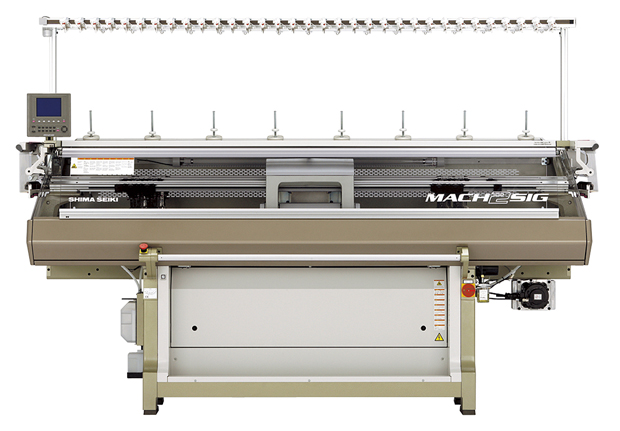 The MACH2 SIG has substantially improved programming speeds and intelligent carrier assignment using the latest yarn carrier setting software on SDS-ONE APEX3, combined with a maximum knitting speed of 1.4m/sec and quick carriage returns with the R2CARRIAGE system. For ITMA ASIA + CITME 2012, MACH2SIG is being exhibited for the first time in Asia in 18 gauge.
SCG122SN 3 gauge
SCG122SN is Shima Seiki's no-compromise solution to coarse gauge shaped knitting, with specialized functions developed specifically for that purpose.
With the SlideNeedle, spring-type sinker system and double racking mechanism, bold and interesting designs can be produced with the look and feel associated with hand-knit garments.
The 3 gauge machine on display in Shanghai is capable of producing fabrics with texture in the 2 – 4 gauge range and Shima says the optional i-DSCS+DTC digital stitch control device with intelligence and dynamic tension control can handle thicker and heavier yarns while preventing sag, and difficult-to-knit fancy yarns can be knit with consistent quality.
SWG-FIRST154 S21
According to Shima, the SWG-FIRST154 S21 is the world's first flat knitting machine that can perform shaping in 21 gauge and can produce ultrafine and sophisticated knitwear that can compare with circular knits and even approach the texture of wovens.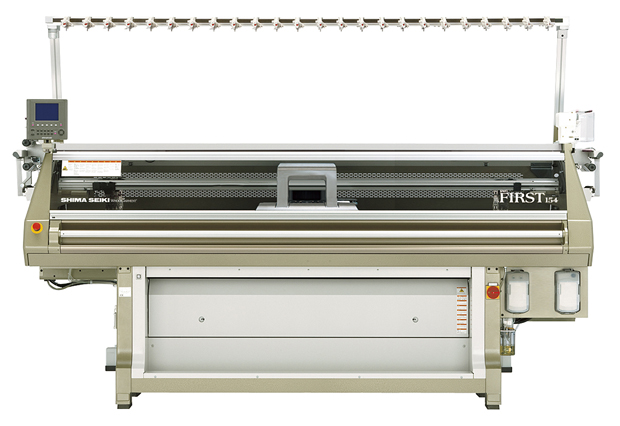 Quick carriage returns using the R2CARRIAGE system yield significant increase in productivity. The SlideNeedles, loop pressers and transfer jacks permit a wide variety of patterns in a wide range of gauges never before possible (18 – 26 gauge for single jersey; 18 – 20 gauge for ribs).
SWG-FIRST154 also features i-DSCS+DTC to handle high-speed knitting of the fine and delicate yarns used in knitting the finest-gauge fabrics.
MACH2X123 15L
A pioneer in complete garment technology Shima developed the 4-bed SlideNeedle-equipped MACH2X as 'the ultimate Wholegarment machine' and surprisingly a pair of compact versions join the lineup at ITMA ASIA + CITME 2012.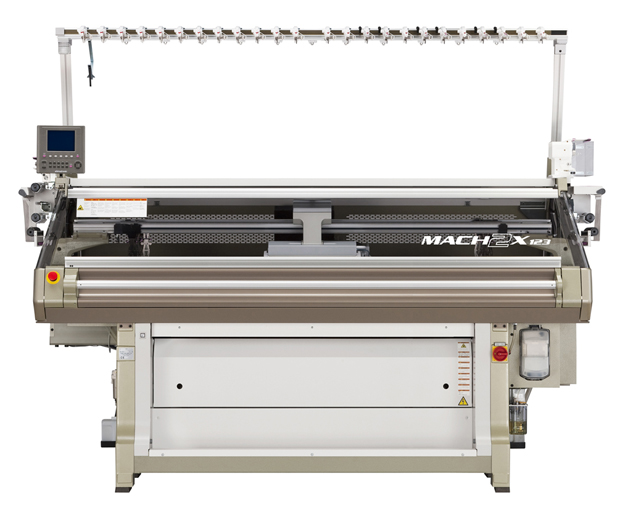 The more flexible among the two is the MACH2X123 featuring a 50-inch (125cm) knitting width. Shima says its compact size allows easier shipping and installation, while its knitting width is adequate for everything from small accessories and childrenswear to menswear and ladieswear.
Shown in gauge 15L in Shanghai, the machine is demonstrating its additional capability for integral knitting. The same machine is also said to be able to knit high-quality Wholegarment products in the 10 – 15 gauge range very efficiently.
MACH2X103 8L
Even more compact and lightweight is the new MACH2X103, featuring a knitting width of 40 inches (100cm) and capable, Shima says, of knitting most children's sizes. It can also produce Wholegarment accessories in all-needle knitting.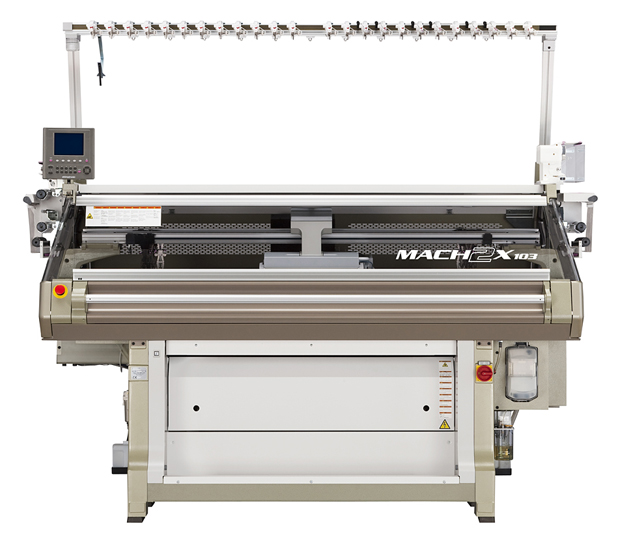 The machine features all-needle knitting, the SlideNeedle, R2CARRIAGE, a maximum knitting speed of 1.4m/sec, i-DSCS+DTC and pull down device for stable, high-speed knitting of high-quality items. At ITMA ASIA + CITME 2012 MACH2X103 is being shown in gauge 8L.
Large-hook SlideNeedles mounted at 8 gauge pitch allow highly efficient, high-quality middle-gauge Wholegarment production in the 6 – 10 gauge range.
MACH2X153 18L
On the fine gauge side of the MACH2X line-up the MACH2X153 18L machine is on show. A special large-hook version of the SlideNeedle is mounted at 18-gauge pitch, allowing production of very tight, high-quality fabrics in the 14 – 18 gauge range.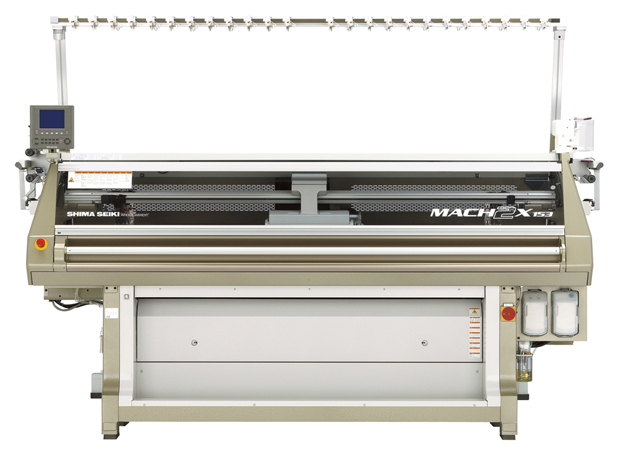 High productivity is achieved with a maximum knitting speed of 1.6m/sec combined with quick carriage returns achieved with the R2CARRIAGE. MACH2X153 18L also features i-DSCS+DTC for supporting high-speed knitting of fine and delicate yarns such as cashmere and fine count yarns.
SWG021N 10 gauge
Smallest among Shima Seiki's compact "SWG-Mini" series, SWG021N features a knitting width of only 10 inches (25cm) and is the most compact Wholegarment knitting machines in Shima's line-up.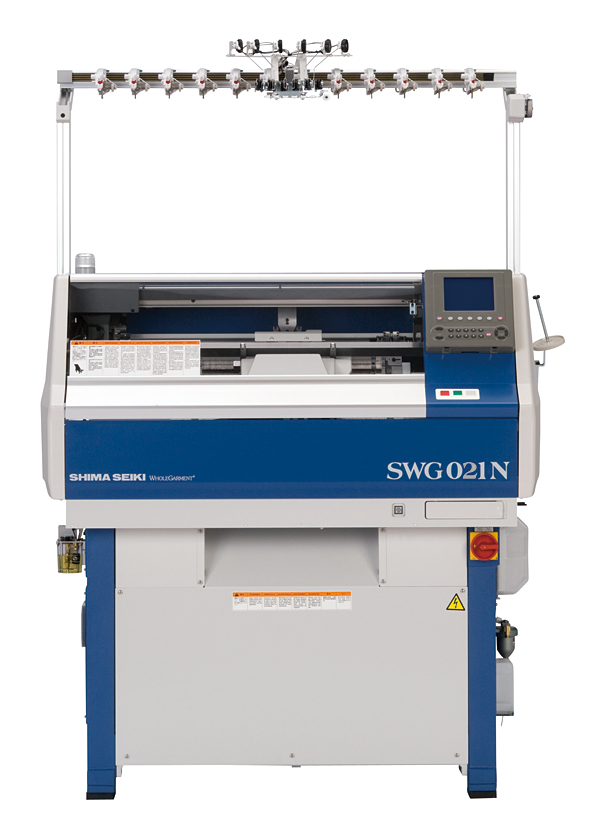 It is capable of knitting high-quality gloves, socks, five-toe socks, leg warmers, scarves, neckties and other small accessories. At the exhibition the machine is knitting of 'thumb-inside' gloves as well as 3D gloves which conform to the human hand with no sewing required afterwards.
SWG091N 18 gauge
Referred to as SWG-Mini, Shima Seiki's compact line of Wholegarment machines allows knitwear manufacturers to participate in the Wholegarment market with minimal investment.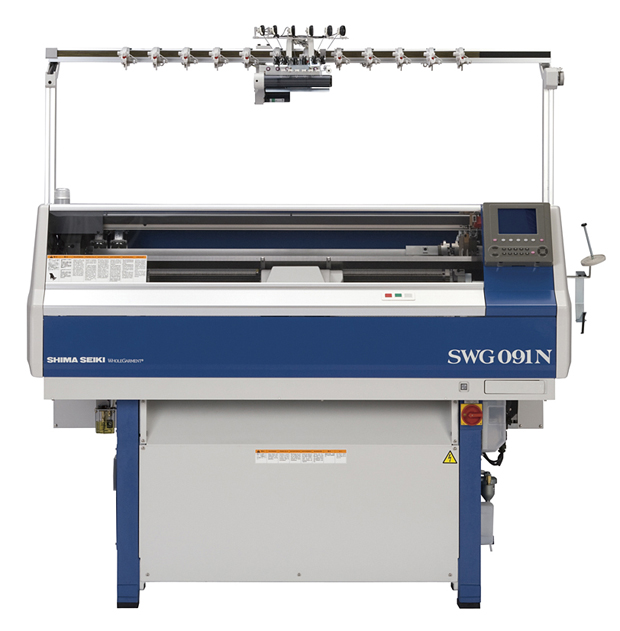 Among them, SWG091N is said to be particularly capable due to its 36-inch knitting width, for knitting such items as gloves, socks, hats, mufflers, neckties and other accessories, as well as garments such as infant knitwear, kids' one-piece dresses and ladies' leggings and tank tops. At ITMA ASIA + CITME 2012 a new 18 gauge version is being shown for the first time in Asia.
SIP-160F2S
Shima Seiki's new textile printing machine SIP-160F2 provides beautiful full color printing on a variety of fabrics, based on designs created on SDS-ONE APEX3. Both reactive dyes and pigment inks can be used to support different types of print applications.
The printing head on the flat-bed type machine can be raised or lowered to allow printing on fabrics with 3-dimensional textures or even directly on completed products, including Wholegarment knitwear produced in one piece.
Using the colour management system (CMS) on SDS-ONE APEX3, the final printed product can be simulated for checking results before printing begins. For ITMA ASIA + CITME 2012 a new, shorter version of the machine— SIP-160F2S—is half the size of the larger model.
SIP-16F2S is running demonstrations using a special dye package that consists of blue, orange and red inks replacing light cyan, light magenta and light yellow for greater tonal range and increased saturation.
SDS-ONE APEX3
At the core of Shima Seiki's Total Fashion System and Total Knitting System integrated supply chain concepts is the SDS-ONE APEX3 3D design system. It links together the various stages of planning, design, patternmaking, programming, production, sales promotion and retail sales into one smooth workflow.
"Critical to the implementation of these systems is super-realistic simulation capability used for virtual sampling, which effectively eliminates the need for costly and time-consuming sample making," Shima says.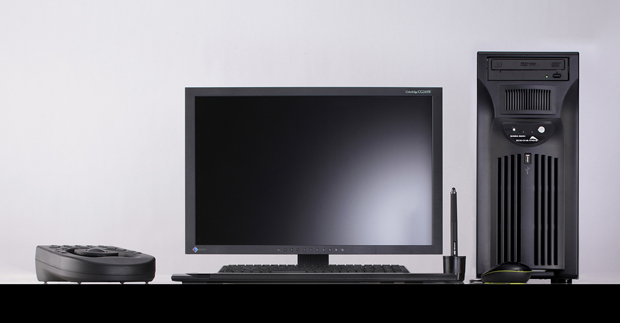 At the exhibition, a special display invites visitors to compare virtual samples with real ones; challenging them to guess which one is real. SDS-ONE APEX3 also features all-new 3D software and KnitPaint programming software, the latter containing the know-how of experienced technicians.
Also available is new software catering for other industries such as circular knitting, weaving and printing. As with flat knitting, substituting actual samples with virtual samples reduces time; cost and material waste associated with sample making, and improves communication. Four SDS-ONE APEX3 systems are available at the Shima Seiki booth for a variety of demonstrations suited to each customer.
Shima Production Report 2
Shima Production Report 2 (SPR2) is a production management system that can be expanded to meet the needs of individual factories as they grow. In addition to monitoring current production status, automated reporting for individual machines, products or work shifts can be performed. Data can also be gathered for further analyzing factory conditions in order to determine areas that require improvement or evaluating the potential for new investments.
Author: Billy Hunter