Ivanhoe moves knitwear production back to Sweden
30th May 2012, Gällstad
Leading Swedish flat knitter Ivanhoe is moving its knitwear production back to Sweden from Estonia on the other side of the Baltic Sea, after producing there for almost 20 years.
Like many Scandinavian knitwear producers the company moved its garment make-up there in the 90s and retained much of its knitting in Sweden, when labour rates in Estonia were much lower than in Sweden.
Design and development was always retained at the company's Swedish headquarters and knitted panels and trims were shipped to Estonia for sewing and linking before being returned to Sweden by truck and ferry for onward distribution to customers in Europe and USA.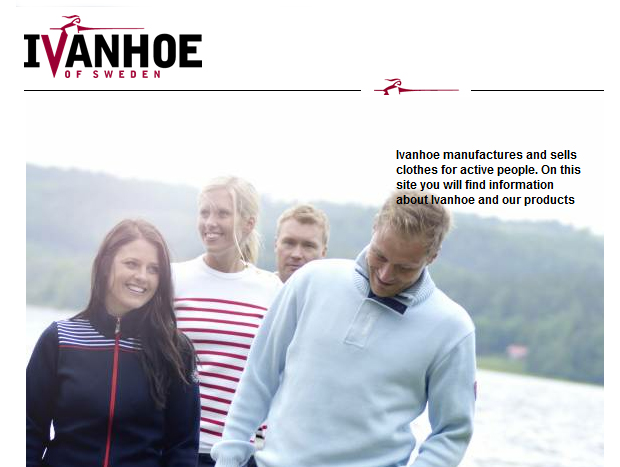 More recently Estonia has become less competitive for garment assembly and the company has decided to move all of its garment assembly back to Gällstad, the knitting capital of Sweden, in order to shorten lead times.
Ivanhoe invested in a factory in Haapsalu, Estonia along with other Scandinavian producers in the 1990s and continued to knit on its plant of predominately Stoll CMS flat knitting machines at home.
Retail outlet
The company also runs its own retail outlet at its factory in Gällstad, a small town well known for its knitwear production and factory outlets. Coach loads of visitors visit the area every month to buy locally produced and imported knitwear.
The company's GY-Butiken shop stocks the full Ivanhoe range of knitwear and sportswear as well as products from other well known brands like Henri Lloyd, O'Neil, North Sails and Carin K by Ivanhoe, a range of womens golf wear for both on and off the course.
Ivanhoe develops both standard and functional garments from classic materials, such as wool and cotton, as well as new blends. The company also adopts new finishing treatments and knitting techniques as they become available.
Ivanhoe is a family business founded in 1946 by the late Martin Göthager, in a town which is known for its tradition and pioneering spirit. Today the company is owned and managed by his three sons Lars-Erik, Ulf and Göran Göthager.
Author: Billy Hunter