Fountain Set sells textile machinery business
16th March 2012, Hong Kong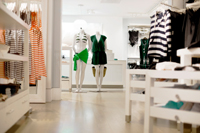 Fountain Set (Holdings) Limited a leading manufacturer of circular knitted fabrics, today announced that it has entered into a sale and purchase agreement with Maxy Rich Investments Limited, to dispose of sale shares and sale loan in its textile machinery subsidiary Jiangyin Jintian Machinery Limited (JYJT).
The total consideration for this disposal amounts to RMB90,000,000. After deducting relevant costs, it is estimated that Fountain Set will record a gain from the disposal of approximately HK$43,818,000 in the second half of the financial year ending 31 August 2012.
Based on the initial investment, it is estimated that the group will record a gain from the disposal of approximately HK$17,829,000. It is intended that the net proceeds from the disposal are to be used for loan repayment and general working capital of the group.
JYJT is principally engaged in the manufacturing of dyeing and finishing machinery at the industrial sites located at the Economic Development Area of the city of Jiangyin, PRC, with a total site area of approximately 69,000 square metres.
"This disposal of JYJT is in-line with our strategy to focus the group's resources on its principal business" said Mr Victor HA, Group Managing Director.
Fountain Set said that as the production capacity of JYJT has been relocated to other manufacturing locations of the group, the disposal of JYJT provided it with an attractive opportunity to realize its investment in the PRC and the disposal will allow it to reallocate its resources to the group's principal business, reduce gearing and increase the liquidity.
Fountain Set also announced that based on its unaudited management accounts for the four months ended 31 December 2011 and the trading performance of the group from 1 January 2012, it is expected that the group's results for the six months ended 29 February 2012 may record a loss, as compared with a profit for the corresponding period in 2011. The Board estimates that the unaudited consolidated loss for the six months ended 29 February 2012 would be around an approximate range from HK$150,000,000 to HK$160,000,000.
Author: Billy Hunter