Tinarreli Packaging Machines: CF4G Full Boarding Machine
17th December 2009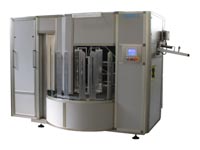 Full boarding machine for knee-highs and baby tights
Steam full-boarding machine very compact in size, exclusively designed for knee-highs and baby tights giving optimum boarding results with minimum steam consumption.
The machine is complete of 10 sets of forms. All setting and operation functions are electronically made from the touch-screen control panel in a very quick and easy way.
Fast and Easy forms changing.
Option to use wire forms with light inspection or full forms with mirror inspection.
Optional : Programmable basket for tights collecting at machine exit
Click on image for further details and full technical specification
[17.11.09]
Author: Billy Hunter