UK sock knitter brings production home
15th June 2012, Hinckley
A well known Leicestershire sock manufacturer is bringing production back to the UK. HJ Hall, which began manufacturing socks in 1882, is switching most of its production from Turkey to its factory in Hinckley as the demand for British made goods grows.
In its heyday, the hosiery industry in Leicestershire employed 25,000 people but now the workforce can be measured in hundreds,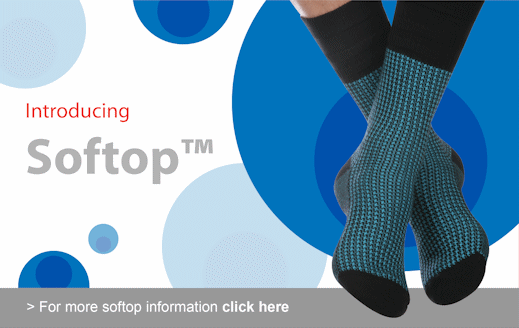 According to a Leicester Mercury report up to 80% of HJ Hall' s socks are now being made in Leicestershire as compared to 40% previously. In the 1970s and 1980s, the company employed up to 300 people and it currently has about 50 on its books, the report says and if the move proves successful, the company hopes to create jobs.
Morale boost
Justin Hall, group commercial director and great-great-grandson of the Coventry Road firm's founder told the Leicester Mercury:
"We moved production abroad five years ago and it was a very tough decision. We left it to the last moment possible because we'd always prided ourselves on being a British manufacturer."
"Wages and transport costs overseas are rising and that has made it easier for us to bring manufacturing back to Leicestershire."
"It has been quite a morale boost here because it secures jobs and opens up the potential for more."
HJ Hall's socks are sold under a range of brands in independent retailers and chains such as John Lewis and Debenhams.
Anton Jenkins, the company's sales and marketing director, told the newspaper:
"There's a clear demand for British-made products."
"The Olympics and the Jubilee have also generated extra interest in British brands."
"We are never going to get back to the heyday of manufacturing in towns such as Leicester and Hinckley, but we are showing there is still something good happening here."
Martin Traynor, of Leicestershire Chamber of Commerce, said a growing number of companies – chiefly in high-quality textiles and specialist engineering were switching production back to the UK, the report said.
"Manufacturing in the UK is becoming a more viable option for many because moving goods around the world is becoming more expensive."
"That's mainly due to the high price of oil but we're also seeing wages increase in some countries, especially China."
"We've seen at least 12 Leicestershire companies bring back manufacturing from countries such as China, India and Poland."
HJ Hall's own brand products include the Softop, the original non-elastic sock, the Indestructible, Executive, Prosport and ProTrek ranges.
Company history
At the age of 28, John Hall, a foreman for a hosiery manufacturer in Hinckley, asked his bank for a £1200 overdraft to build the first HJ Hall factory in the small Leicestershire village of Stoke Golding. From his meagre wage of £2 a week, he managed to save £500, a substantial sum in 1882. This was doubled by his wife, Sarah Hall, who raised a mortgage on their house, which she owned.
From a small firm employing just 16 people HJ Hall has grown to become the largest independent UK sock manufacturer today. More than 130 years on, the business has seen 4 generations of the Hall family at the helm continuing its successful growth by following the philosophy set out by "Honest" John Hall from the start.
"The key philosophy, after 130 years, has not changed - if it is quality, style and comfort you are looking for make sure you look for the Hall Mark, the original and best," the company's says on its website.
In 2001 the acquisition of Pantherella, producers of fine English socks for over 70 years, allowed HJ Hall to become the leading UK branded sock manufacturer.
in 2007 the company's expansion continued with the acquisition of another British company, Scott Nichol, which continues to run under the Pantherella leadership.
Source: Leicester Mercury
Author: Billy Hunter