Speakers announced for Cashmere World forum
17th August 2012, Hong Kong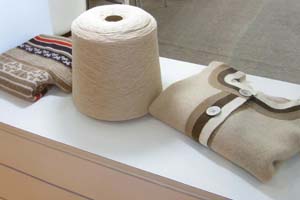 Cashmere World is the annual business platform for the international cashmere trade. This year, it marks its move from Beijing to Hong Kong with an interesting seminar series that provides a professional forum to discuss the latest developments in the global cashmere industry.
The event is being held at the Hong Kong Convention & Exhibition Centre from 27-29 September 2012.
"Don't miss this opportunity to learn more about the wonderful world of cashmere and make a difference to your business," organisers UBM Asia say.
"Our professional speakers will be exploring in-depth the following issues that concern the industry."
Seminar Schedule
29 September 2012 (Saturday) - Paid Admission
Buying Accessories for the European Market
Time: 09:30 - 11:00
Venue: Rm S428, Level 4
Speaker:
Ms. Sandrine WILLIAMSON
Head Accessories Buyer, The Galaries Lafayette Group, France
Development & Trends in the Cashmere Trade
Time: 10.00 - 13.00
Venue: Rm S427, Level 4
Speakers:
Dr. KC HO Director of R&D, Hong Kong Research Institute of Textiles & Apparel
Session1: Innovative technologies for cashmere sweater manufacture
Dr. Riaz SHAH, Professor cum Chief Scientist, Sher-E University
Session 2: The effects of goat cloning on the cashmere industry
Ms. Kristina SALMINEN, Arelalizza
Session 3: Arelalizza: The Evolution of a brand - A case study of the growth and development of the Finnish cashmere brand
Mr. Ricky WONG, M.D., Nameson Group
Session 4: To be confirmed
Have you already registered as a Buyer for Cashmere World? If not - register
Concurrent Event
Fashion Access is Asia's leading international fashion fair for bags, footwear, luggage, small leather goods and lifestyle accessories. Twice a year, we are joined by fashion suppliers and buyers from around the world. The September fair focuses on the Spring-Summer 2013 collections of over 400 exhibitors.
Author: Billy Hunter