Groz-Beckert needles in use for eleven years
13th June 2012, Surat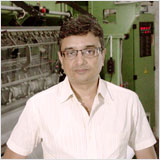 A leading Indian warp knitter paid tribute to Groz-Beckert's needle quality last week when it revealed it was running a group of raschel knitting machines using the original needles supplied with the machines when they were installed eleven years ago.
Ginza Industries Limited is said to be the largest Raschel and warp-knitted fabric producer in Asia, with an annual production capacity of more than 200 million meters.
With an extensive variety of over 2000 products, Ginza is thought to have the most diverse range of fabrics in its sector and services, warp-knitting machine needles and system components from Groz-Beckert are said to have made a major contribution to the company's success story.
Key contribution
During a visit by the Groz-Beckert team to Ginza, Mr Manoj Sethia, Director of Ginza Industries Limited, shared his company's success story in an interview and emphasized the key contribution made by Groz-Beckert. Mr Sethia said that ever since his company's foundation in 1986 it has been using Groz-Beckert products, and that this reflects the company's commitment to quality and innovation.
During a tour of the factory, Mr Manoj Sethia proudly showed the Groz-Beckert representatives some of his warp-knitting machines, which are still running with the "first set of Groz-Beckert needles" that came with the machines when they were installed eleven years ago.
The machines produce polyester fabric for ladies' wear – more specifically, saris for the local market, running at full capacity throughout the year.
On behalf of Ginza Industries, Mr Manoj Sethia expressed his delight at the success of the partnership with Groz-Beckert:
"Right from the beginning, the products and services from Groz-Beckert have been very valuable to us. Your team has delivered us the required products as well as technical support when required. We sincerely appreciate your responsiveness and the way you conduct business. We look forward to doing business with you for years to come."
Groz-Beckert's KN (Knitting Needles) product sector is the German company's original product area which covers knitting and hosiery machine needles for circular knitting machines, flat knitting machines, Raschel, warp knitting and cotton machines, system parts and knitting machine components.
Long history
For more than 150 years, Groz-Beckert has provided support for the textile machine building industry all over the world, as a reliable supplier and innovative problem solver.
Its groups of customers include machine builders and end consumers in the knitting and hosiery industry with their many different fields of business. Just some examples are outerwear, underwear, socks and hosiery, household textiles, technical textiles, packaging textiles and medical textiles.
These classic uses are constantly added to by newer ones, as new areas of application are regularly found. Groz-Beckert says its aim is "to provide expert assistance in each of these developments taking place in our original field of business. And we will continue to give active support to our customers in every challenge the future brings."
Author: Billy Hunter