Reduce downtime with Groz-Beckert's CylinderMaster
16th April 2012, Albstadt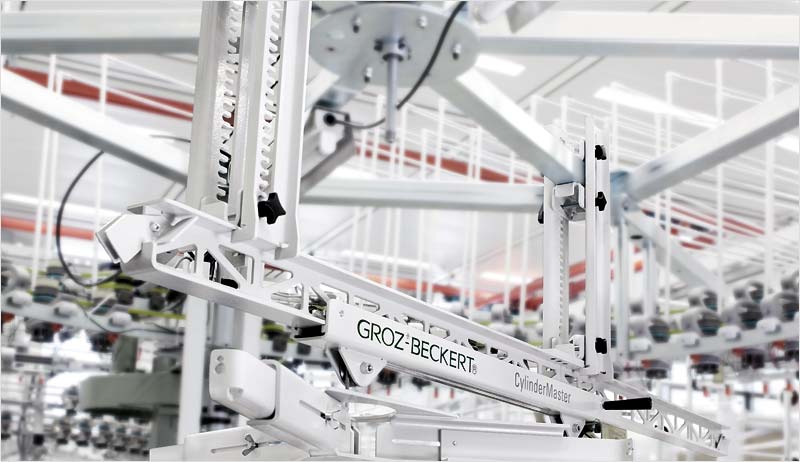 Groz Beckert has reported strong interest in its CylinderMaster lifting system for the fitting and removal of cylinders on large diameter single jersey circular knitting machines.
The product, which was launched at ITMA 2011 in Barcelona last September, is designed to reduce both manual labour and the likelihood of injuries to personnel during the fitting or replacement of the cylinder.
Precision engineered steel cylinders which house the needles and other knitting elements are at the heart of circular knitting machines and can be extremely heavy in weight especially in large diameter machines. The normal practice is for up to four people to manually lift the cylinder into place and position it accurately in the machine when carrying out a structure or gauge change.
Groz-Beckert says CylinderMaster is for everyone who wants to facilitate manual fitting and removal of cylinders on large circular knitting machines and that all circular knitters should take the opportunity to find about its function and benefits.
"Time-consuming cylinder changes with up to four people are a thing of the past - now there's the CylinderMaster. The fitting and removal of cylinders on single-jersey, large circular knitting machines with 26" to 40″ diameter is faster and safer than ever before," Groz Beckert says.
"Handling is especially easy and user-friendly - and only one person is now needed for the cylinder change. The greatest possible processing safety is all part of the deal too. With the CylinderMaster, employee injuries or incorrect handling, resulting in damage to the cylinder, are all a thing of the past," the company adds.
The CylinderMaster consists of multi-component guide rails and a winch, and is attached to the machine structure where the cylinder can be raised and lowered by the winch. In the raised position, the cylinder can be removed easily and safely along the guide rails. High-quality materials are said to have been used for all components, and the company says everything is 100% recyclable.
Groz-Beckert urges knitters to take the pressure off valuable personnel resources and save time and money with CylinderMaster. Contact partners from the Groz-Beckert's knitting division will be happy to provide interested parties with more details.
Author: Billy Hunter