Terrot to focus on Jacquard machines in Shanghai
11th May 2012, Chemnitz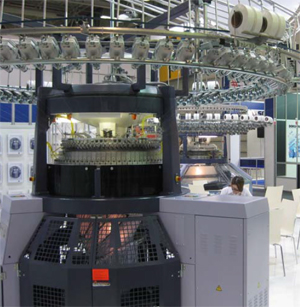 German circular knitting machine builder Terrot will be showing the latest versions of its single and double jersey jacquard machines at the 3rd ITMA ASIA + CITME combined exhibition which will be held at the Shanghai New International Expo Centre from 12 to 16 June.
At the close of space application, around 130,000 square metres gross of exhibition space in 11 halls had been booked by leading industry names from 30 economies and Terrot, as one of the leading circular knitting machine builders, will exhibit together with its partner Terrot (Hong Kong) Ltd.
The Chemnitz based company invites all knitters to visit it at its booth in hall E5 where it will exhibit machine models UCC548 and SCC572.
UCC548: Double-Jersey Electronic-Jacquard up to gauge 36
Terrot says the stringent standard of quality and reliability of its machines reaches its peak with its Jacquard machine series. The company says that the ceramic PIEZO selection elements form the electro-mechanical interface reliably implements the knitting information even with extremely fine machine gauge at high speeds.
According to Terrot this means the highest degree of efficiency, lower costs for wearing parts and thus best performance for knitters. The UCC548's main features are described by Terrot as follows:
UCC558 - Electronic Double-Jersey with 3-Way-Technology: Based on the well proven knitting technique of Mini-Jacquard UP472 and S3P172 the further developed UCC548 presents itself in fine gauge of E 36.
DIAL-DROP-CAMMING system for the cam adjustment (from outside) without removing any cam boxes
MULTITERMINAL CONTROLLER with pattern data input via USB stick for nearly unlimited pattern capacity
Totally freely controllable cylinder needle selection in 3-Way-Technique
Latest PIEZO technology with 'High Speed Actuators' for a perfect MISS-TUCK-KNIT position
Due to the knitting principle with 8-step pattern jacks a wide selection time is achieved on fine gauges which ensures highest reliability and performance in needle selection
·Fast pattern changes thanks to the combination of dial drop-cam and absolutely freely selectable 3-WAY-TECHNIQUE
Latest developments in 'Elastane plating cams' opens new application areas, e.g. superfine fabrics for exclusive underwear and outwear
Electronic takedown ensures accurate repeatability and constant fabric tension
High versatility combined with computerised jacquard patterns
Fine machine adjustment with one hand lever on standard ( 3 levers on option)
Exhibition machine
Diameter in inch - 34"
Gauge - E 36
Number of feeders - 54
Number of needle tracks - 2 tracks in dial
Knitting structure - Double-Jersey Electronic-Jacquard
Fabric structure
2-sided-fabric
Spacer fabric
Electronic-Jacquard
Elastane plating
Tuck structure
Crepe structure
Eyelet stitch pattern
Mesh
Needle set-out
Piqué
Blister
Lay-in yarn fabric
Plush needle
Waffle/Thermal
Knitting technique
Electronic-Jacquard
3-Way Technique
Fabric application
Sports & Leisurewear, Swimwear, Automotive fabrics
SCC572: Single-Jersey Electronic-Jacquard
Terrot says it achieved its zenith with its Jacquard machine series SCC548 and the continuous further developed selection technology of the SCC572 sets new standards even with extremely fine machine gauges. The SCC572's main features are described as follows:
Fine flowing jacquard fabrics up to gauge 36 (gauge 40 on request)
Combined with Elastane plating new application areas are opened like superfine fabrics for exclusive underwear / corsages
In daily operations with high machine speeds the significant advantage of continuously developed selection system with Piezo-Technology shows off in particular with fine gauges
Electronic needle selection for a wide range of application and knitting structures
Compared to magnet technology the Piezo technology provides more process reliability and machine performance in the daily production due to 8 separate selection fingers for tuck/ miss on each feeder
PIEZO technology guarantees a reliable needle selection especially on fine gauges together with a high production efficiency
3-WAY-TECHNIQUE for positioning the needle in KNIT-TUCK-MISS offers diverse knitting structures
Piezo selection unit
Pattern controller Multi-Terminal
Terrot motorized fabric take-down for constant fabric tension and perfect horizontal rolling up of the fabric
MET 5000 - modern pattern preparation software
In particular regarding:
Finer gauges (high number of needles per inch)
High output (efficiency)
Constant rotational speed, speed factor 720 up to E 28
Speed factor open width frame 660 the precise accurate selection is proven on all electronically controlled Terrot machines.
The pattern possibility with 3-Way-Technique on every feeder is also best tested for production and uniquely also combined with highest feeder versions available.
Exhibition machine
Diameter in inch 30
Gauge E 36
Number of feeders 72
Machine speed / RPM 20 Knitting structure Single-Jersey Electronic-Jacquard
Fabric structure
2-thread yarn fleece
Elastane plating
Electronic-Jacquard
Tuck structure
Crepe structure
Eyelet stitch pattern
Mesh
Piqué
Plain Single-Jersey
Knitting technique
Electronic-Jacquard
3-Way-Technique
Structured Single-Jersey
Plain Single-Jersey
Fabric application
Sports & Leisure Wear, Underwear, Fashion Outerwear, Kids Wear
Author: Billy Hunter