Shima Seiki: SDS ONE RD2, SDS ONE RD2(P)
5th May 2009
All-in-One Design System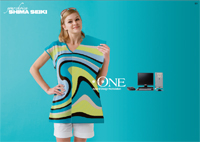 Drawing from years of experience and know-how as a world leader in fashion technology, Shima Seiki has created a design workstation that goes far beyond the simple patterning and programming available from the competition. With powerful proprietary hardware and industry specific software developed in-house, no other design system even comes close to SDS®-ONE.
Supporting all your Apparel Design Needs...and More
SDS®-ONE is an All-in-One design system featuring everything you need to create high quality products with high fashion appeal. With complete support of various stages within the apparel supply chain, SDS®-ONE realizes a more smooth and efficient production workflow like never before.
Click image for further information and full technical specification
[5.5.09]
Author: Billy Hunter