Turkish warp knits make a comeback
20th July 2012, Istanbul
Karl Mayer's attendance at ITM Texpo Eurasia 2012 in April this year could be described as being 'a first' in many respects. This was the first trade fair the company had exhibited at this year, it was the first time in a while that it was showing a machine actually operating and the innovations on show were also being exhibited for the first time in Turkey.
These, Karl Mayer says, were three good reasons for Turkish customers to visit Karl Mayer on its spacious stand, which showed many interesting applications – especially as Turkey is making a comeback in the market for classic warp knitted fabrics.
The latest generation of the HKS 3-M formed the focus for Karl Mayer and its products. The flexible, high-speed tricot machine was introduced to the market at the turn of the millennium and was upgraded in 2007, which involved changing it over to using CFP (carbon fibre reinforced plastic) components.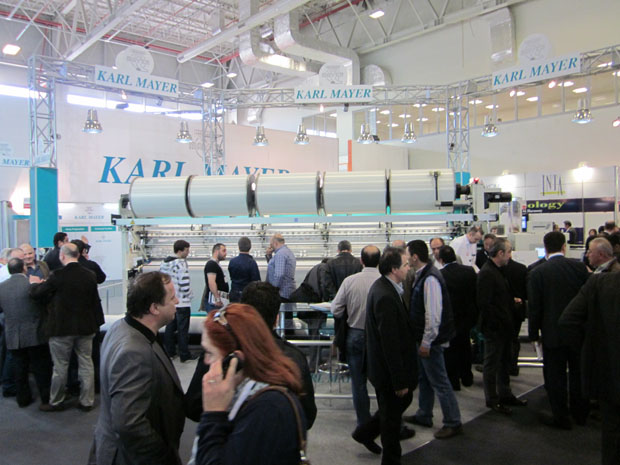 According to Karl Mayer, integrating lightweight components, among other things, increased the speed by 25%, but the most recent modifications have increased the operating speed by another 15%. The HKS 3-M can now reach speeds of up to 2800 rpm at a working width of 210 inches – a production rate that the company says definitely secured the machine's place on the stand at ITM Texpo Eurasia 2012.
"For some time now, Turkey has again been emerging as an important market for Karl Mayer and demand there has been increasing surprisingly well," Karl Mayer said in a statement.
Important market
"Turkey was one of the five most important sales regions for our warp knitting machines in the last financial year," explained sales director, Oliver Mathews, in an interview with Engin Buz, editor of Tekstil Dunyasi magazine, during the exhibition.
Karl Mayer used to have a large customer base in Turkey, especially in the net curtain sector. After excellent results in 2006 and 2007, demand declined rapidly in the wake of the global economic crisis – a decline that lasted until around 2010.
"Now the Turkish market is back in business," declared Oliver Mathews optimistically.
Karl Mayer says it is difficult to predict what will happen for the whole of the 2012 financial year, but demand did increase during the first quarter. Sales are expected to rise over the next few months, in complete contrast to the general trend.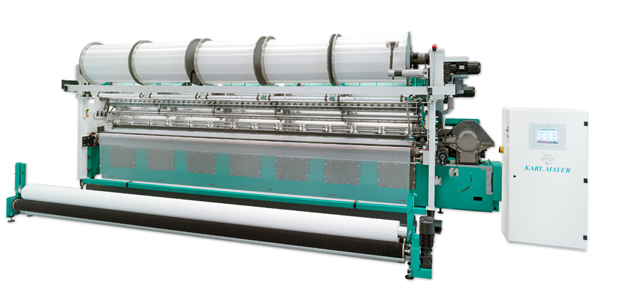 "Business in the Asian market declined this year compared to 2010 and 2011. On the other hand, the number of orders from Turkey and India has increased surprisingly," said Oliver Mathews.
The HKS 3-M has proved to be a particular best-seller. Manufacturers of embroidery grounds, net curtains and upholstery fabrics, as well as producers of stretch lingerie and semi-technical textiles, are said to be expressing great interest in the high-speed machine.
Bastian Frisch, Karl Mayer's sales director for warp knitting machines in Turkey and its agent, Erko Textil, had plenty of reason to look back on the exhibition with some satisfaction.
"This year's fair has been the best organised, has clearly expanded at a global level, and also recorded a large number of visitors," said the experienced sales manager.
Visitors not only came from Turkey, but also from Iran, Syria, Egypt and even Georgia.
"All our regular customers paid us a visit and we had conversations on some very specific issues. We spoke to people who were very knowledgeable and extremely innovative. Textile producers are no longer merely content to follow trends, they also want to develop their own products and introduce new innovations. Of course, their enquiries related mainly to the new HKS 3-M. The performance and quality of this machine, which is now even more productive, was received enthusiastically, and attracted the interest of potential new customers in the embroidery and weaving sectors," concluded Frisch.
"Consequently, ITM Texpo Eurasia was an important trade fair for us."
Increasing demand for technical textiles
Karl Mayer says, whereas the market for conventional textiles is clearly increasing in Turkey, demand for technical textiles is still fairly muted in general. Despite this, Hagen Lotzman, Karl Mayer's sales manager in the Technical Textiles Business Unit, detected a number of positive impulses at the ITM.
"The technical textiles business is increasing gradually," he said.
"We had a number of conversations with our existing customers as well as with new producers, who have been operating exclusively in the clothing and home textiles sector but who are considering reorganising their product lines in the medium to long term."
In addition to offering advice on specific issues, Lotzman was able to set in motion concrete projects in established business fields. These related in particular to the production of backing substrates for use as advertising media and tarpaulins.
Author: Billy Hunter