Swisstex California gets bluesign certification
26th March 2012, Los Angeles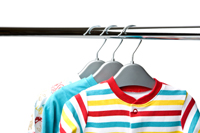 Swisstex California Inc., a leading dyeing and finishing company for knitted fabrics based in Los Angeles, California, has announced that it has become a bluesign system partner. Swisstex says the partnership will allow it to offer a healthier, more successful textile future to consumers.
As well as further minimizing its impact on the environment, Swisstex is also replacing its dyeing machines with new state of the art models completing a significant modernization.
The company was founded in 1995 by European entrepreneurs that wanted to build the most efficient dye house operating with the lowest environmental impact.
"After doing everything possible to minimize our impact on the environment with state of the art production processes, we found the missing link with bluesign. The bluesign system partnership gives us access to tools, previously unavailable to the industry, that enable us to choose the input products with the least negative environmental impact," said Thomas Schrieder, President of Swisstex California Inc.
The bluesign standard combines all aspects of consumer safety, water and air emissions as well as occupational health in a single standard under the general objective of resource productivity.
According to Swisstex, bluesign meets all common standards worldwide and typically goes beyond their requirements in terms of resource management. In addition, working in compliance with the bluesign standard leads to fulfilling various accepted 'Restricted Substance Lists'.
Swisstex California has been a leading company in dyeing and finishing services for knit fabrics since 1996. The company's seasoned management and skilled staff offer many decades of experience in dyeing services for natural and synthetic fibres, and finishing applications to improve appearance and wear and facilitate fabric care. In addition, the company says it adheres to a strict environmental policy, operating to green principles of energy and resource savings.
Bluesign Technologies AG was founded in 2000 and since then, the bluesign standard has been adopted by various leading textile manufacturers around the world.
"The bluesign standard can secure a global transparent, economical and safe textile production. Various significant key players of the chemical and machine industry rely on the bluesign standard and endorse it as bluesign supporters, Bluesign says.
"Several well-known brands of the sporting goods and fashion industry benefit as bluesign members of the extensive knowledge of bluesign technologies."
In 2008, SGS, the world's leading inspection, verification, testing and certification company, acquired a 50% stake in bluesign Technologies AG.
Author: Billy Hunter