Shanghai success for Stoll
24th July 2012, Reutlingen
German flat knitting machine manufacturer Stoll has reported a successful ITMA ASIA + CITME 2012 which took place in Shanghai in June. The Reutlingen based company says that its newly designed 755 square metre booth was a hit with trade show visitors and was the most popular exhibit at the event, with up to 1200 visitors per day.
A total of 1283 exhibitors from 28 countries took space of 132,250 square metres at the 3rd international exhibition for textiles and textile machinery in Shanghai and Stoll says it took the opportunity to strengthen its position as an innovation leader and reliable technical partner in the knitting machinery market.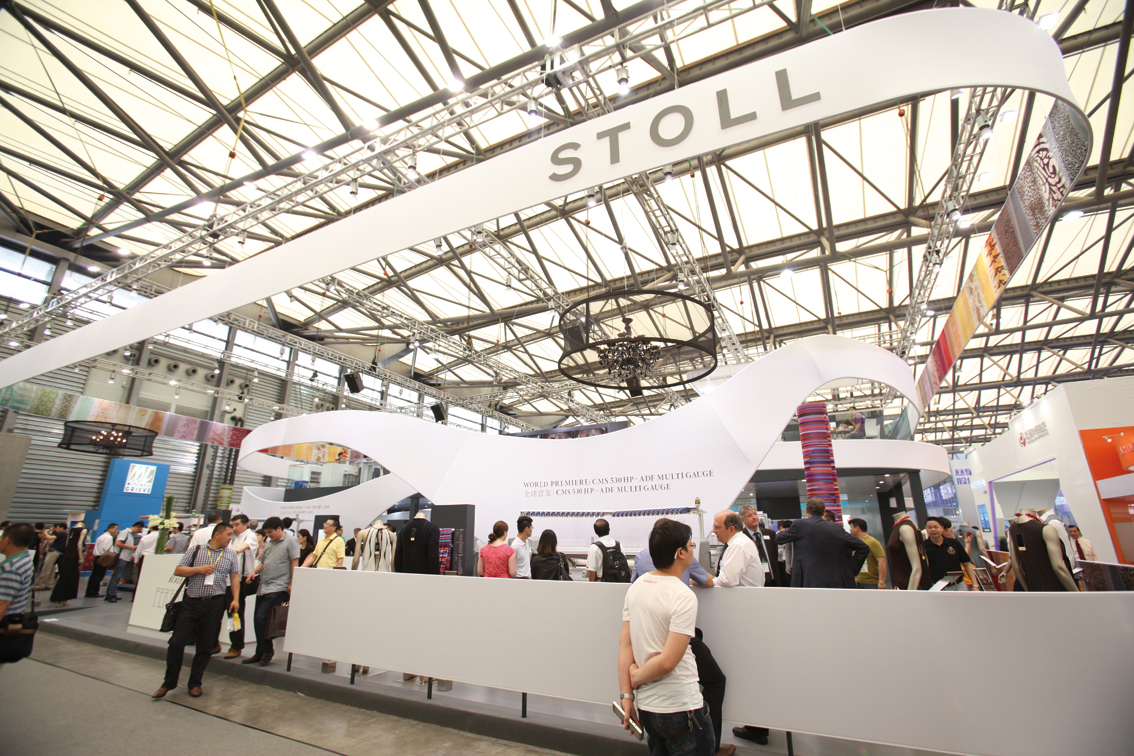 ITMA ASIA + CITME 2012 was 30% larger than the last show in 2010 and was especially popular with exhibitors and visitors from China, Germany, Italy, Japan, and Switzerland.
"We are very happy with how the show went for us. We successfully presented ourselves to an international audience as a leading innovative manufacturer of flat knitting machines," stated Heinz-Peter Stoll, the company's president.
Mr Stoll attributed this success to two main factors, adding:
"The prototype of our innovative new prototype CMS 530 HP-ADF machine, with a live demonstration of its novel yarn feeder technology, was an absolute highlight at our booth and attracted great attention from visitors. But that wasn't all. Our new two-level booth with the motto 'Knitting Performance by STOLL' also met with a very positive response."
Performance, precision, perspectives, passion, perfection
The outer shell of the 755 square metre Stoll booth sported a futuristic white design, while its inside reflected the company's core themes at this year's show: performance – precision – perspectives – passion – perfection.
Inspired by circus artists who perform their feats with the greatest of ease while their intense preparation and training remain hidden from view, Stoll presented itself in its new booth as an enterprise that is rooted in tradition while constantly striving for perfection, artful patterns, and new innovative knitting technologies.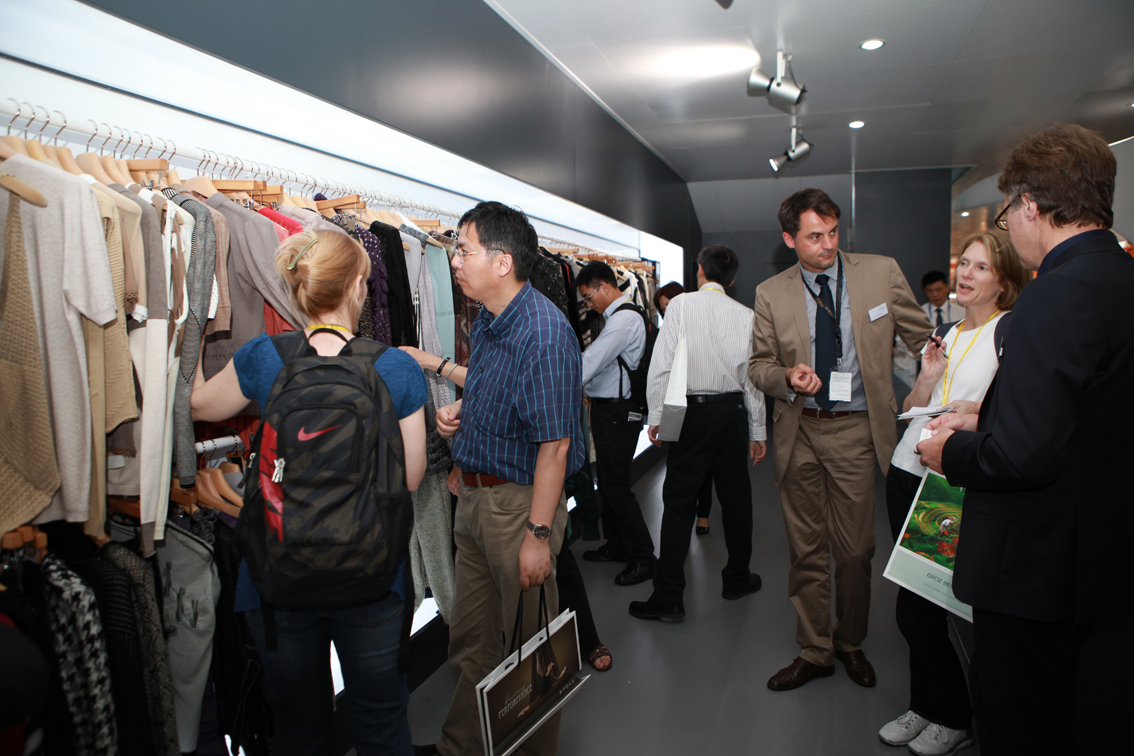 A 'fashion corner' within the new booth physically brought together the aspects of technology and design and gave trade visitors an opportunity to witness firsthand the wide diversity and high quality of the new Stoll products and admire the new 2013 STOLL Collection.
CMS 530 HP-ADF
"Among other things, they could thoroughly acquaint themselves with the fascinating possibilities for creating imaginative intarsia patterns that are opened up by the company's latest new product: the CMS 530 HP-ADF," the company said.
A prototype of this high-performance, high-output intarsia flat knitting machine was showcased and was featured on Knitting Industry shortly after the exhibition - Editor Billy Hunter met Stoll's head of research and development Michael Sedlag and discussed the merits of the new technology - Stoll's ADF technology: A new dimension in flat knitting?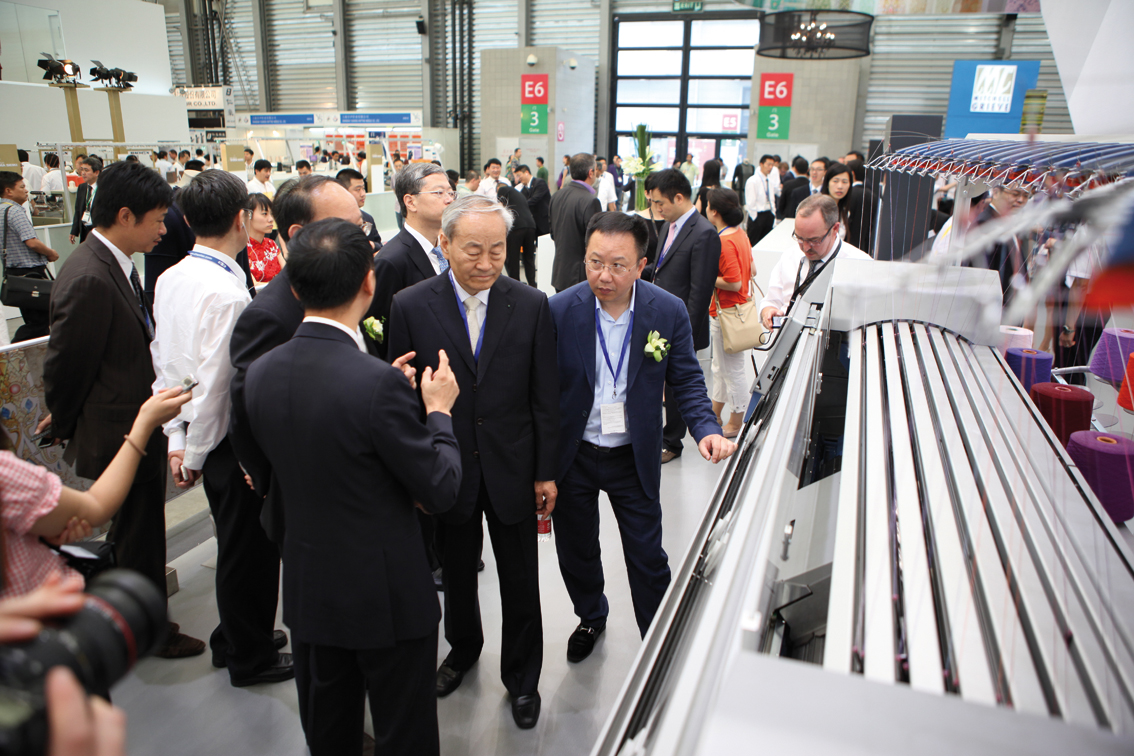 Stoll around the world
Reutlingen based Stoll is a leading manufacturer of electronic flat knitting machines which are marketed and sold on a global basis. The long-established company, founded in 1873, currently has 1000 employees worldwide.
Electronic flat knitting machines and pattern preparation software are used for knitting production in fashion as well as technical and medical applications, and are exported successfully in 70 countries around the world.
Stoll's subsidiary companies, and sales and service centres offer a comprehensive integrated approach to meet the needs of its customers in the knitting industry. Through its innovative high-tech machine production concentrated in Germany, the company is a visionary and has created knitting trends and collections which inspire today's designers and developers to embrace the latest available technology in their fields.
Author: Billy Hunter