Stretch warp knit for hook and loop applications
11th May 2012, Westerly, RI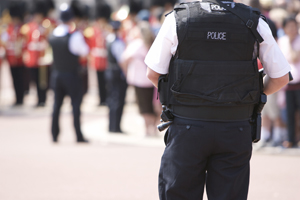 Rhode Island, USA based stretch fabrics producer Darlington Fabrics has launched an innovative family of fabrics called Fasten-Air which stretch for comfort and function in personal protection applications and utilise familiar hook and loop closures.
According to Steve Perry, Darlington's Senior Vice President, Fasten-Air is a strong yet soft warp knitted fabric available in a variety of weights based on the customer's particular application.
"This unbroken loop (UBL) fabric comes in seven styles with different levels of stretch, weight and compression. We have seen that Fasten-Air is unique because of its stretch-comfort and function. The product achieves excellent hook attachment using bestselling brands of hook tape," Perry adds.
Fasten-Air fabrics are made with 9% to 20% spandex and blended with polyamide for strength and durability. Finished weights of 6.5 oz per square yard to 9.8 oz per square yard are said to add to the versatility of the Fasten-Air fabrics, which have been incorporated into body armour, knee pads, and gloves. The 4-way stretch loop fastener adds flexibility and adjustability, features said to be required for a comfortable fit and high performance product.
Further comfort
"In addition to its durability and stretch, further comfort can be achieved by incorporating Naturexx, which wicks moisture away from the body. Odorexx, for long lasting anti-odour freshness also works well with this fabric," comments Darlington's Mindy Earleywine.
Darlington's Fasten-Air fabric collection is available in custom colours and sample yardage is available in a variety of colours for prototypes and product testing. All of the fabrics are machine washable. Fasten-Air received a Top Ten Award for Textile Innovations from FabrickLink in 2012.
Darlington Fabrics is a division of The Moore Company, founded in 1909. Sister divisions include The George C. Moore Company, Fulflex, Moeller Marine, Moeller Plastics, and AMER-SIL.
The Moore Company manufactures products in the United States and international manufacturing facilities complement domestic capabilities while serving regional markets around the globe.
Author: Billy Hunter