Net curtains make bright comeback
4th April 2012, Obertshausen
According to warp knitted lace machinery manufacturer Karl Mayer, warp knitted net curtains are making a comeback and the vibrantly coloured latest interpretations are helping city dwellers in particular brighten up their homes.
In an article in the latest edition of the German company's Kettenwirk Praxis magazine, it describes the trends for the coming season and range of machines available for production of modern net curtains.
"Life in our towns and cities may be bright and cosmopolitan, but it often plays out against a backdrop of dark, grey buildings, which depress the people who live there. On the other hand, the greyness of life outside their doors and windows has encouraged city dwellers to brighten up their own homes more," Karl Mayer says.
"Window fashions for the coming season in particular feature brightly coloured, glowing, creatively draped in-betweens, open-meshed grid-like nets decorated with sequins, a whole range of yarn constructions, and delicate, sometimes crushed or embroidered voile fabrics featuring attractive structured jacquard net curtains decorated with striking motifs - the result is an elegant look achieved by warp knitting technology, which can make virtually anything possible."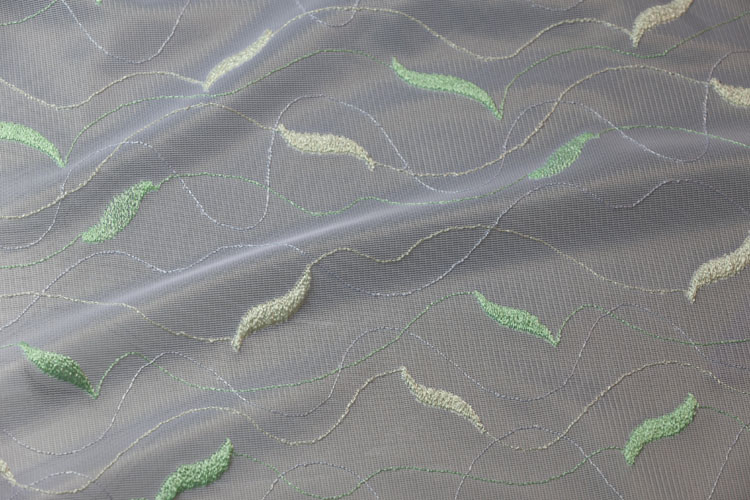 Karl Mayer offers a comprehensive range of raschel knitting machines to cater for the comeback of creative, warp-knitted net curtains. As well as offering a high level of productivity, their technical features make them perfect for working fabrics with special optical features, the company says.
Fascination Lace
The FL 20/16 or Fascination Lace was designed to cater for the lingerie sector, but Karl Mayer says it is also ideal for producing attractive net curtains. When working the design, the universal machine operates with all the tried-and-tested features that were incorporated for specific purposes.
These include the innovative string bar concept, KAMCOS system for controlling the machine functions with Motion Control in the Single Speed version, servo drives for the pattern and ground guide bars, electronic yarn feed and electronic fabric take-down. With all of these features, the Fascination Lace is said to be ideal for producing delicate fabrics with patterns that resemble embroidery.
The warp-knitted fabric features raised pattern yarns lying on the surface, which are incorporated into the transparent grounds by stitches and come together to create design elements with distinct contours. Large-repeat motifs can also be produced by shog paths of up to 170 needles at a gauge of E 24.
Karl Mayer says that even more attractive patterns can be produced thanks to the range of yarns that can be processed on the Fascination Lace. For example, crinkle yarns dtex 400-450 KDK produces a voluminous appearance when working the motifs, spin-dyed yarns create bold coloured effects on the textile, whilst yarns with thick and thin spots, such as Linetex, create structured effects on the ground. Generally speaking, the grounds have a conventional, voile-like structure or a grid-like construction with a subtle pattern.
The Fascination Lace aims to bring a touch of elegance to windows and is therefore in high demand, whether it is working asymmetrical checks with broadly hatched contours, relief-like, shimmering leaves scattered across a great expanse of sea, bold, dense ornamental effects, or filigree oval patterns with floral motif spots in curved silhouettes.
According to Karl Mayer, the many, detailed discussions held at ITMA 2011 and during Heimtextil 2012 showed that there is a great deal of interest in this machine.
Jacquardtronic Lace
According to Karl Mayer, lace patterns will be best-sellers in the coming interior design season. These delicate, usually floral or decorative patterns made on the Jacquardtronic Lace series are said to be helping the romantic look to make a comeback.
The JL 29/1 B is said to be ideal for efficiently producing distinctively structured all-over plain goods with a wide range of motifs. Karl Mayer says the patterns have clear, raised contours and fine graduations on the jacquard ground and the transitions from the pronounced structured areas to the smooth, fine, flat areas are smooth and gentle.
"The result is flowers with striking contoured edges, which are crossed by coarse veins on a very open ground featuring a range of patterns, filigree clusters of leaves with a dense, delicate mesh look, and airy, floral landscapes in which discreet, three-dimensional contour yarns create structured effects," Karl Mayer claims.
"This wide variety of pattern options is the result of a well-thought-out machine configuration."
The standard version of the JL 29/1 B operates with three ground guide bars - one at the front and two at the back - and with 24 pattern bars in six shog lines and a split jacquard bar. The guide bars, yarn feed and fabric take-down are all electronically controlled.
The KAMCOS system with Motion Control/Multi Speed capability is responsible for controlling all the main machine functions.
"The JL 29/1 B machine concept is therefore versatile and also has an exceptional price: performance ratio," Karl Mayer adds.
The Jacquardtronic Lace is also available in a gauge of E 18 for the net curtain sector.
RJPC
The RJPC 4 F-NN net curtain jacquard raschel machine is Karl Mayer's all-round machine for the home textiles sector. This machine can be used to produce a range of styles, from rustic café curtains to bordered types with trendy, all-over patterns, as well as tablecloths and in-betweens.
The latest generation of the RJPC also has electronic fabric take-down, electronic control of yarn feed, the KAMCOS system with Motion Control/Multi Speed facilities and innovative, piezo-controlled needle selection.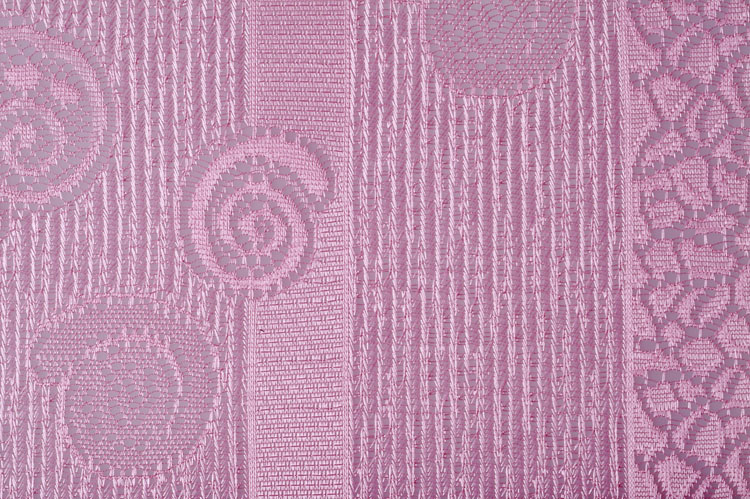 In combination with three- and four-needle patterning technology, this innovative net curtain jacquard raschel machine with all its equipment can produce a wide variety of net curtains with various, eye-catching fabric grounds.
"The piezo grounds create a beautiful interplay with the transparent effects. They feature fine-mesh net areas, seemingly completely open structures, almost three-dimensional relief effects, and dense surface effects in a varied interplay with each other, and are produced not with long floats but by a combination of jacquard structures and pillar stitch constructions," explains Karl Mayer.
Both light and stable grounds with a woven look can be produced, in which GB 3 lays a weft around the needles for the purpose of stabilisation. The distinctive in-between look, consisting of an opaque curtaining fabric and a slightly transparent, lightweight net curtain, has become the trademark of the RJPC 4 F-NN.
Another speciality of the net curtain jacquard raschel machines is the various tulle grounds they can work. The RJPC 4 F-NN has one stitch-forming and two weft-laying ground guide bars for producing a wide range of grounds. A slight crushed finish combined with a delicate apricot shade also gives the fabric a slightly antique, cotton-like look.
Author: Billy Hunter