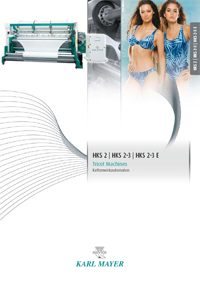 The flexible type for rigid fabric qualities
Maximum flexibility of articles is offered by the HKS 2: Due to the particular knitting motion and the special knitting elements, this model is also suitable for very low stitch densities and coarse gauges. Besides, the considerable lapping variety turns the HKS 2 into a 2-bar high performance tricot machine with highest versatility of products.
Therefore, the HKS 2 type is especially to be recommended for the manufacture of inelastic (rigid) articles, if flexibility is the most important decision criterion. Applications: from light tulles to heavy raised velours.
Particularly overfed yarn run-in is the typical feature of the HKS 2. When equipped with a velours device, it is a simple matter to produce raised velours. These features turn this model to a lucrative and secure investment for the future, if a high degree of flexibility during production is of essential importance for the company's success. This versatility becomes evident from some examples of articles which can be produced on the HKS 2:
all kinds of tulles, outerwear, mosquito nets, automotive textiles, laminating backings, sports articles, shoe fabrics, ground fabrics for printing/advertising media (bill boards), bunting and coating substrates.
Click on image for further details and full technical specification
[6.4.2010]
Author: Billy Hunter