Yeşim Tekstil expands into Japan
17th April 2012, Tokyo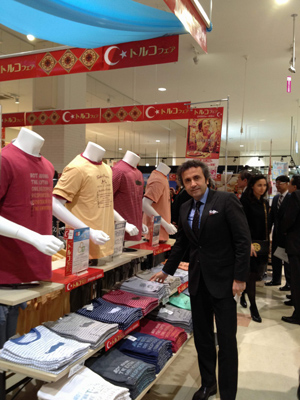 Yeşim Tekstil's presence with apparel products on display marked the Turkish Fair, an event held in Japan as a part of the Turkish Week.
Turkey's Yeşim Tekstil participated in the Turkish Week event and bilateral negotiations in Japan earlier this month after it recently started to manufacture products for the country's AEON brand.
Organized by AEON, said to be Japan's largest retailer with a total of 391 stores, hypermarkets and supermarkets, the event had Yeşim Tekstil as one of the companies on the special guest list.
Yeşim CEO Şenol Şankaya and executive Duygu Sivrioğlu, who manages relations with AEON at Yeşim, represented the company during the Turkish Week in Japan which was held from 4-8 April 2012.
The event was coordinated by the Ministry of Economics with the organizational support of the Turkish Exporters' Council (TİM) and Aegean Exporters' Union (EİB).
23 businessmen from the Turkish Exporters' Council led by Assistant Under secretary Cemalettin Damlacı, members of the board of directors of Exporters' Unions and officials of the Istanbul Chamber of Commerce as well as ten Turkish companies operating in the food and textile industries participated in the event alongside Yeşim.
According to Yeşim the event was organized by AEON in order to introduce the Turkish market and its high level of quality to the general public in Japan. Creating a lot of interest among Japanese people, the event is said to have served as a platform to display Turkey's economic strengths alongside its historical and touristic attractions.
Noting the importance of the Japanese market for Turkey especially after the recent crisis in Europe, Yeşim CEO Şenol Şankaya, who also serves as the Coordinating Head of the Uludağ Exporters' Union, said:
"We first approached the Japanese market in December last year by exporting products to AEON. The company has a particular demand for environment-friendly and organic products, viewing Turkey as an alternative market for top-quality environment-friendly products with high added value."
"They have organized this Turkish Fair event in order to introduce the Made in Türkiye brand to the general public in Japan. The stands, billboards and banners as well as events organized to introduce the Turkish culture have served as an amazing opportunity to promote Turkey in the best way possible."
"Yeşim Tekstil, the company that we represent, is AEON's largest supplier of apparel in Turkey. Our goal is to increase exports to AEON, also using the beneficial atmosphere created by the Turkish Week. Based on my impressions during the fair, I can say that the general public in Japan is fairly well interested in Turkish products."
Participating in the trip organized in order to increase the market share in Japan and create new export opportunities in the region, the delegation held bilateral talks with Japanese companies alongside the Turkish Week event, gaining an opportunity to solidify existing contacts and build new relations.
Author: Billy Hunter