Zegna Baruffa Spring Summer 2012 Yarns Collection
25th January 2011, Florence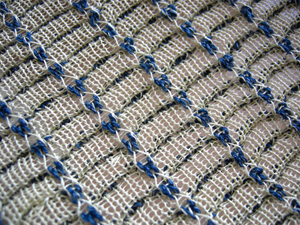 Leading Italian spinner of knitwear yarns, Zegna Baruffa Lane Borgosesia has released details of its Spring Summer 2012 Yarns Collection. The range will be exhibited at the Pitti Filati Fair which opens at the Fortezza da Basso in Florence tomorrow.
The colours: Spring–Summer 2012 (click images to enlarge)
Nature - the absolute protagonist
Nature is the protagonist for summer 2012. It is nature surrounded by great horizons and wrapped in the wildest scenery.
The colours are not limited to being inspired by the assortment of natural elements and the environment, but are frequently an imitation of the actual natural pigments.
The natural resources of colour are re-discovered through plants, minerals, and pigments. Therefore, a new approach for dyeing both fibres and yarns is required.
In the production process some new fundamental concepts are affirmed: for example, "bio", the one hundred percent natural, responsible production and a philosophy that will determine a profound evolution of the traditional point of view of elegance.
Key words: craftsmanship, hand-made, mottled with colour ranging from plants to minerals, from tea to clay, from tan to terracotta.
"Hand-made" is not a slogan but a philosophy of life since hands are used to create something truly personal and personalized.
Friendly technology
Nature and technology are not adversaries because through technological tools we are able to discover the hidden side of mother earth. Only thanks to technology we can be fascinated by micro-observations (e.g. insect shells) because it is technology that allows us to transform what in nature comes as "micro" into a larger scale. In the same way innovative technology enables us to "imitate" the nature of the refraction of colour and fluorescence. Colour is thereby the key to understanding the echo-hybrid, the perfect symbiosis between nature and technology.
The colours of the season
The colours that are the protagonists of the season: brown as the new basic for summer, while the naturals like cord replace navy blue. Yellow can be used with greater ease, and pink, fuchsia, bright blue and turquoise also play an important role.
The metallic colours maintain the position that they have already conquered, especially gold in all of its nuances, as well as copper, silver, and even coloured metals.
Kaki green and earth colours, mustard (yellow/green), and moss green are all brightened by pure white.
Sand in Hand
The hand-made look combined with technology – organic perfection.
Colours: oak, acorn, papyrus, marzipan, light brown, tan, Etruscan red united with the warm shades of sand and accompanied by white. Rustic material which is at the same time refined, terracotta, natural colour ribbons, cord, intertwined textures, knots.
Yarns that have a sandy, dry feel: pure natural linens, cotton blended with viscose and linen.
Crystal Harmony
Ethereal transparencies, micro reliefs and small jacquards. The tones of natural colours, rocks, gems and quartz.
Colours: mineral grey, chalcedony and fluorite, pink lavender, alabaster, citrus and sulphur, rose quartz, smoke.
Golden Value
A group of tones in honey and gold. They range from gold to golden browns, to green, yellow and saffron, giving light to an array of tones which has an allure of luxury and magic.
Colours: bright gold, antique gold, beeswax, moss green, almond, walnut.
Botanical Fantasy
There is an explosion of colour, science and nature in unison: it is a bright world. Strong colours combined with flashes of white and midnight blue.
Colours: scarlet, orchid, violet, carrot, geranium pink, amber yellow, sapphire, pool blue, vibrant green.
Power of Water
Once again the blues which have become bright. There are new tones of turquoise to liven the range of colours. The denim tones are enriched by silk-wool blends; the intense blues are adapted to techno and performance yarns.
Colours: canal blue, magenta fuchsia, cobalt blue, midnight blue, royal blue, Swedish blue, underwater blue.
Green Garden
Green garden has inspired the structures imitating roots, leaves, and vegetables which mostly appear in cool, tender, light, and transparent tones.
Colours: basil green, sea foam, swamp green, oak bark, lime green, green tea, pure white.
Author: Billy Hunter