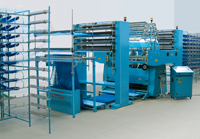 Just a few months before the next ITMA ASIA + CITME is due to open in Shanghai from June 22 to 26, Italy's position amongst textile machinery's leaders has been confirmed by the high number of Italian manufacturers exhibiting at the event.
110 Italian companies will be exhibiting at ITMA ASIA + CITME 2010, occupying an overall exhibition space of approximately 3800 squaremetres. Of these, 66 will be presenting their products as part of the National Sector Group, organized by ACIMIT (the Association of Italian Textile Machinery Manufacturers) and ICE (the Italian Trade Commission). The four Italian clusters will be situated in the spinning (Hall W2), non-wovens (Hall E1), weaving (Hall E4) and finishing machinery halls (Hall W5). The total surface area occupied by Italy's National Sector Group amounts to roughly 1700 square metres.
ACIMIT President, Sandro Salmoiraghi, indicated his optimism regarding the upcoming trade fair in China: "In the wake of the positive results for the first edition, ITMA ASIA + CITME certainly confirms its status as the preeminent trade fair for textile machinery in Asia. And China is the largest global market for textile machinery: Chinese imports of machinery for 2008 exceeded 2.6 billion Euros. This represents an additional plus for the success of ITMA ASIA + CITME."
"The high number of Italian exhibitors, in spite of the economic downturn," continues the President of ACIMIT, "bears witness to the fact that businesses have a positive outlook on the future. The Chinese market, for its part, represents the primary destination for Italian exports (over the first 11 months of 2009, the value of Italian machinery exported to China totalled 215 million Euros, or around 21% of its total exports). Asia on the whole is a constant benchmark for our manufacturers, absorbing 49% of their sales abroad."
It is estimated that for 2009 Italian exports of textile machinery directed towards Asian markets achieved a value of 575 million Euros. Right behind China, as primary markets for Italy's textile machinery industry, are India, Turkmenistan and Iran.
Italian machines most in demand in Asia are spinning machines (making up 31% of the total), followed by finishing machines (17%), accessories (17%), knitting machines (14%) and weaving machines (11%).
ACIMIT represents an industrial sector comprising roughly 300 companies employing 14,000 people, which produces machinery to the value of 2.5 billion Euros. ACIMIT says the quality of Italian textile technology is testified by the high number of countries where the Italian machinery is sold, about 130. Exports represent 78% of total sales.
"Italian manufacturers place a great deal of emphasis on meeting the demands of the global textile industry. Creativity, technology, reliability and quality are the characteristics that have made Italian machinery products proven winners throughout the world," the organisation says.
This article is also appears in...