20th March 2015, Dornbirn
54th Dornbirn MFC to focus on ideas generation and networking
Dornbirn-MFC, the Dornbirn Man-Made Fibers Congress, which has grown to an annual event with more than 700 participants from 30 countries, will intensify the cooperation between the industry, universities, technical colleges and trade associations, promoting its international appeal.
The new more engaging and European orientated development strategy will be executed by DI Friedrich Weninger, who succeeded Heinz Kmonicek as Manager of the Austrian Man-Made Fibers Institute (Austrian-MFI) and Chairman of the Programme Committee of the Dornbirn Man-Made Fibers Congress.
New management
Under the direction of Mr Weninger, the Dornbirn Man-Made Fibers Congress is to increasingly act as a generator of ideas and the basis for networking in the interest of the global fibre industry and its downstream manufacturing stages.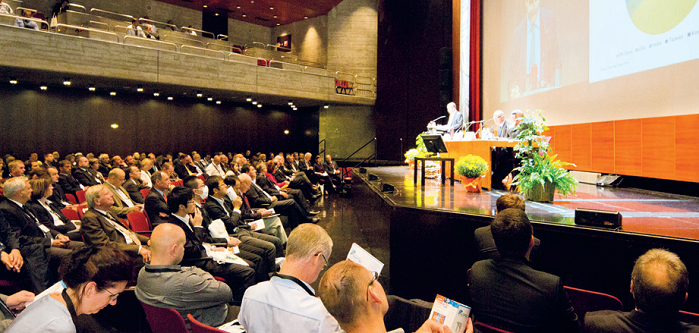 At the same time, Robert van de Kerkhof, Member of the Board of Lenzing AG since May 2014, has became the new President of the Austrian-MFI.
Under the new management, the Congress will maintain its emphasis on technology and European markets, aiming to enhance value creation that will ultimately benefit all players in the market.
Green event
The endeavour of organisers is to make the Dornbirn Man-Made Fibers Congress conform to the guidelines of the Austrian Eco-Label for Green Meetings and Green Events.
This eco label is awarded to events that excel by special eco-friendliness and sustainability. Several factors are being evaluated, including environmentally friendly travel arrangements, CO2 reduction, ecological catering, eco- friendly accommodation, as well as material and waste management.
As with regards to the printed matter (preliminary and final programmes), special attention will be paid to eco-friendly paper and printing processes, and thus the use of FSC and TCF certified paper is planned for 2015.
Generator of ideas
In recent years the Dornbirn Man-Made Fibers Congress has become a global brand, organisers report, due to its popularity and the amount of visitors it attracts from various countries.
The Europe-centred innovation platform for the fibre industry and the downstream manufacturing stages aims to serve as a generator of ideas and the centre of networking, with each and every participant contributing to the success of the meeting.
Specialised papers
The Congress will feature more than 100 specialised papers that deal with a wide range of topics. The subjects to be discussed this year include:
Fibre and filament innovations, (bio-) polymers
Functionalisation and adaptation of fibres and surfaces
Nonwovens/Filtration
Environment and health
Advanced fibre and processing technology
The 54th edition of the Dornbirn Man-Made Fibers Congress will take place from 16-18 September 2015.
This article is also appears in...