10th August 2016, New York City
A sparkle in my eye
Continuing my research on innovation, sustainability, and supporting domestic supply chains, I had high hopes walking into SPINEXPO a few weeks ago. My mission: To see what's going on with material offerings in the coming seasons. Who's offering products in or promoting sustainability, recycled or biodegradable materials? Who's local? Who's thinking?
At first I didn't think there was much for me to work with. I walked down the aisles looking for banners that read, "USA" to start. What I found was China, China, China, Taiwan, Japan, Germany, China, and more China.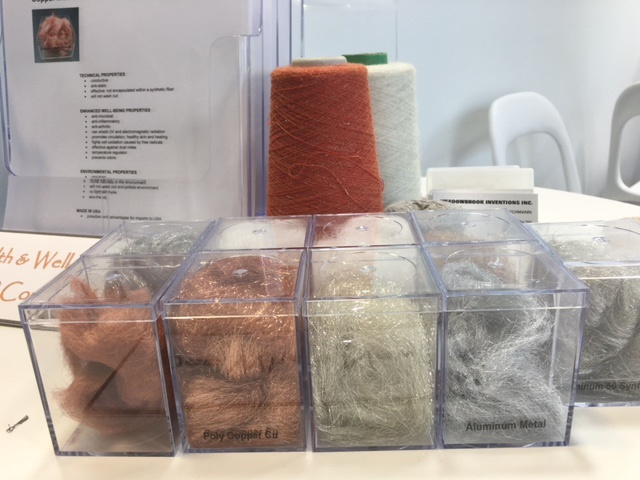 But then again SPINEXPO is a show with its roots in Shanghai – it takes the cream of China's knitwear manufacturers and yarn spinners and showcases them. And in the past few years it has branched out, showcasing mainly the same exhibitors in both New York and Paris.
The good news is that there were two exhibitors representing the U.S. and one of them, while having an office in the U.S., produces materials that actually come from China, Japan, and Italy.
I got lucky because the one exhibitor representing materials made in the U.S. was literally glimmering; Meadowbrook Inventions Inc. promoting their Angelina® fibers. I've seen Angelina® at the shows for years. The dreamy and soft iridescent fiber samples lure you in to touch them. Unless you are specifically looking for that aesthetic you might not stop in, however, there's a lot more to the story here. I sat down with Roberta Ruschmann to learn about their fibers.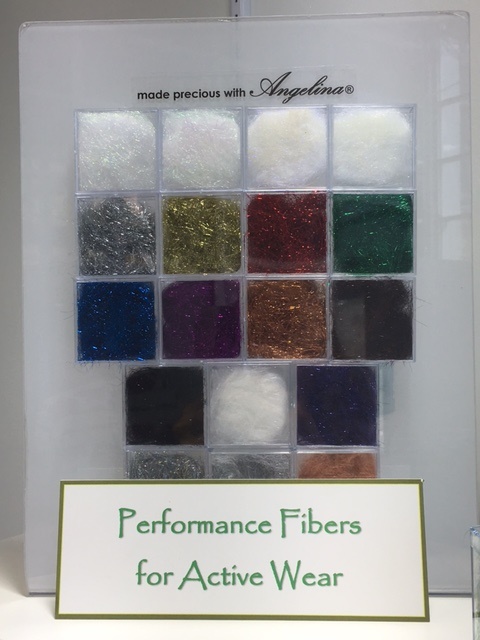 Founded in 1934, Meadowbrook Inventions Inc. is a family owned business located in New Jersey. They provide staple fibers which are spun at mills worldwide. Ruschmann's father invented modern day glitter. How about that for a fun fact? While glitter is a majority of their business for other industries, their Angelina® fiber collection is very impressive for the knitwear industry, especially with the current trends in Health & Wellness and Performance apparel.
The two main product categories of Angelina® fibers are Optical Special Effect Fiber and Functional Performance Fiber. Sticking to my focus, here's what they offer in sustainability and innovation: High Performance and Wellness fibers like Angelina® Copper Fiber, Angelina® 100% Pure Silver Ag, and Angelina® Eco-Friendly Fibers.
The Angelina® Copper Fiber properties include anti-inflammatory, anti-microbial, anti-static, anti- arthritic, promotes circulation and healthy skin, regulates temperature, prevents odor, is non- toxic, natural, will not wash out. The list actually goes on, but I'm already sold. The Angelina® 100% Pure Silver Ag offers similar benefits such as anti-microbial, anti-static, and won't wash out. The Angelina® Eco-Friendly Fibers are more than 90% recycled post industrial waste. We all know there's a TON of that out there but who would've thought that it could be used in such a pretty way. One of my dreams come true!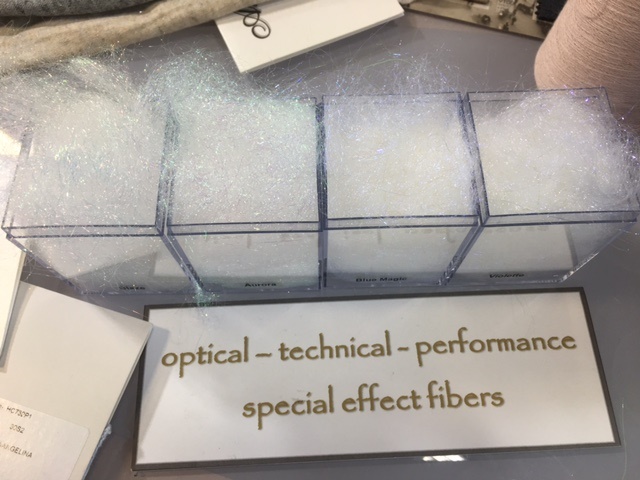 My perspective has changed on associating luminescent fibers with novelty and instead, I now feel inspired by its functionality. The healing benefits of Copper really intrigue me and it's a natural reaction to be drawn to things that sparkle on top of that. In Roberta's words, "Everything goes towards light." If you know me, you know that's all speaking my language.
While I wished there were more exhibitors for me to cover at SpinExpo, I realize this means there's plenty of room for opportunity. Sustainable fiber options should be the standard and not an alternative or trend. I would love to see more domestic yarn suppliers at these shows and I look forward to seeing the progression of this in the future. I know what I'm looking for is out there.
This article is also appears in...