Leading sportswear brand Adidas recently launched a three-month initiative called Knit for You, where shoppers could design a sweater, have a body scan to determine fit and get it knitted by a state-of-the-art Stoll flat knitting machine within several hours.
Led by a consortium of private and public entities and supported by the German government, the Knit for You pop-up store in Berlin aimed to explore localised production while empowering individuals with interactive technology to co-create bespoke garments.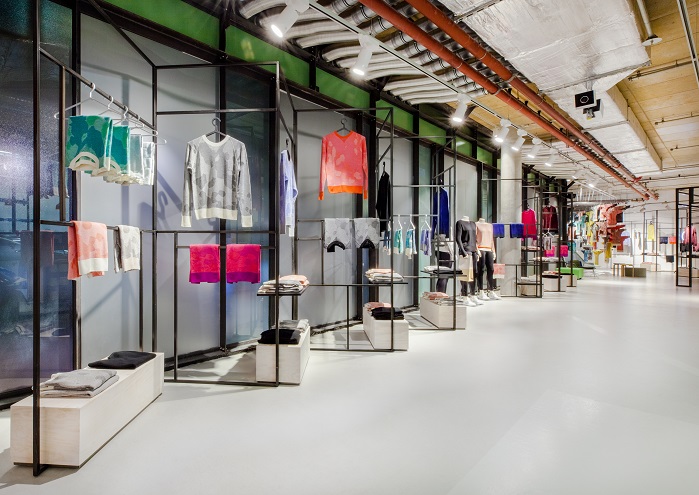 "Grounded in the philosophy that we are always in beta-mode, Knit for You is a chance to join adidas' ongoing quest to better understand, and improve upon, the processes that will shape our future," the brand explained.
Pop-up experience
For EUR 200, visitors to Knit for You pop-up store at the Bikini Berlin shopping mall were guided in the design of their own sport-to-street Merino wool sweater. Buyers first entered a dark room, where swirling camouflage patterns are projected onto their chests. The room is filled with sensors that detect hand gestures, allowing the buyer to move the patterns to create their preferred sweater design with the flick of a wrist. The software records dozens of potential patterns from which the buyer can later choose their favourite when displayed on a computer screen.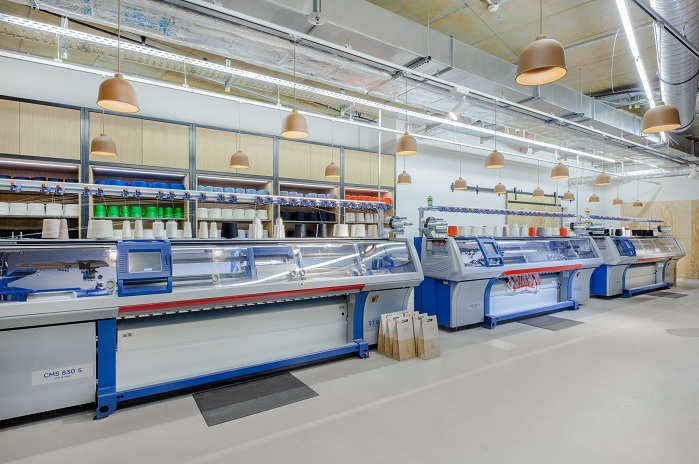 Then, customers could select a standard size or chose to determine an exacting fit with the laser body scan technology, enabled by in-store digital architecture – a staff member at the story uses a laser body scanner to measure a customer's size before the individual knitting of a sweater.
Once the design and size are finalised, the 'print' button is selected, sending the pattern for the custom sweater to a row of industrial-size knitting machines for production. Each sweater is then made to order on the spot according to specification. It is then finished by hand, washed and dried.
Opportunity to experiment
"We need more than just stuff. We need opportunities to be collaborators in experimenting with new ways to craft how our future works, and what it looks like," the company explains. "Current systems are there to be challenged. Standard pathways are primed for reform. Now is the time to innovate, to combat stresses on natural resources while making higher quality, more unique products. Now is the time to play, to envision, and to create."
While the Knit for You shop in Berlin was temporary, Adidas is now gathering feedback and is looking at the concept as a building block for its future manufacturing and retail vision. The company is also working on several initiatives to cut the time to market, which is currently around 12 months for most sneaker companies, including opening factories mainly operated by robots in Germany and the US.
Adidas wants half of its products to be made in a faster time frame by 2020, which it expects will increase the proportion of products sold at full price.
This article is also appears in...