7th September 2016, Stony Brook, NY
ADNAS offers DNA-based system to expose cotton fibre substitution
Applied DNA Sciences, a provider of DNA-based supply chain, anti-counterfeiting, authentication, genotyping and anti-theft technologies, has released market data that is said to show that the company's DNA-based system can be used to monitor, control or eliminate the off-shore substitution of high-value cotton fibres by fibres of unknown origin.
The news has been announced in light of recent reports of mislabelling products relating to Egyptian cotton. One of the world's largest cotton manufacturers located in India has been accused by a US retailer of mislabelling products as 100% Egyptian cotton. Subsequently, a number of cotton retailers have launched formal audits of their products obtained from the same manufacturer.
SigNature T DNA tagging
APDN's solution that uses forensic science to tag, type and test textile products, trademarked as SigNature T for textiles, is the core technology has a unique molecular tag that tags cotton fibres en masse in the gin that are subsequently checked at every step of the supply chain as it is made into yarn, fabric and finished goods.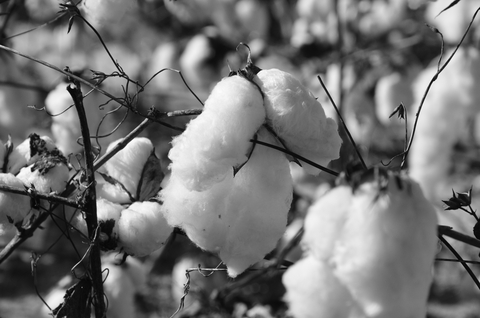 SigNature DNA has been used to protect electronic supply chains for the Department of Defense for more than five years. Over 700,000 semiconductors have been marked with SigNature DNA to prevent the introduction of counterfeit parts into military supply chains. The company believes that the technology can prove just as relevant in the supply chains for pharmaceutics, personal care, foods and other materials.
fiberTyping
In addition to SigNature T, all cotton is fiberTyped, which quantifies the native DNA within cotton fibres by species prior to ginning to ensure the original cotton species is present.
As shown in the data released by the company, once SigNature T DNA tagging was implemented, including the strict storage and labelling protocols, along with inspections and frequent DNA testing, the level of DNA compliance rose quickly to 100%. Data were obtained by APDN from commercial samples.
Ethical sourcing
"Traceable American cotton helps consumers be confident of their source. Thirteen countries have been recognized as harvesting Conflict Cotton under conditions that utilize child labour, or enslaved adults. More than 260 international brands and retailers have signed pledges to eliminate unethically sourced cotton from their supply chains," said Dr James Hayward, CEO of APDN.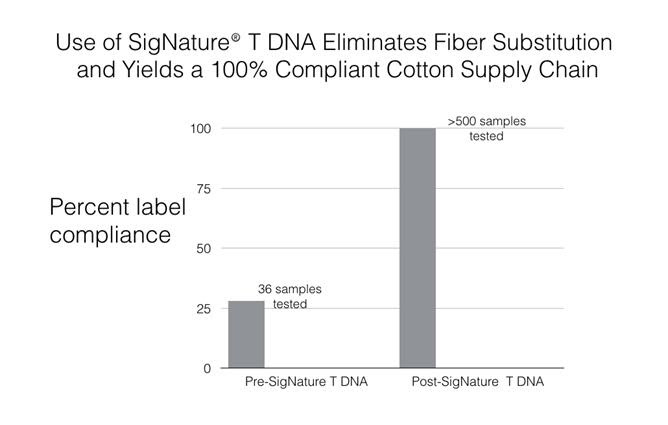 "If you know where 100% of your cotton comes from, you know you have prevented the entry of inferior cottons. More importantly, you can exclude the intrusion of Conflict Cotton in complex, off-shore supply chains; preventing injustice and the violation of multiple federal and international laws."
Testing
In prior surveys, APDN examined the genetic content of retail products labelled 100% Egyptian or 100% Pima cotton, using fiberTyping. This technology quantifies the native DNA by species within cotton fibres contained in cotton products. According to the company's research, first published five years ago, approximately 80% of retail products did not comply with their "100%" label.
"Several retailers and brand-owners have begun to use the SigNature T platform, that involves training and testing of every vendor in the supply chain - ginners, spinners, dyers, weavers and assemblers," said Hayward. "Multiple growers and gins are participating. Multiple international and US patents protect the technology."
A patented, cloud-based IT platform, known as digitalDNA tracks the integrity of the marked cotton from "Dirt to Shirt", until finished goods are DNA-verified and delivered for retail. With Tag, Type and Test data behind the label, consumers can have more confidence in where their product comes from, the company reports.
Further reading
How DNA is Taking the Guesswork Out of Premium Cotton Branding
This article is also appears in...