After taking the world of sport by storm with the introduction of Nike Flyknit and adidas Primeknit sports footwear in multiple sports, advanced flat knitting technology is now poised to help revolutionise the sport of Lacrosse in North America and elsewhere.
Warrior Sports, a division of sportswear and sports equipment giant New Balance has launched The Warp, a lacrosse stick incorporating an engineered flat knitted net knitted on a Stoll CMS flat knitting machine, which is designed to catch and hold the lacrosse ball.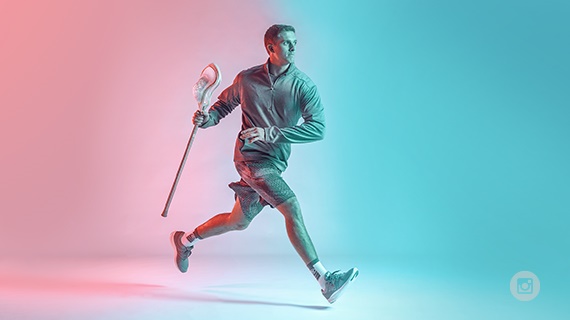 Lacrosse is a contact team sport played between two teams using a small rubber ball and a long-handled stick sometimes called a 'crosse'. The head of the lacrosse stick is normally strung with loose mesh designed to catch and hold the lacrosse ball and it is this mesh which is being replaced with the engineered flat knit.
Created in a textile engineering laboratory
Warrior's flat knitted Evo Warp knitted pockets have been developed with Los Angeles, California based Fabdesigns Inc., a textile engineering laboratory specialising in innovative flat knit engineering which opened in 2013 but which has a lifetime of experience developing flat knitted products.
Fabdesigns has a world class reputation for innovative knit engineering and pioneering technology in knitted footwear. Its private textile laboratory offers consulting and development proof of concepts in footwear, technical, industrial, and highly advanced performance knitted textiles.
The company has been engineering complex textiles since 1988, and currently develops confidential intellectual property in the USA for prominent international clients in outdoor sports, medical, aerospace, home furnishings, entertainment, and footwear.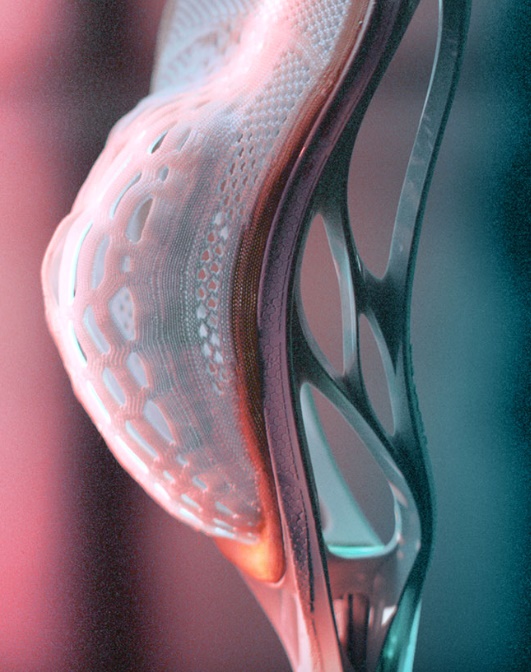 "Fabdesigns as a company is striving to help companies create jobs at home, while keeping innovation and IP in house, if possible. Building back the lost manufacturing jobs in the US and Europe is what we are helping companies to do by making next generation products that are made sustainably and with minimum to zero waste," said Connie Huffa, Fabdesigns company president and textile engineer.
2536 knitted rows, 1604 strokes, 513 transfers
According to Warrior each Evo Warp knitted pocket consists of 2,536 knitted rows, takes 1,604 machine carriage strokes with 513 stitch transfers, and is knitted in one piece with every single stitch engineered to specification.
Warrior says: "Gone are the days when you have to worry about your stick. No more finding a stringer to rely on. No more adjusting strings before the game, between whistles, or on the sidelines. In fact, no more strings."
Other advantages claimed for the Evo Warp are: "No more break-in period. No more fearing your backup stick. Better yet, now every stick is a game stick."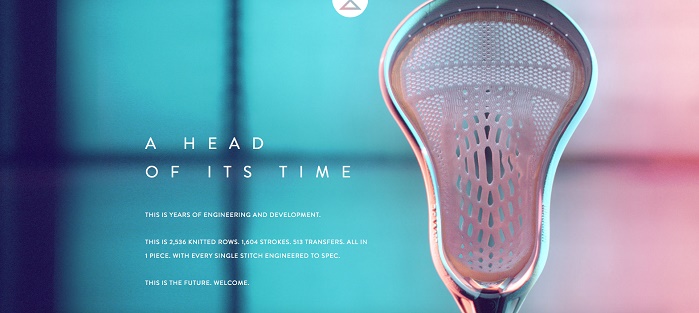 "When you've been doing something one way for long enough, it's easy to become complacent - to forget to stop and question if it's really the best way... But true innovation comes from having the ability to ask, why," Warrior says, adding:
"Why do our pockets change every time we play? Why do we use the same flat piece of mesh for differently shaped heads? Why do we use shoelaces to improve how a ball releases? Why can our most vital piece of equipment become useless by untying a single knot? Why is there a break-in period? Why can't our backup sticks be as good as our game sticks? Why do we have to rely on stringers to get our heads the way we want them?"
"We chose not to accept these obstacles any longer... and so Warp was born."
The Warp Advantage
Consistency
According to Warrior, the Warp's pocket is not something that needs to be shaped or broken in. It actually comes game-ready. "Unlike mesh that comes flat and hasn't been created specifically for your head, the Warp's pocket shape is engineered with a 3-dimensional knitting process, moulded directly into the head, and was crafted specifically for the Evo Warp. This means your pocket works in perfect unison with your entire head," the company explains.
"A software-driven, high-tech knitting machine ensures that every pocket is game-ready… meaning you never have to adjust a pocket again. Goodbye pocket anxiety."
Durability
Warrior also claims that The warp is extremely durable, stating: "Kevlar, ever heard of it? Yup, it's the stuff bullet-proof vests are made from. It's the yellow part of the sidewall you see. Lightweight and durable, Kevlar bonds the water-resistant polypropylene to the head. In addition to having extraordinary strength and a unique wicking characteristic, polypropylene is the lightest of all textile fibers… Premium materials mean you get the same feel every time, no matter the weather conditions. Better yet, the pocket is ready to go out-of-the-box, and won't lose its shape or performance over time."
Accuracy
An unchanging, weather-resistant pocket means 100% confidence in how your stick will throw, the company says. "Knowing exactly how your stick throws is the key to accuracy. Through extensive testing, we've matched the Evo Warp up against the best hand-strung, mesh heads in countless accuracy tests... The results? There is no comparison. The Evo Warp out-performed every competitor... by a long-shot."
Control
The Evo Warp is available in multiple pocket shapes and because each shape has been engineered to accommodate player preference, each was designed to provide exceptional hold. Unmatched hold leads to unmatched control, Warrior adds.
Precision
This pocket is constructed of thousands of meticulously designed knitted rows, and is identically duplicated every time. "Every single stitch is engineered to spec and has been adjusted through years of development and testing with thousands of prototypes before being perfected to deliver optimal performance... Ask your stringer to match that," Warrior concludes.
The Warp's pocket is also made in the USA and meets all NCAA and NFHS specifications.
Further reading
Fabdesigns articles on Knitting Industry
Nike Flyknit articles on Knitting Industry
Adidas Primeknit articles on Knitting Industry