Made-in-America was an important topic at the Outdoor Retailer Summer Market, held July 31 – August 3 at the Salt Palace Convention Center in Salt Lake City. With 1400 exhibitors and over 27,000 visitors expected, the show was alive with new product and ideas for active and outdoor living.
With American fibre, fabric, and technology producers once again exhibiting, there was a sense that the big brands are beginning to see some advantages in sourcing closer to home. "There's definitely a return to the Western Hemisphere," said the sales director at a major circular knitting mill. "The big brands are starting to want a US presence. There is a Western supply chain, but they don't know the players."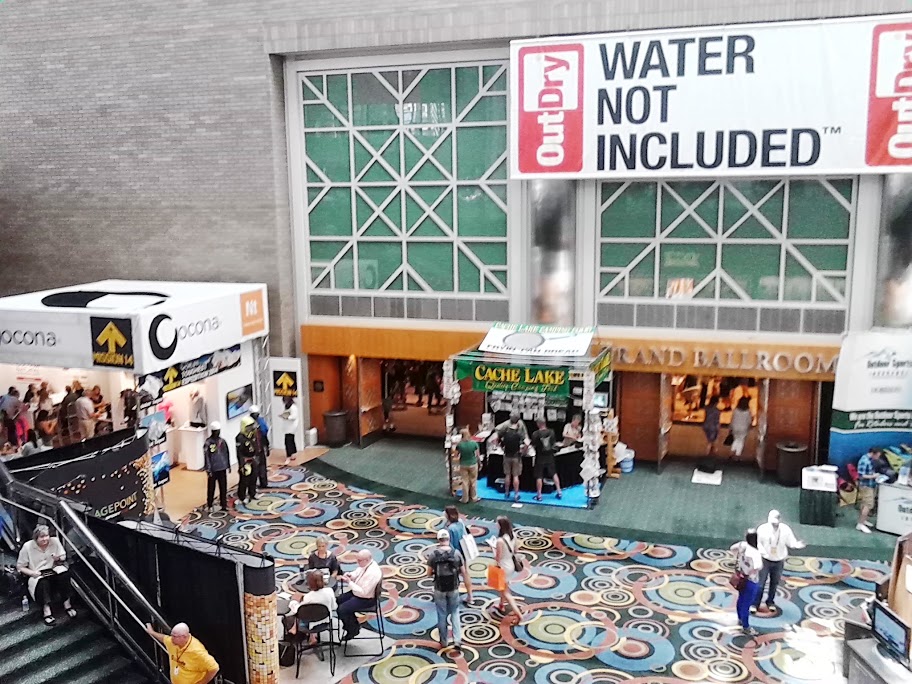 The Outdoor Industry Association's Made in America Working Group was formed at January's OR Winter Market with the goal of bringing together outdoor companies that make products in the United States, providing them with opportunities to support one another in domestic manufacturing efforts, and share successes.
Technically advanced performance fabrics
US-based knitters such as Coville, Cyberknit, Deer Creek, Gehring Textiles, Texollini, and United Knitting have survived by developing technically-advanced performance fabrics for military, medical, workwear, and industrial applications. Active and outdoor apparel brands are looking for similar functionalities in their fabrics—and are finding them in the US.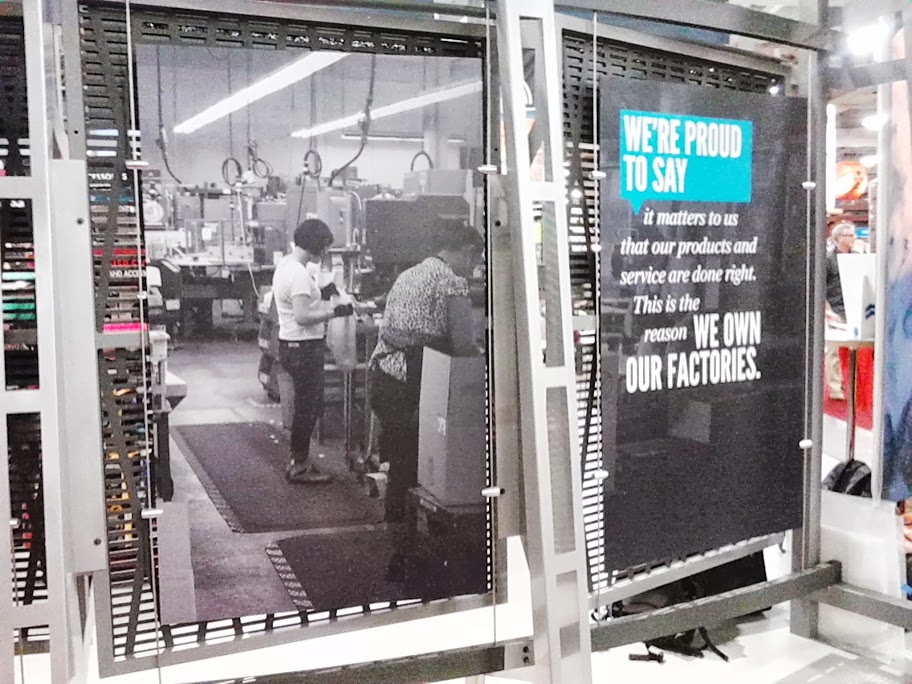 "We are also seeing an increase in start-up companies among the younger generation, who want to make in the US," commented Steve Lucier, Deer Creek President.
REPREVE
American fibre, yarn, and technology companies also exhibited at the show. Unifi, maker of REPREVE® recycled fibres, announced a manufacturing and distribution agreement with Palmetto Synthetics for a staple version of REPREVE polyester. The staple fibre will be processed from REPREVE chip and will be available as natural or solution-dyed.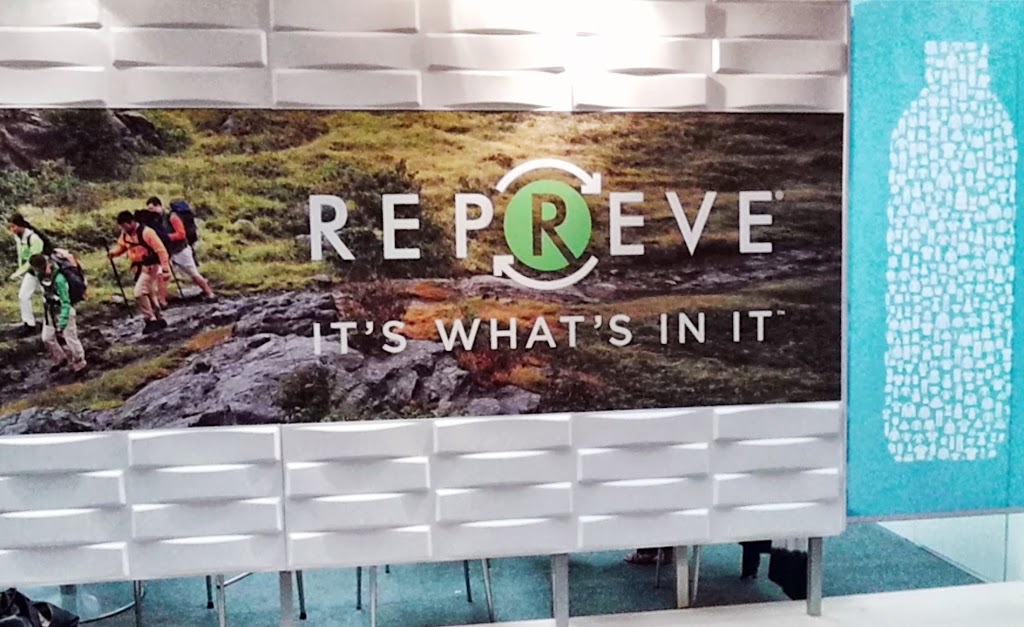 Based in California, Celliant® technology uses optically responsive minerals imbedded in polyester fibre to reflect the body's energy back into its tissues, increasing blood flow and enhancing oxygen levels. The technology has recently been adopted by Point6, a made-in-America line of compact spun Merino wool outdoor socks; and is part of the performance fabric collection at Deer Creek, whose knits with Celliant are being tested as aids in healing wounded veterans.
Polypropylene is also seeing a revival in technical knits, according to the US knitters. The lightest and driest of all fibres, polypropylene is being engineered into cooling knits which transport humidity away from the skin and allow it to evaporate.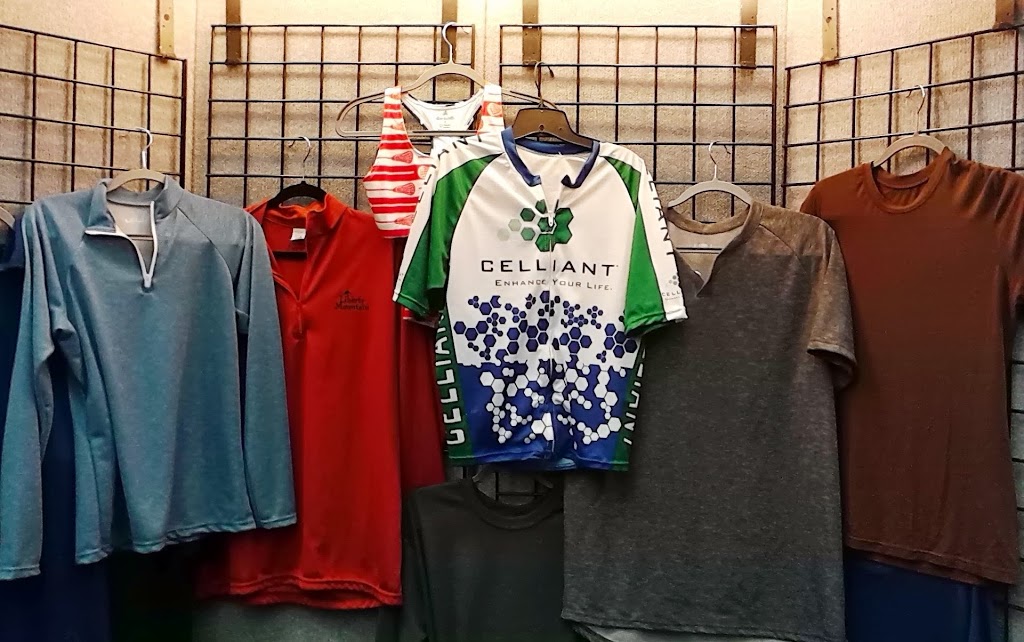 NILIT® Fibres, with US headquarters in Greensboro, North Carolina, reports strong interest in its NILIT® BREEZE cooling nylon 6.6 yarn. The company's latest introduction is Black Diamond, a sophisticated combination of black nylon with a dyeable bright trilobal nylon which provides a subtle sparkle. The yarn is available for hosiery and circular knitting. Molly Kremidis, US Marketing and Merchandising Manager, lauded the level of creativity she's seeing in new applications at the knitters. "That's what's so unique about this show."
Lifestyle fabrics
While technology is important, knitters are also reporting an interest in "lifestyle" fabrics that have performance attributes, but look and feel more natural. Deer Creek's double knit engineered with staple REPREVE® and wool or Tencel® was a good example. "We were very pleased at Unifi's decision to provide a domestic source for staple REPREVE®," commented Lucier.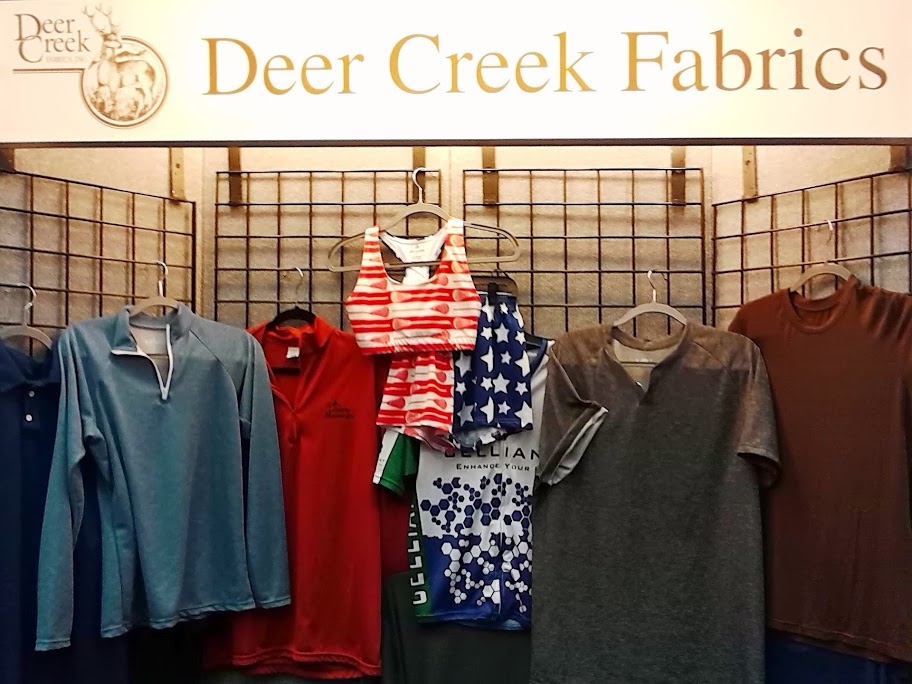 At United Knitting, a cross-dyed double knit herringbone with spandex was a performance option for sport-to-street wear. Cyberknit is also seeing interest in jacquards and cross-dyed pattern effects, along with super fine-gauge jerseys and interlocks, according to Daniel Honig, the company's Secretary General.
" I have issues with promoting sustainability through slave labour in offshore factories."
A new sustainable line of lifestyle-oriented base layer apparel was launched at OR by Daniel Feuerstein, son of Malden Mills ex-CEO and former owner Aaron Feuerstein. True to the family heritage, Komafram™ is designed, knit, and manufactured in the US, with NAFTA compliant yarns. "I have issues with promoting sustainability through slave labour in offshore factories," explained the younger Feuerstein.
The fabric is a proprietary blend of alpaca and Tencel® developed by California knitter Texollini, which is comfortable against the skin and provides natural moisture management, odor control, breathability, and light weight warmth. The line includes a range of performance socks knit by Harriss & Covington in North Carolina.
The name Komafram means "to bring forward" according to Feuerstein, and the company's mantra is "do the right thing, the right way, for the right reasons." Komafram is funded by the private equity firm Ambassador Enterprises, which looks to work with companies that will have a positive impact on society.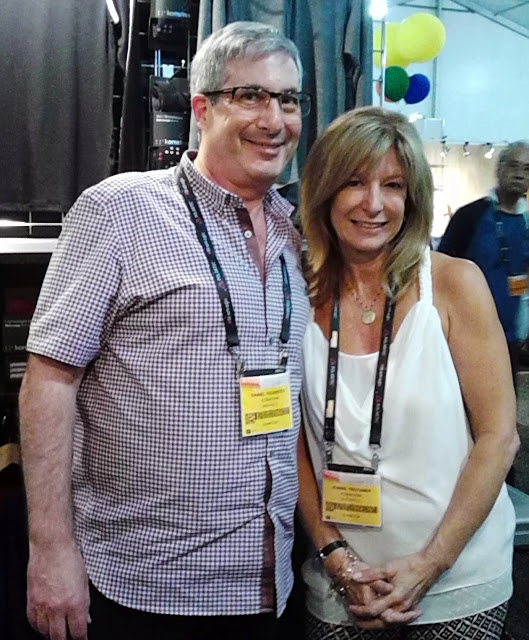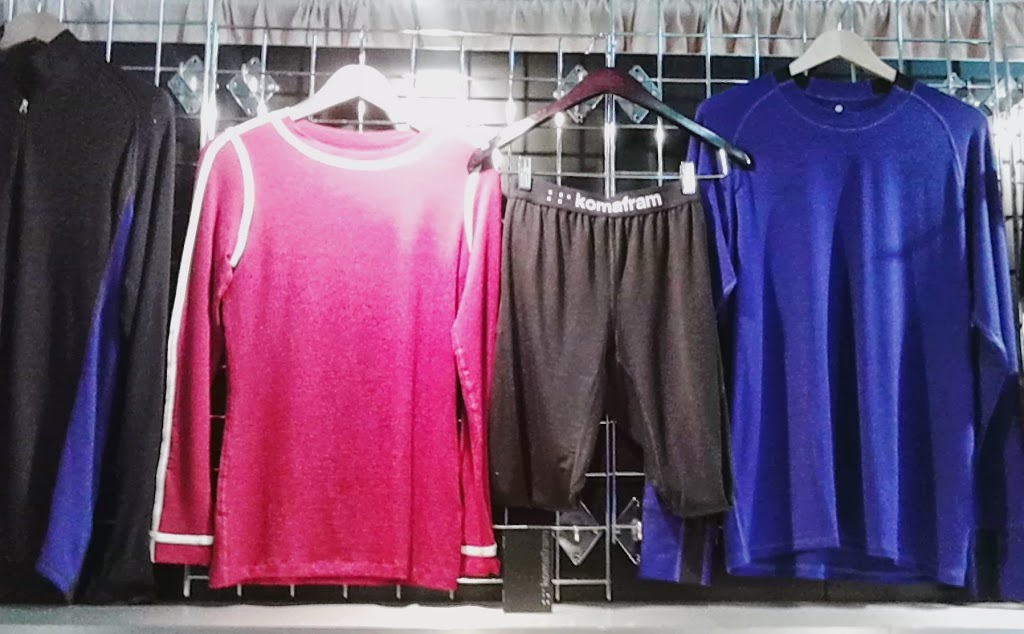 Leader in sock technology
Another young company, five-year-old Swiftwick knits its line of compression socks in Tennessee. Originally conceived as a bike sock brand, the company's website states its mission as "to be the leader in sock technology while creating a culture focused on manufacturing the best products through environmentally friendly means, social responsibility, and superior customer service."
"The definition of compression has been shaped by marketing, and has missed the point of making your feet feel better. We make the sock right," said Sales VP Grant Castle. The socks are knit on 200 needles and feature a linked toe; they adapt to the shape of the foot, and maintain their shape to inhibit the formation of blisters.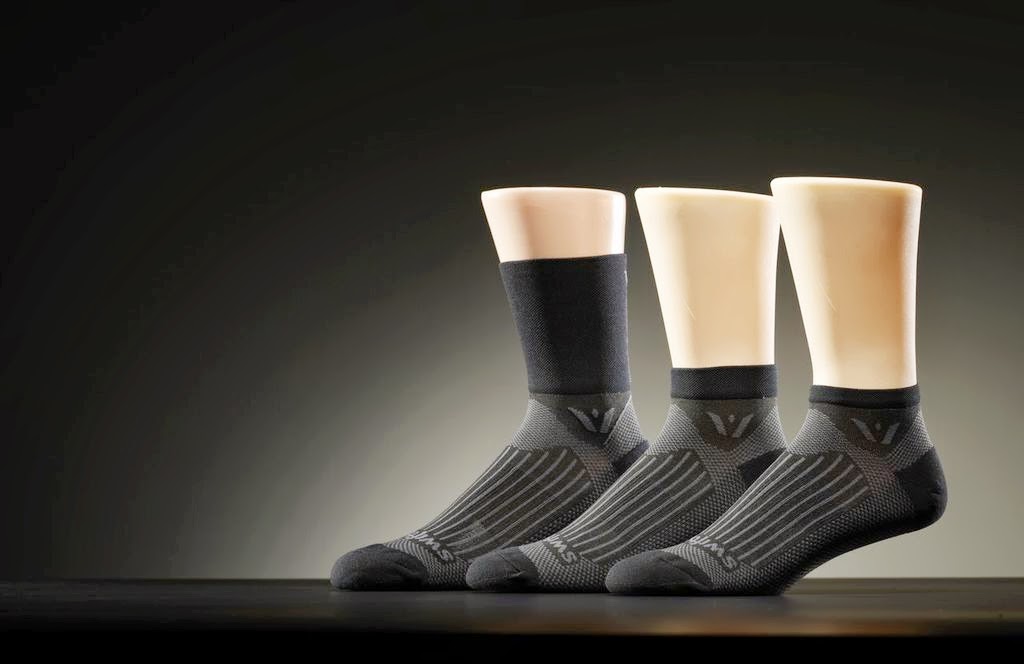 The company's compression sport socks are knit using sustainable fibres such as REPREVE® nylon and solution-dyed synthetics. The socks are engineered to encourage wicking without chemicals, using moisture-wicking olefin and hydrophilic trilobal nylon knit in specific zones and channels. With the exception of wool, all yarns are sourced domestically.
Along with great-fitting socks for everyday and elite athletes, the collection includes a unique Cut-Resistant Hockey Sock, and the Valor line of antimicrobial socks and liners for para-athletics and amputee uses. The key to the cut-resistant hockey sock is a composite yarn with a blend of Twaron® para-aramid, Spectra® ultra-high-modulus polyethylene, and polyester wrapped around a glass fibre core. The silver-based antimicrobial comprises very small particles that are applied as a finish, creating a covalent bond that lasts 100 washings, according to Castle.
The line is enjoying "organic growth" and Swiftwick socks are being personally chosen by members of the US Ryder Cup team and the US Olympic Cycling team, says Castle.